Phillip Island is a popular day-trip destination and perfect for a back-to-nature seaside getaway. Wondering what to do in Phillip Island? From penguins to whales, koalas to coastlines. This in-depth travel guide shows you all the best things to do in Phillip Island plus where to stay, how to get there, suggested itinerary, and essential travel tips. Here's everything you need to know to plan your perfect trip to Phillip Island.
Phillip Island is famous for its pristine sandy beaches, rugged coastline, the unique Phillip Island Penguin Parade, and home to Australian's largest Australian fur seals colony at The Nobbies, and sleepy koalas curled up in gum trees at the Koala Reserve. Let's not forget it's also where the Australian Motorcycle Grand Prix, Superbike World Championship, and V8 Supercars take place each year.
Growing up on the nearby Mornington Peninsula, visiting Phillip Island was a regular occurrence when I was little. When you're surrounded by iconic Australian wildlife and gorgeous beaches, you take it for granted. It wasn't until a recent trip back home that I saw it through the eyes of a visitor. Travelling the world has given me a fresh perspective and a newfound appreciation for my home country and where I grew up. Phillip Island is a popular holiday destination amongst locals, yet it's still a hidden gem to outsiders which is why I created this in-depth Phillip Island travel guide, so you can discover it too!
---
Looking for something in particular? Use these links to jump around.
Included in this guide to Phillip Island
---
Map of what to do in Phillip Island
Want to know where you'll be going? Take a look at the detailed map below.
Tip: For a larger view of the map, click on the icon in the top right corner.
Click on this interactive map and see where this itinerary will take you. I've created this map using Google Maps which you can save and use as you travel around.
---
Why is it called Phillip Island?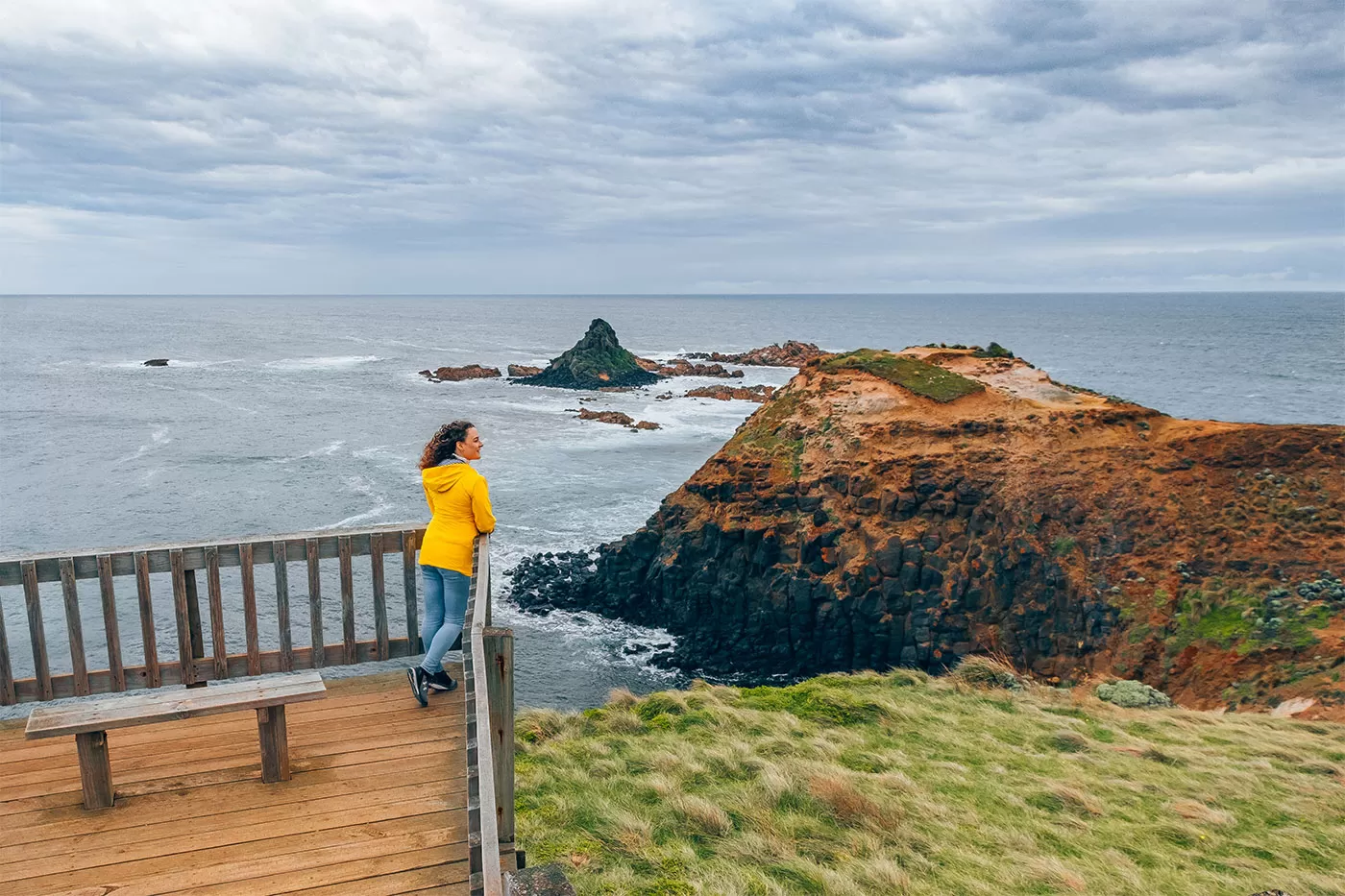 Traditionally, Phillip Island was called Corriong or Millowl by the Boonwurrung people who are the indigenous Australians who lived here. With the arrival of the British in the late 1700s, the island was later named after Governor Arthur Phillip who was the first Governor of New South Wales.
Where is Phillip Island?
Phillip Island is located 120 kilometres from Melbourne just off Australia's southern coast. The easy drive down takes just 90 minutes. At its widest point, Phillip Island is around 24 kilometres long and 9 kilometres wide which makes it easy to see and do a lot in a short amount of time. At most, it takes just 20 minutes to reach the far corner of this 101 km2 (39 sq mi) island.
23 Best things to do in Phillip Island, Australia
1. See the Pelicans feeding at San Remo Beach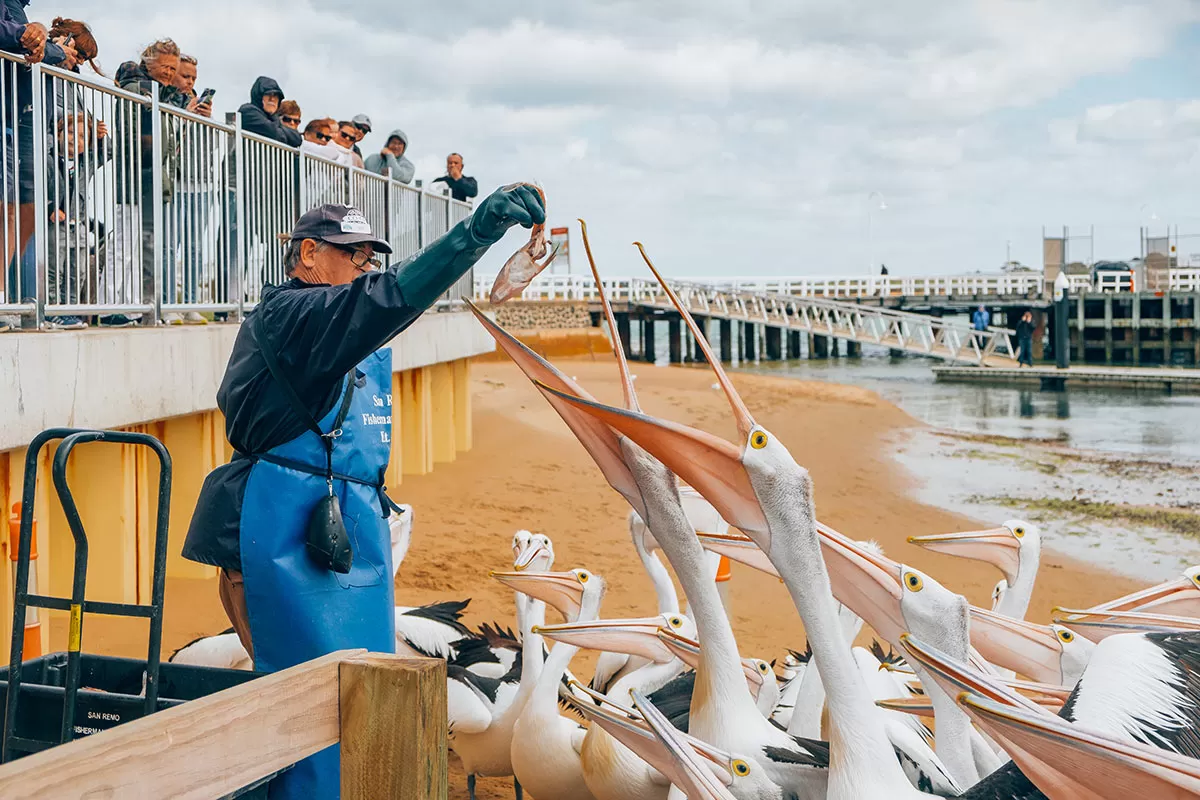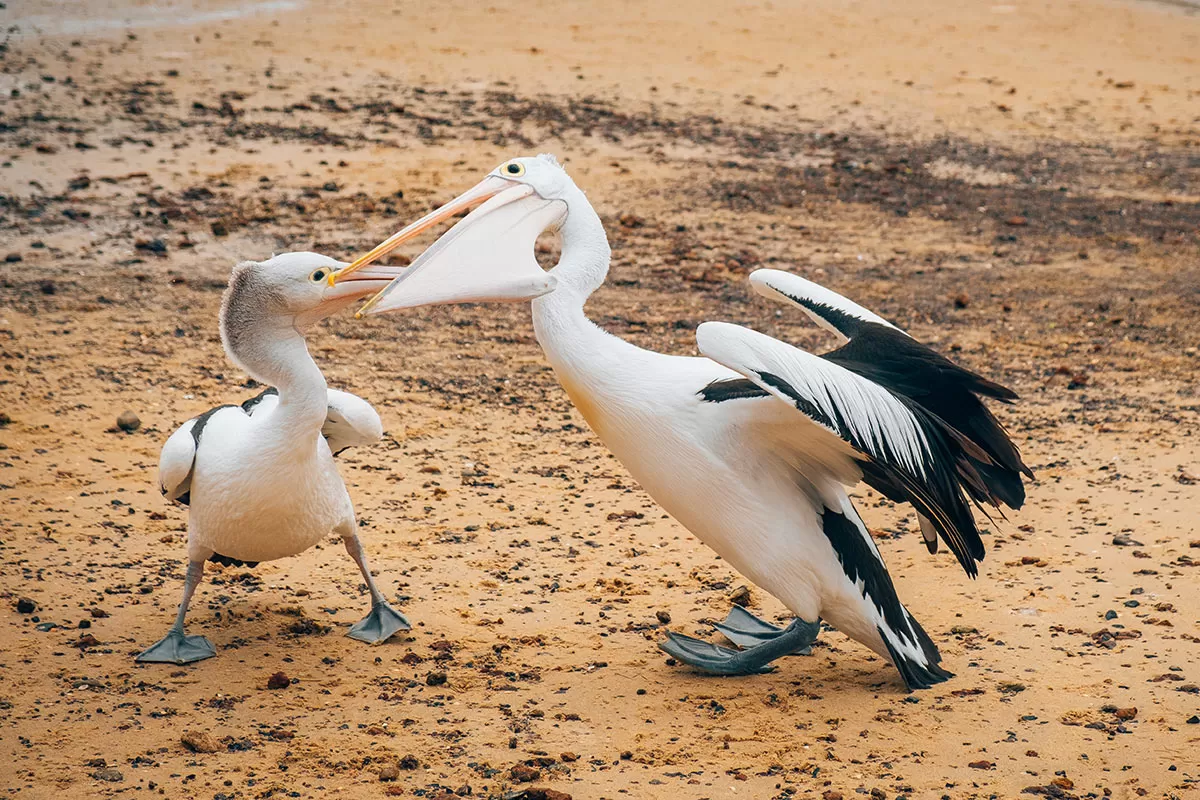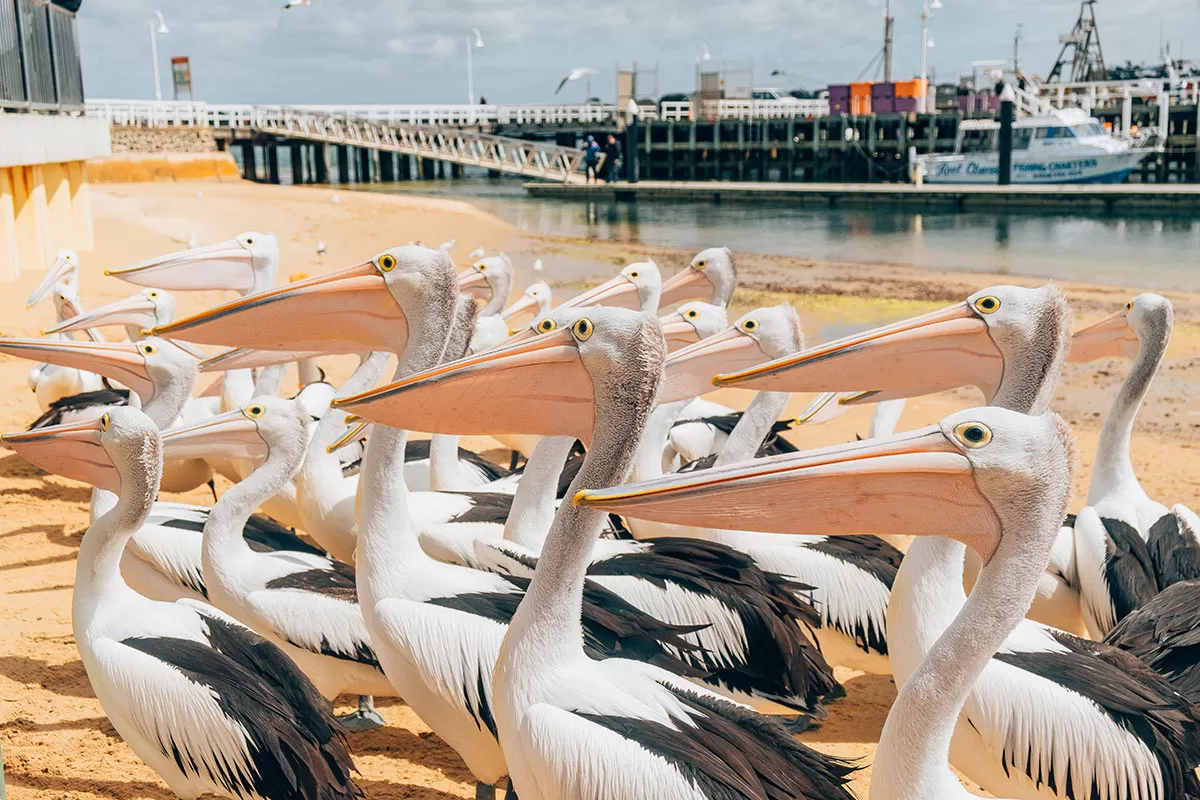 Every day at 12 noon, the San Remo Fishermans Co-Op feed a group of pelicans on the nearby foreshore. Overlooking the Phillip Island bridge, a flock of pelicans arrive early and patiently wait for one of the Co-Op's fishermen to come out and give them a fishy snack.
This tradition started back in 1985 when pelicans started to come here to eat the unwanted fish offcuts that fishermen would throw overboard. Today, the pelican feeding is regulated by the Department of Environment, Land, Water, and Planning and is undertaken by well-trained staff.
The feeding lasts for about 10 minutes, during which the fisherman gives a short educational presentation that focuses on the Pelicans diet, lifestyle and how we can improve conservation and environmental efforts to protect them and similar species.
Keep an eye out on the water too because you may spot some large Stingrays which often glide through the shallow waters here.
Tips for seeing the Pelican's feeding at San Remo Pier
Travel tips: I recommend arriving by 11:30 to ensure you get a car park. Use this time to wander along the pier and foreshore and pick up any litter you find on the beach. In the car park, there is a large pelican sculpture where you can place any bottle caps you pick up.
Admission: Free
Time: Daily at 12 noon
Address: 170 Marine Parade, San Remo VIC 3925, Australia
2. Have fish and chips at San Remo Fishermans Co-Op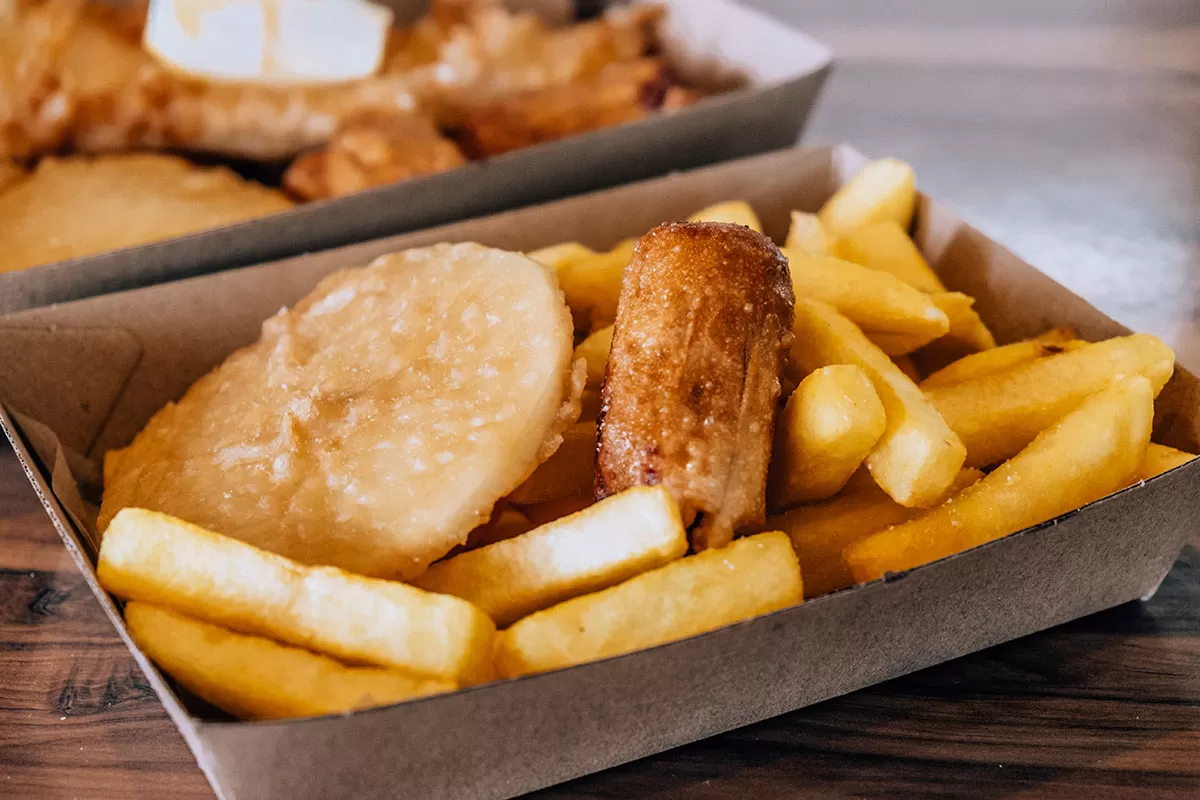 After the pelican feeding, head into the San Remo Fisherman's Co-Op for some quality fish and chips for lunch. Established in 1948, everything here is served fresh. Even their tomato sauce is homemade! Choose to eat either inside or on their outdoor decking overlooking the foreshore.
Tips for visiting San Remo Fishermans Co-Op
Opening Hours: Open daily 10:30 – 20:00
Address: 170 Marine Parade, San Remo VIC 3925, Australia
3. See Cadillac Canyon at Bore Beach, San Remo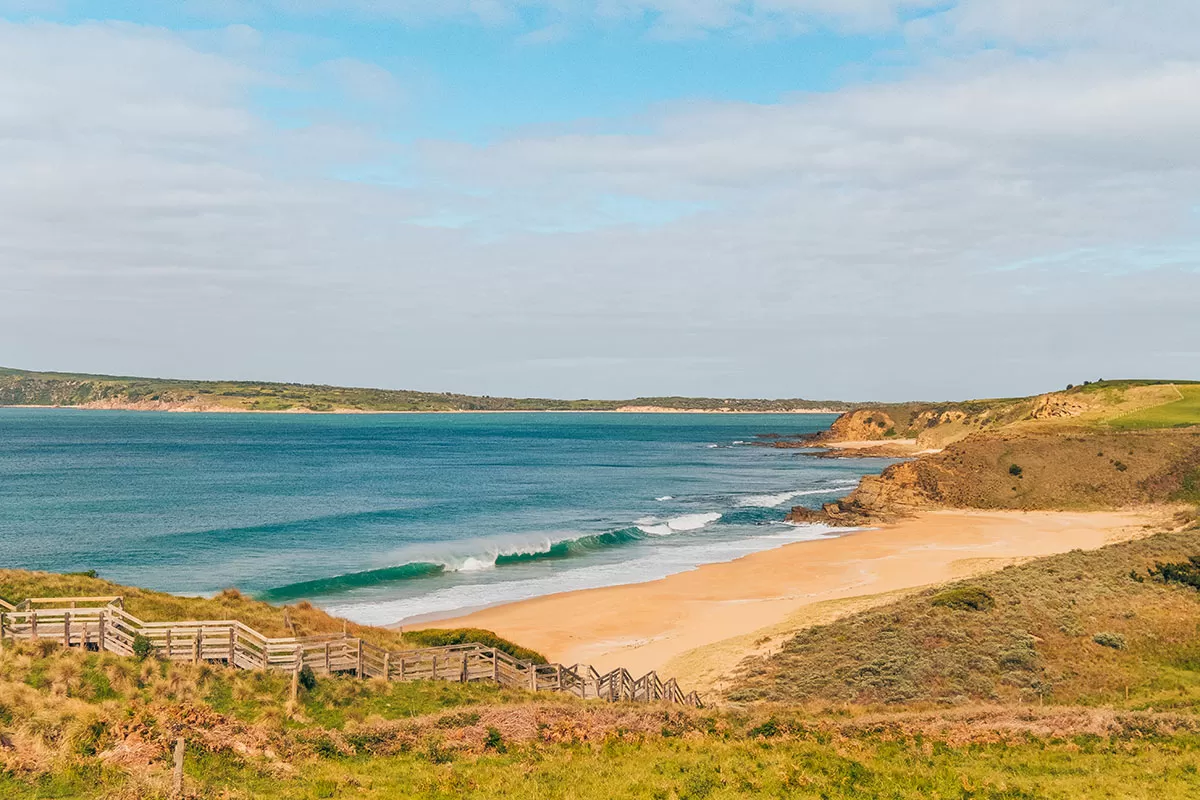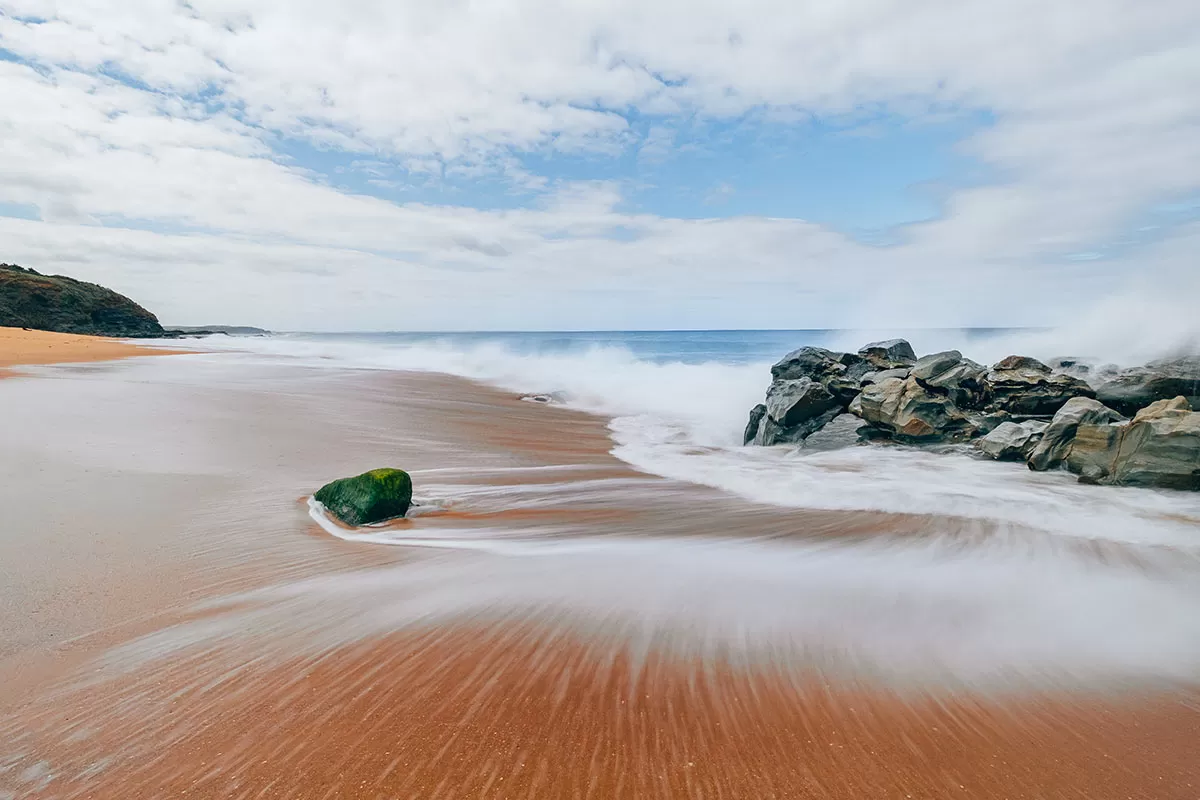 Located at the top end of Bore Beach in San Remo is a small canyon that was nicknamed Cadillac Canyon by a local photographer. The canyon is easily reached and makes for some great photos when high waves come crashing in to fill the canyon.
Bore Beach faces the Bass Strait which means the high waves and strong currents here make even the most skilled surfers think twice before taking to the water. This is definitely not a beach you should swim in.
Tips for visiting Bore Beach, San Remo
How to get to Bore Beach: Bore Beach is located at the end of a long dirt road. A staircase leads you down the hill to the beach.
Safety: The strong waves here are no joke. It wasn't until AFTER I took this photo sitting on the edge of the canyon that I a local told me how several people have gone missing over the years at Bore Beach and other beaches in and around Phillip Island due to the deadly currents. Please be safe at all times.
Address: 145 Potters Hill Rd, San Remo VIC 3925, Australia
4. Walk along the Phillip Island Coastal Reserve and see Phillip Island Bridge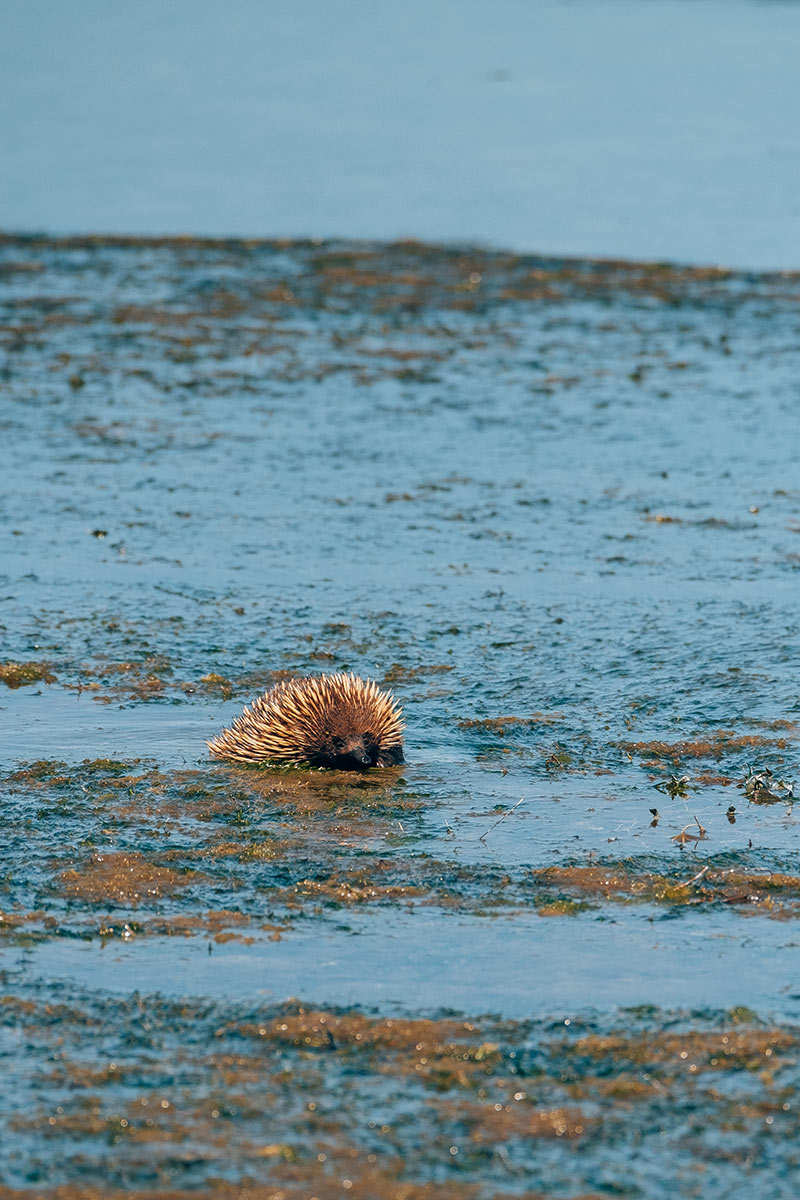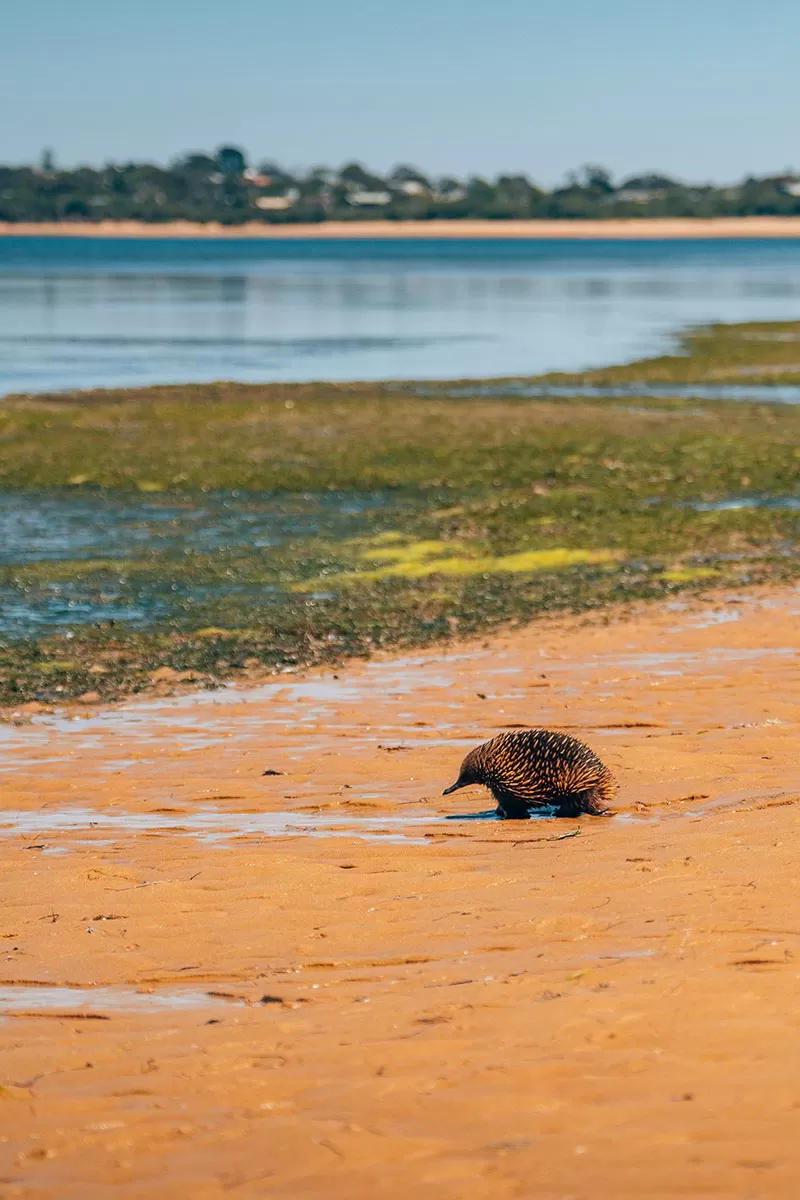 A lovely perspective of the Phillip Island Bridge is from Phillip Island Coastal Reserve located immediately after you cross the bridge. Chances are you'll see a shy wallaby in the shrubs and if you're lucky, an echidna taking a dip in the water!
Tips for visiting Phillip Island Coastal Reserve
How to get to Phillip Island Coastal Reserve: Immediately after crossing over Phillip Island Bridge, turn left down Old Bridge Drive. This narrow road will lead you down the Phillip Island Caravan Park. There is a small public car park where you can park your car. From here, walk inside the caravan park's main entrance and keep left. Look out for a sign that says "Beach Access". Follow the path to the beach.
Address: 24 Old Bridge Dr, Newhaven VIC 3925, Australia
5. Ride "The Big Wave"
Ok, I have to admit that this one is a bit cheesy, but it's kind of a tradition. The Big Wave is a giant wave sculpture that you stand inside of and pretend you're riding a wave. Since it's located on the main road as you arrive onto Phillip Island and it's hard to miss, it's an easy stop to make. There are two surf shops here and a cafe so you can always use that as an excuse to stop.
Address: 10 Phillip Island Rd, Newhaven VIC 3925, Australia
6. Visit the Phillip Island Chocolate Factory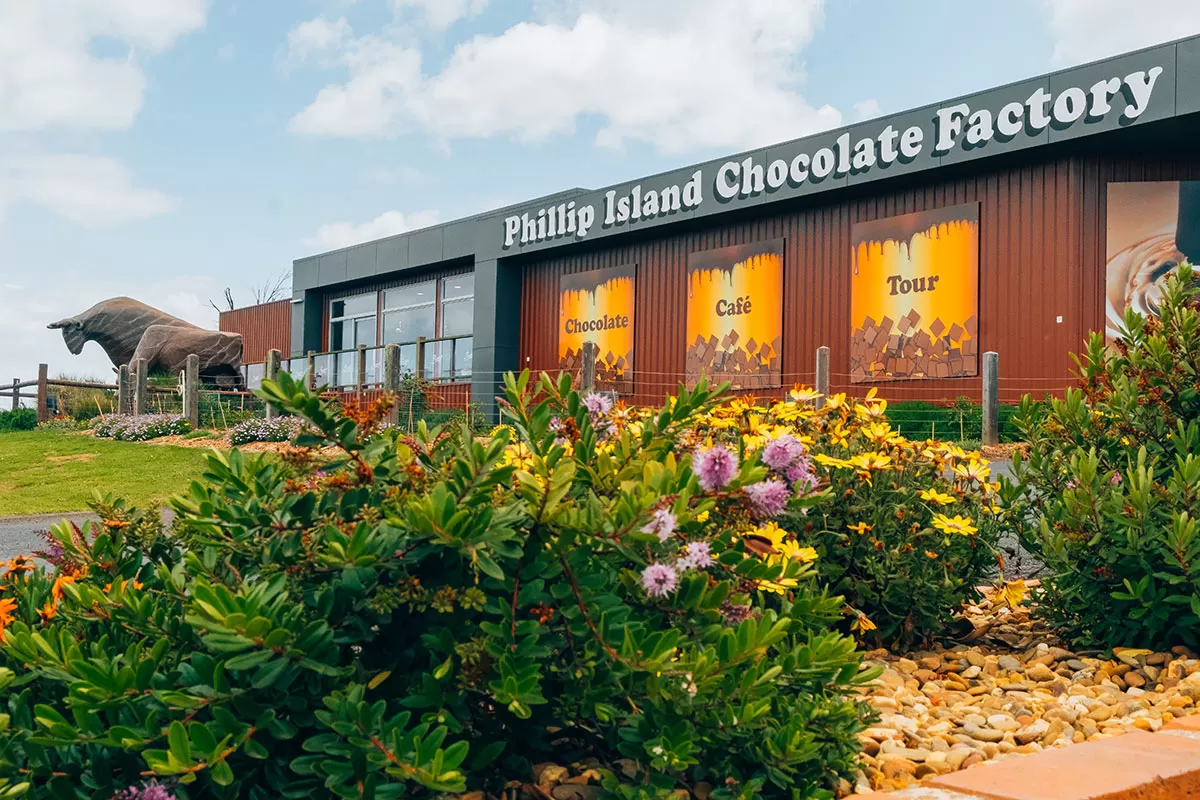 Got a sweet tooth? The Phillip Island Chocolate Factory celebrates all things chocolate making featuring interactive machines and your chance to make your own chocolate. Panny is an innovative chocolatier and creator of Pannys Amazing World of Chocolate where you can taste and experience how these premium Belgium chocolates are made.
Upon entry, you receive not only a complimentary chocolate but your entry ticket is also made of chocolate! If you're lucky, you might be gifted one of Panny's 'secret recipe' White Truffles too.
Afterward your visit, head to Pannys Chocolate café and Pannys Chocolate Shop with a huge selection of truffles, bars, clusters, gift boxes and animals
Tips for visiting the Phillip Island Chocolate Factory
Visit duration: Allow 45 minutes to 1 hour to visit the Phillip Island Chocolate Factory
Admission:

Adults $17.00, Children 4 -14 years $11.00, Children under 4 – Free, Family $50.00 Family pricing is for 2 adults and 2 children
Entry to Panny's Cafe and Retail store is free

Opening times: Open daily 10:00-19:00. Closed Christmas Day
Address: 930 Phillip Island Rd, Newhaven VIC 3925, Australia
7. Visit Churchill Island Heritage Farm and Churchill Island Farmers Market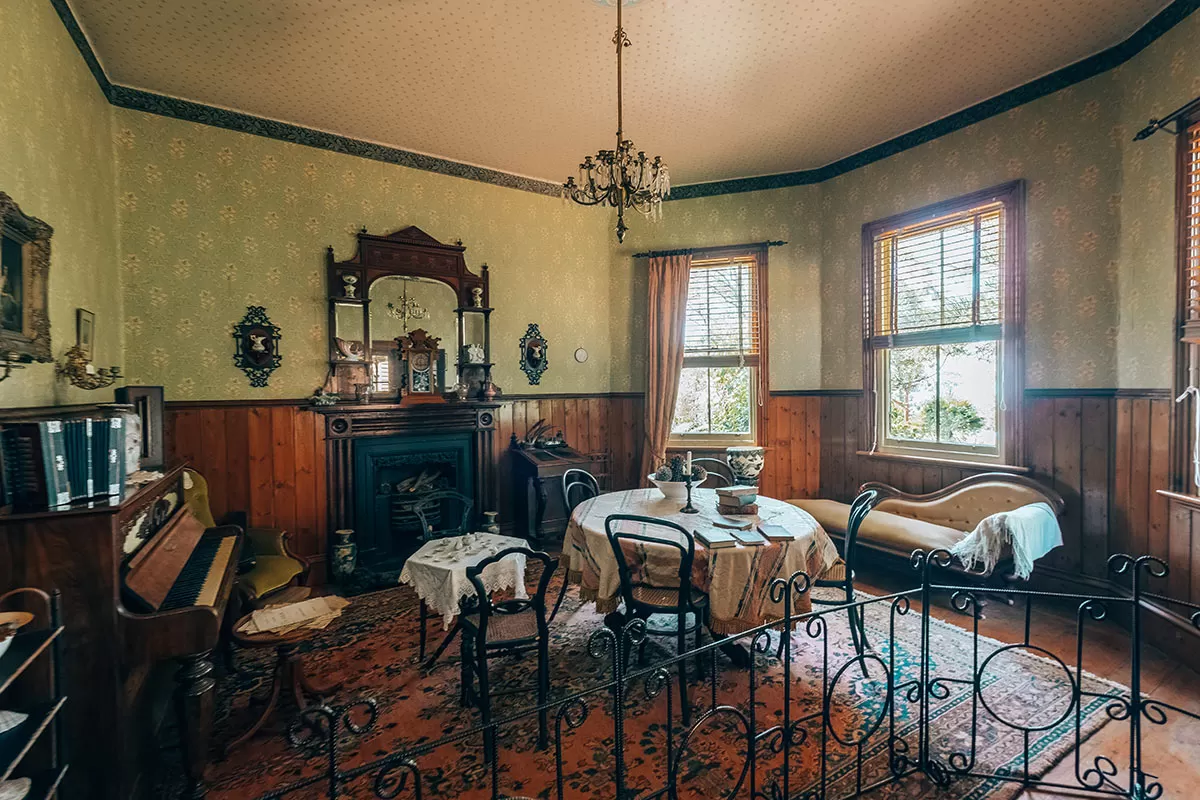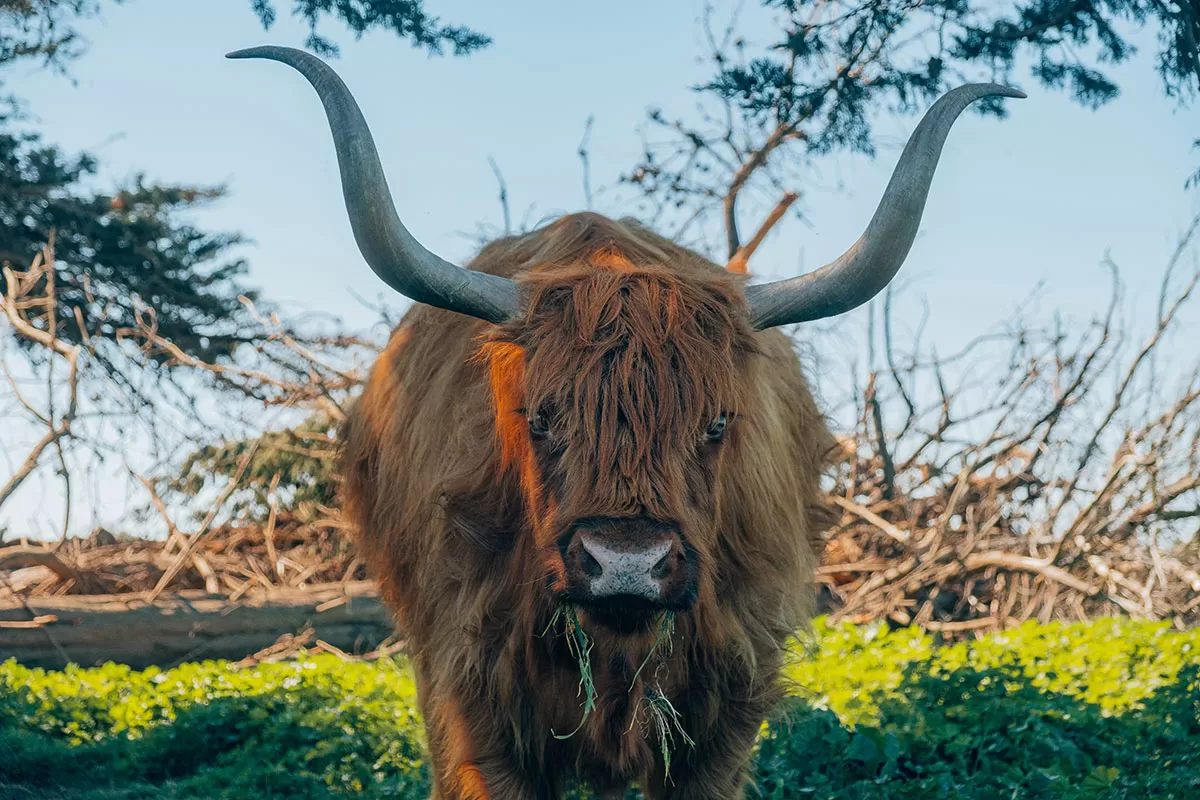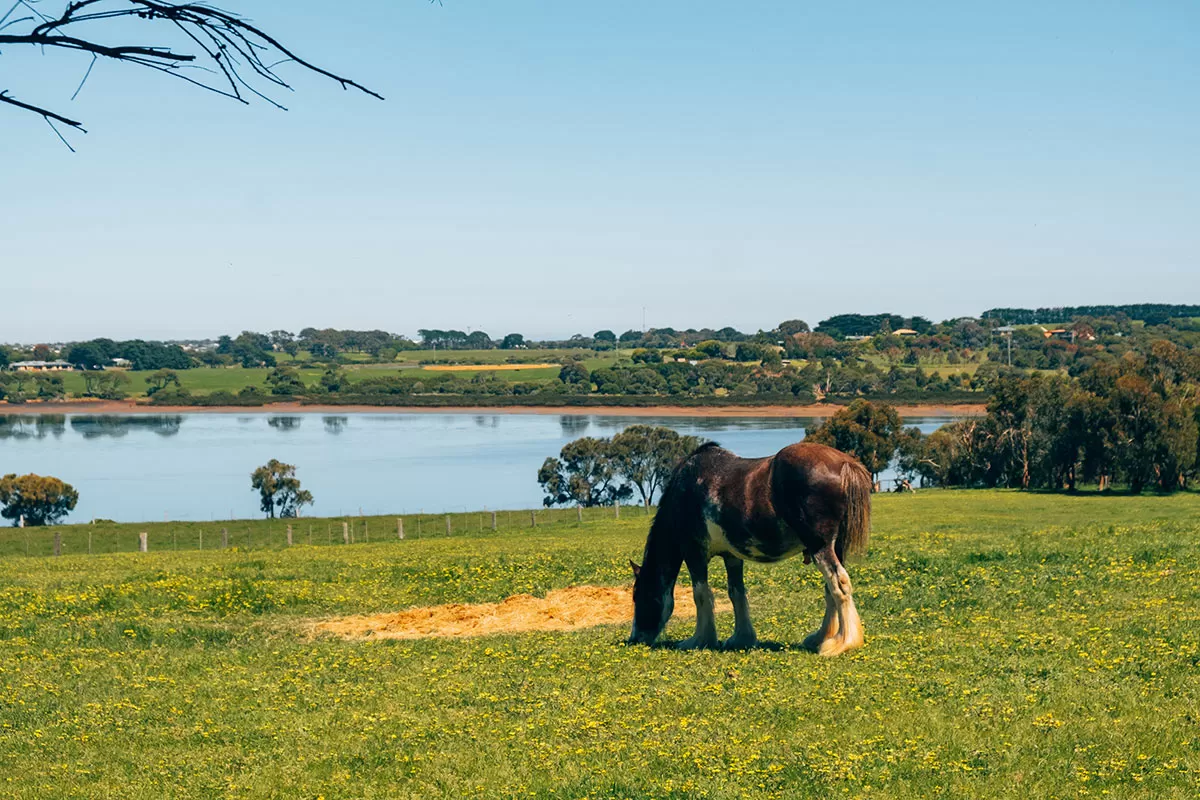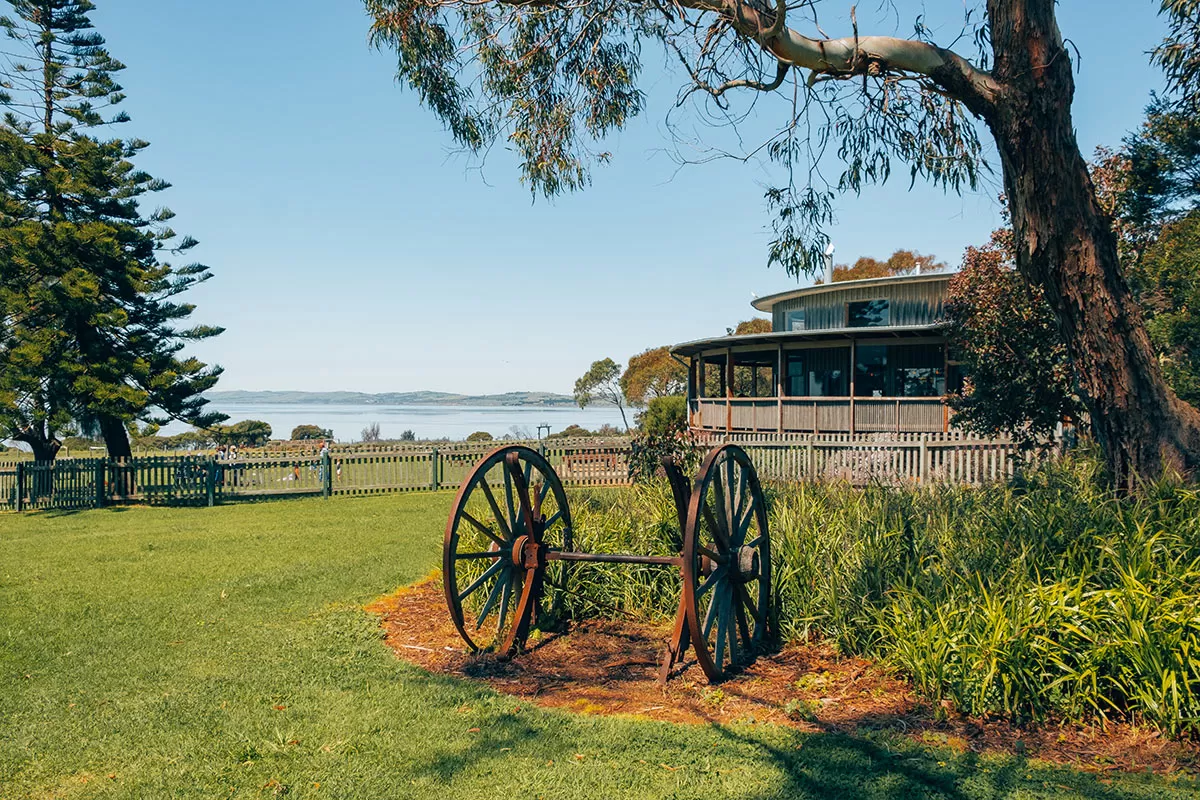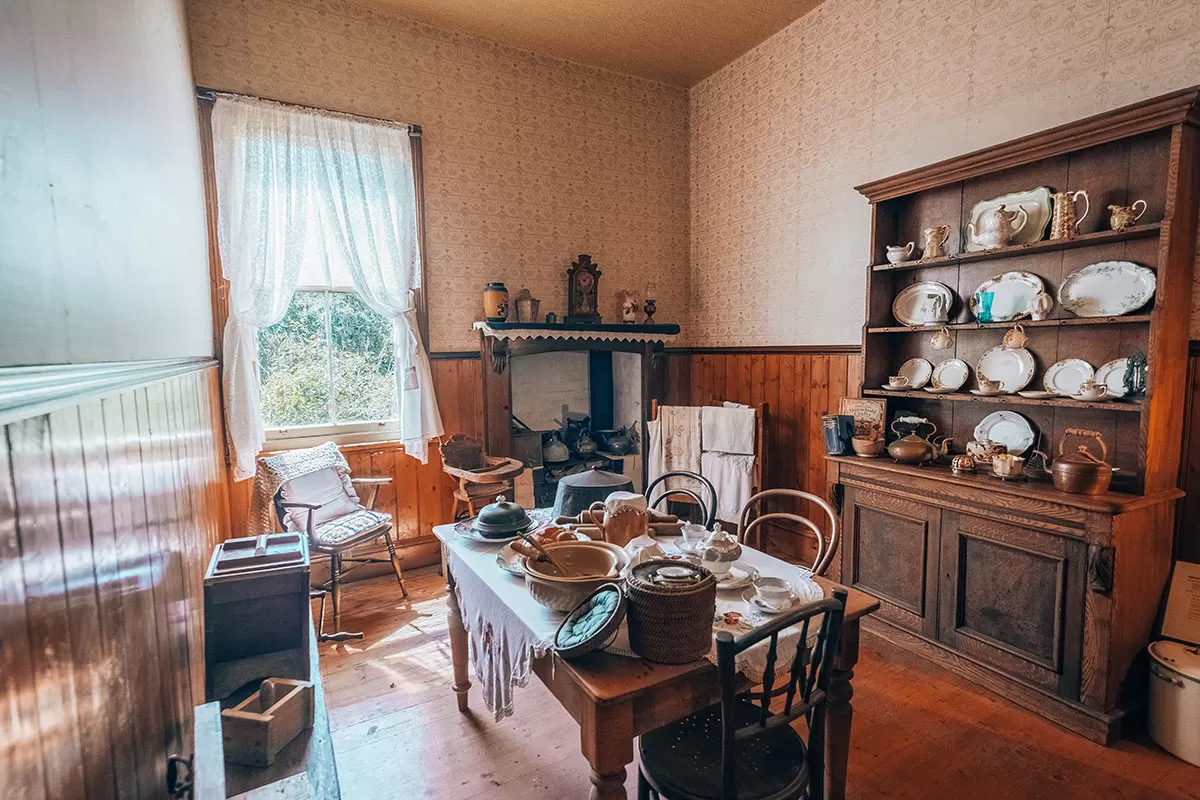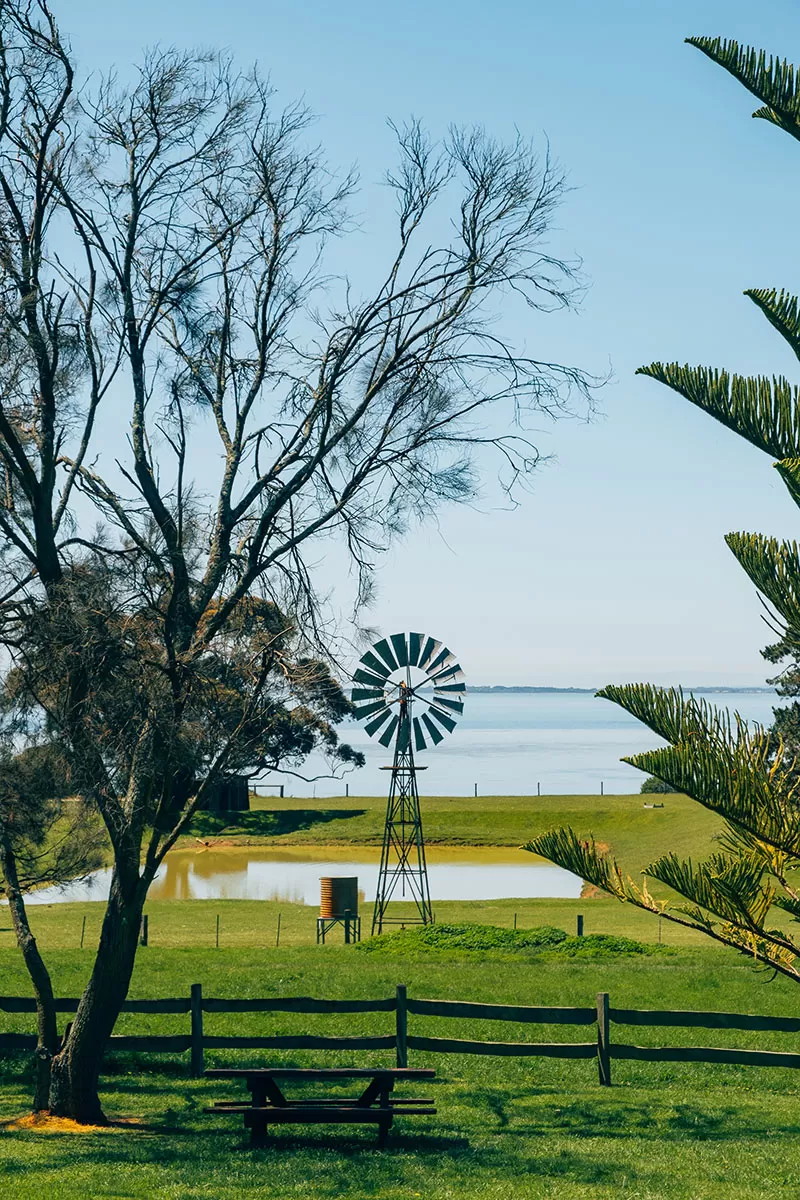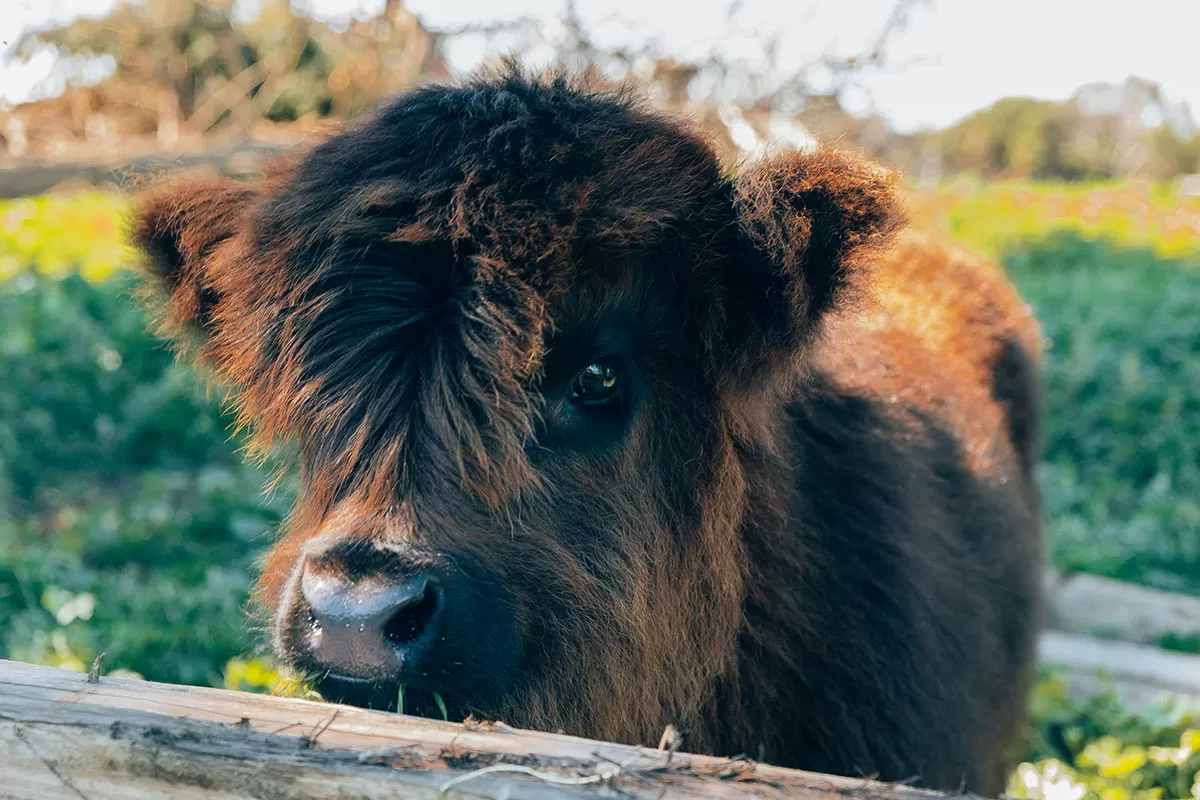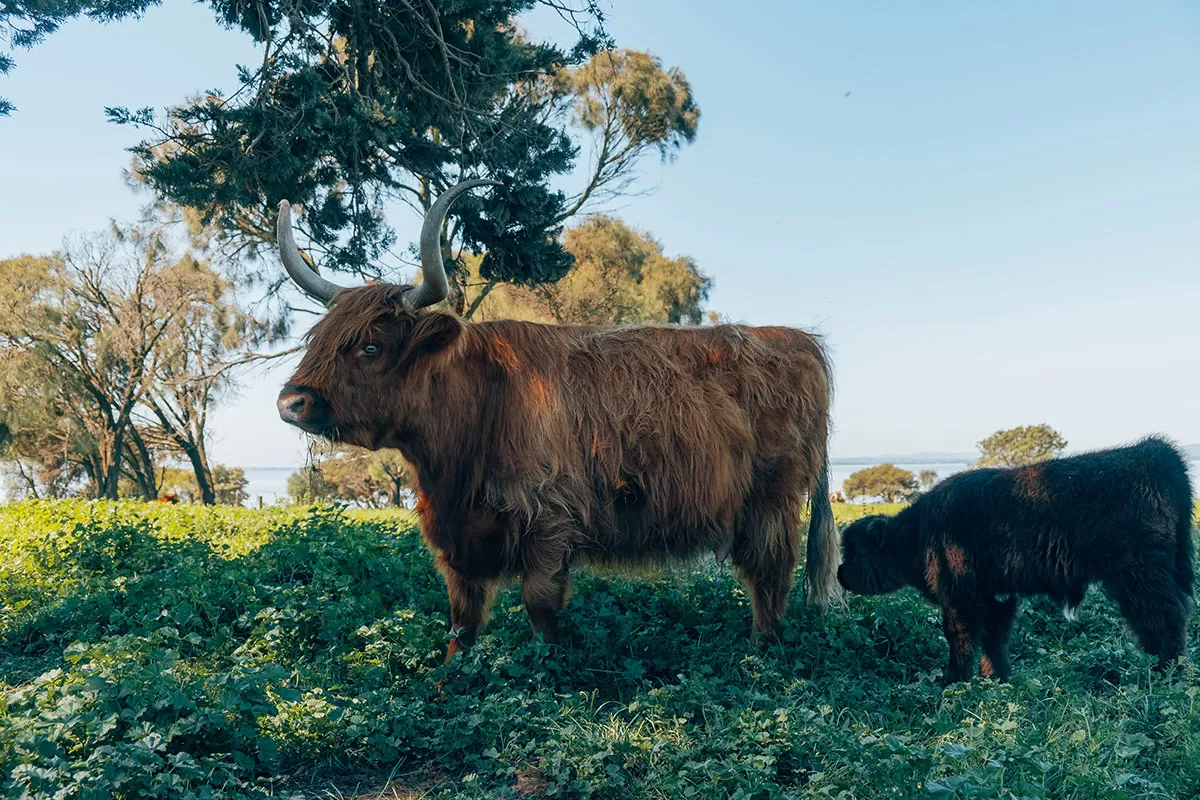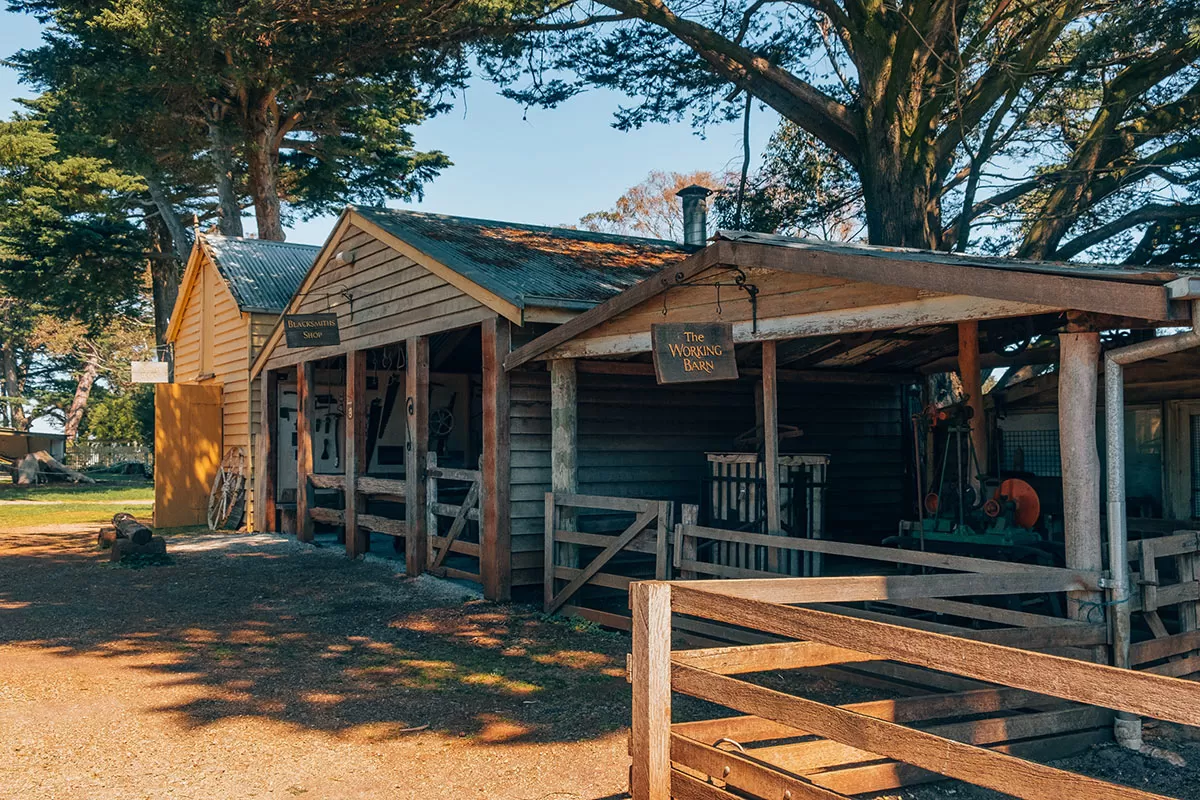 Facing the calmer waters of Western Port, Churchill Island is home to a historic working farm and the first farm and European garden in Victoria. This tiny island covers just 50.7 hectares and takes you on a guided tour back in time as you explore the fully restored cottages dating from the 1860s, a homestead dating from 1872, beautiful gardens, and extensive farm grounds with animal demonstrations and wagon rides.
Churchill Island is a bit like Inception as it's an island located just off an island. Sitting just off Phillip Island's northeast coast, Churchill Island is connected by a short single lane wooden bridge.
As you cross over onto the island, Cape Barren geese appear out of nowhere and block your passage, Highland cows rest in the shade, lazy windmill blades turn in the breeze, and friendly Clydesdale horses grazing in the fields.
Visiting the Churchill Island Heritage Farm is the perfect day out. Activities and educational demonstrations take place daily, including wagon rides, sheep shearing, working dogs, cow milking, and whip cracking.
One of the best ways to explore the island is by taking one of the two family-friendly walking trails. The 5-kilometre Churchill Island Loop is a great way to see the beautiful lush scenery and wildlife on the island and will take around 2 hours to complete. Alternatively, you can take the 2-kilometre North Point Loop which takes around an hour to complete.
I recommend arriving around lunchtime. Either bring a packed lunch and have a picnic or dine in the cafe with an outdoor seating area.
On the fourth Saturday of each month, the island hosts the Churchill Island Farmers Market with over 40 selling local produce grown and made in the Gippsland area.
Tips for visiting Churchill island
Opening times:

Farm Precinct: Open daily 10:00 (Christmas Day from 14:00)
Churchill Island Cafe: Monday to Friday from 10:00, Saturdays and Sundays from 09:00 on Saturdays and Sundays. Christmas Day from 14:00
Activities: Daily from 14:10. During school holidays and long weekends, wagon rides run from 13:00.
Churchill Island Farmers Market: Fourth Saturday of each month from 08.00- 13:00

Admission:
Address: 246 Samuel Amess Drive, Churchill Island 3925
8. Walk along Woolamai Surf Beach, Cape Woolamai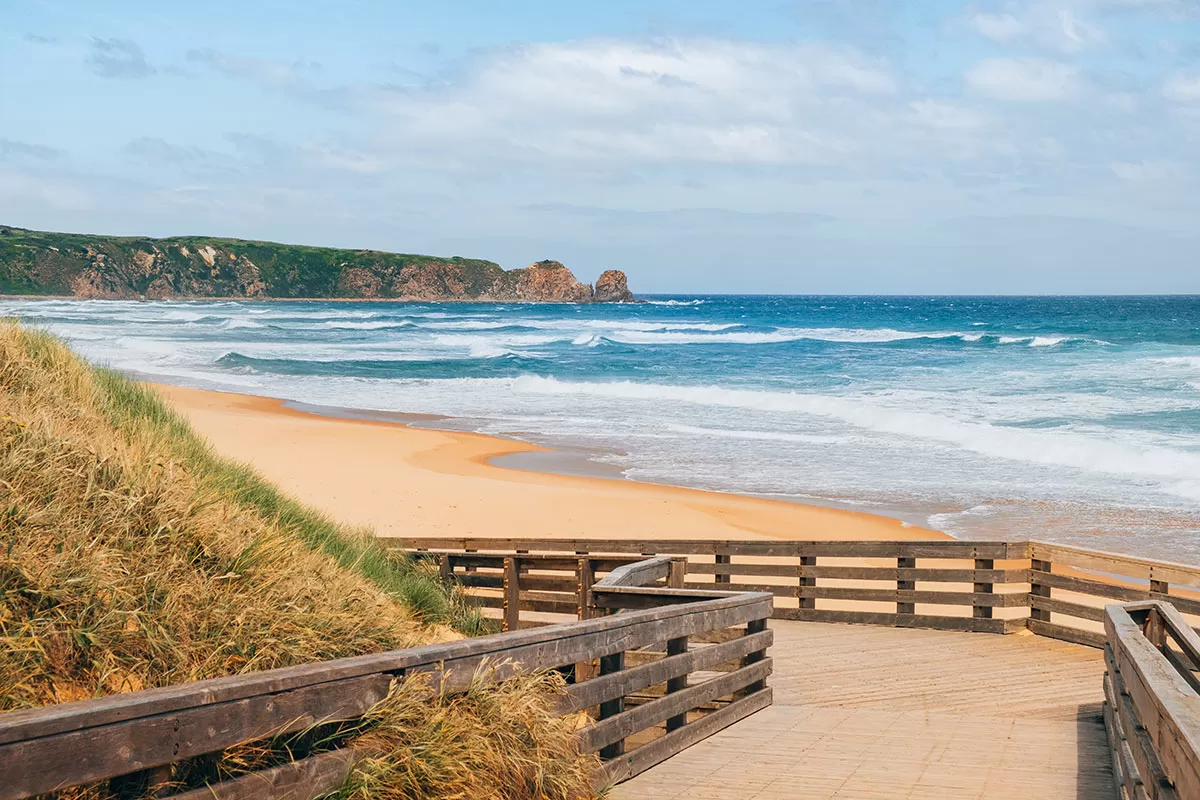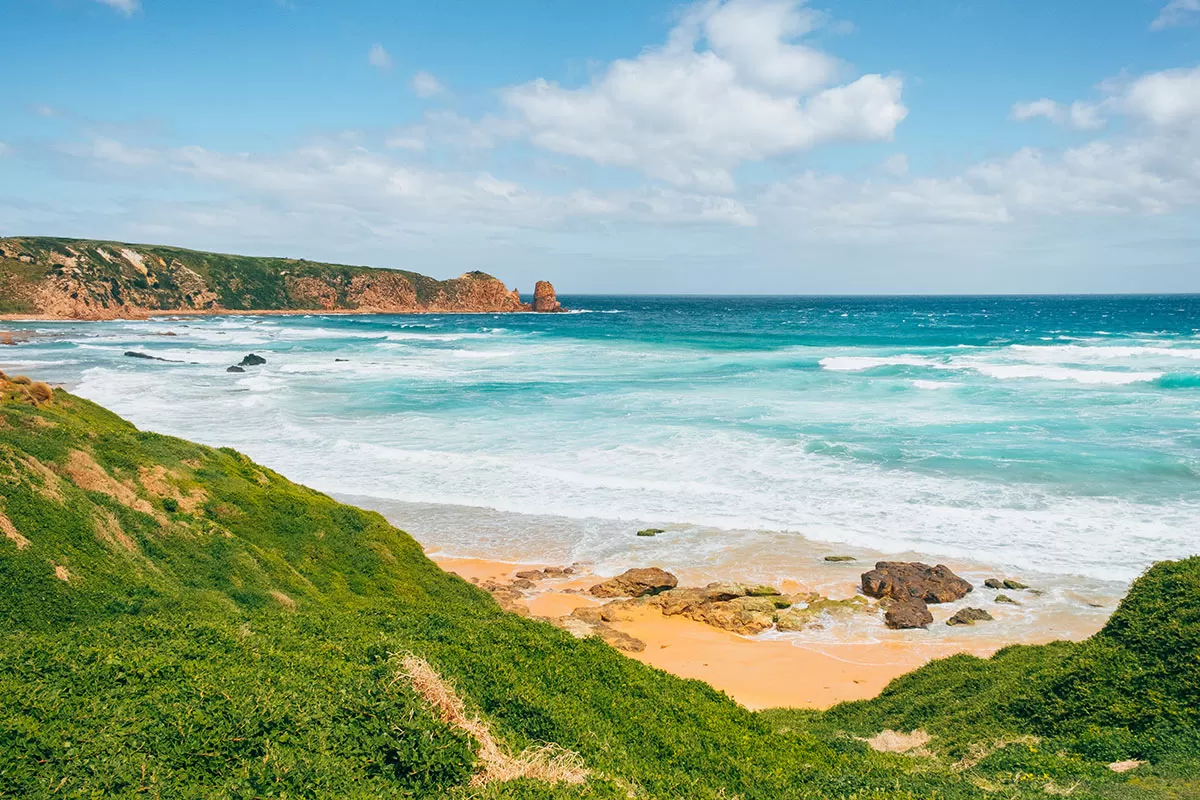 A visit to Cape Woolamai is an absolute must. Located at the most south-easterly tip of Phillip Island this stunning natural reserve has incredible golden beaches, granite cliff coastlines, countless vantage points, and wildlife, including wallabies.
Cape Woolamai was named by George Bass who, after passing it on his whaleboat voyage in 1798 thought the headland resembled the head of a snapper fish. Having learned some of the language of the Eora aboriginal people of Port Jackson near Sydney, Bass used the Eora's word for this fish to name the cape.
Woolamai Surf Beach stretches for approximately 5 kilometres and provides ideal surfing conditions. It's also popular with windsurfers.
Tips for visiting Woolamai Surf Beach
Facilities: Located at Woolamai Surf Beach is a large car park, toilets, lifesaving club, and a kiosk serving hot and cold food.
Address: 288 Woolamai Beach Rd, Cape Woolamai VIC 3925, Australia
9. Explore the Cape Woolamai Coastal Walk
Cape Woolamai Coastal Walk is a trail along the top of coastal cliffs through a state fauna reserve with gorgeous panoramas, sea views and dramatic rock formations. The trail also passes by the burrows of around one million mutton birds which breed here between October – April before migrating back to Alaska each year.
Cape Woolamai can be explored via three trails which are all connected. Each walking trail is highlighted with coloured markers and shows a map with distance covered, remaining, and estimated timings.
Pinnacles walk
Follow the green markers
This track is approximately 4 kilometres in length with an estimated walking time of 2 hours return.
Old Granite Quarry Walk
Follow the blue markers
This walk is approximately 6 kilometres in length with an estimated walking time of 3 hours return.
Cape Woolamai Beacon Walk
Follow the black markers
This route is approximately 6.6 kilometres in length with an estimated walking time of 3.5-4 hours return.
Tips for visiting the Cape Woolamai Coastal Walk
Track conditions: No experience is required to walk the Cape Woolamai Coastal Walk. Sections of the walk are sandy or hardened gravel and include stairs and a gentle incline as you reach the tip of the cape at The Beacon.
Access: No cars are allowed beyond the Woolamai Surf Beach, so park the car, throw on some comfortable walking shoes and enjoy this easy-moderate hiking trail.
Trailhead: The trailhead used to start from the car park, however, this is now restricted to park ranger vehicles only. You can meet up with the trail by taking the stairs down to the beach and continuing towards your left. Keep walking along the beach until you come to another set of stairs which leads up to the trail.
Address: 288 Woolamai Beach Rd, Cape Woolamai VIC 3925, Australia
Pinnacles walk, Cape Woolamai Coastal Walk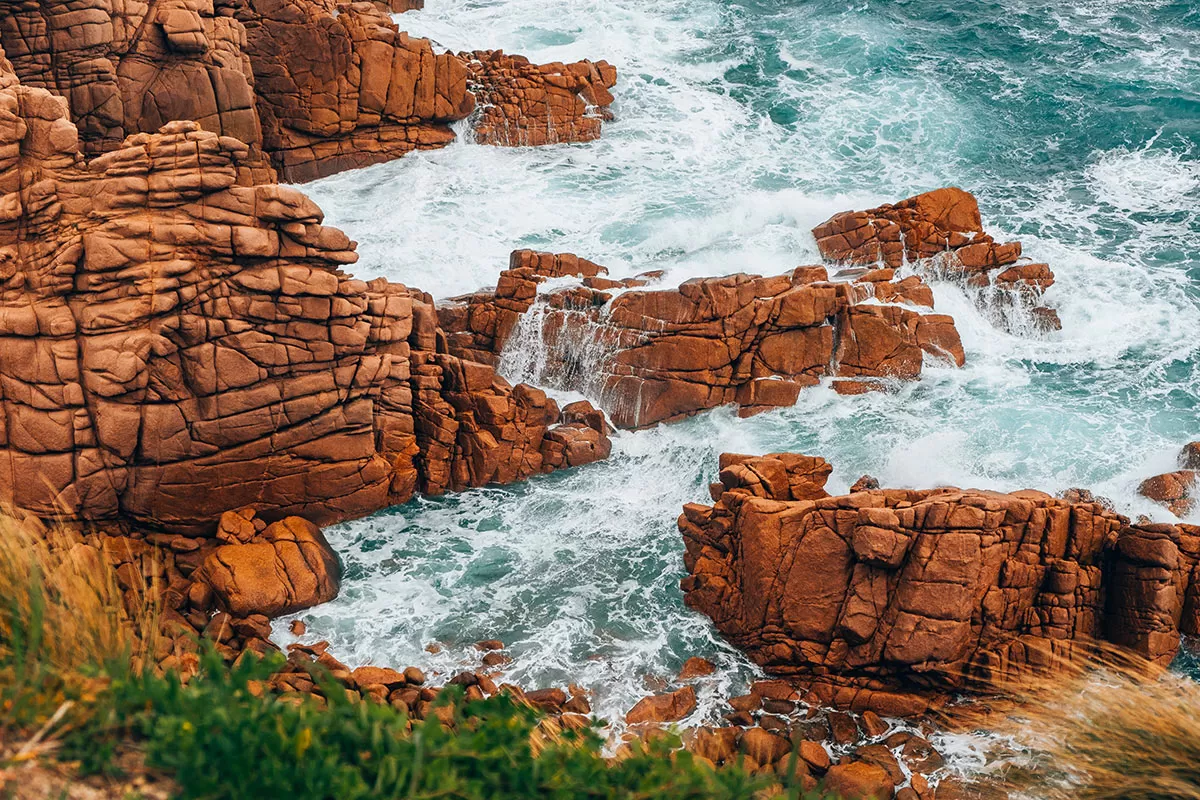 One of the best things to do in Phillip Island is visit The Pinnacles, a series of towering granite formations caused by volcanic activity and erosion. A few years ago, you were allowed to walk down to the foreshore during low-tide, but now there are signs which warn against this. Conditions here can be extremely dangerous and the walk down is especially challenging without the correct footwear. Please stay safe and avoid going down.
Tips for visiting The Pinnacles, Cape Woolamai Coastal Walk
How to get to The Pinnacles: As you take the stairs up from the beach, continue to your right along the path for about 15-20 minutes to The Pinnacles. Located here is a lookout, bench, and a precarious path down to the right.
Beacon Walk, Cape Woolamai Coastal Walk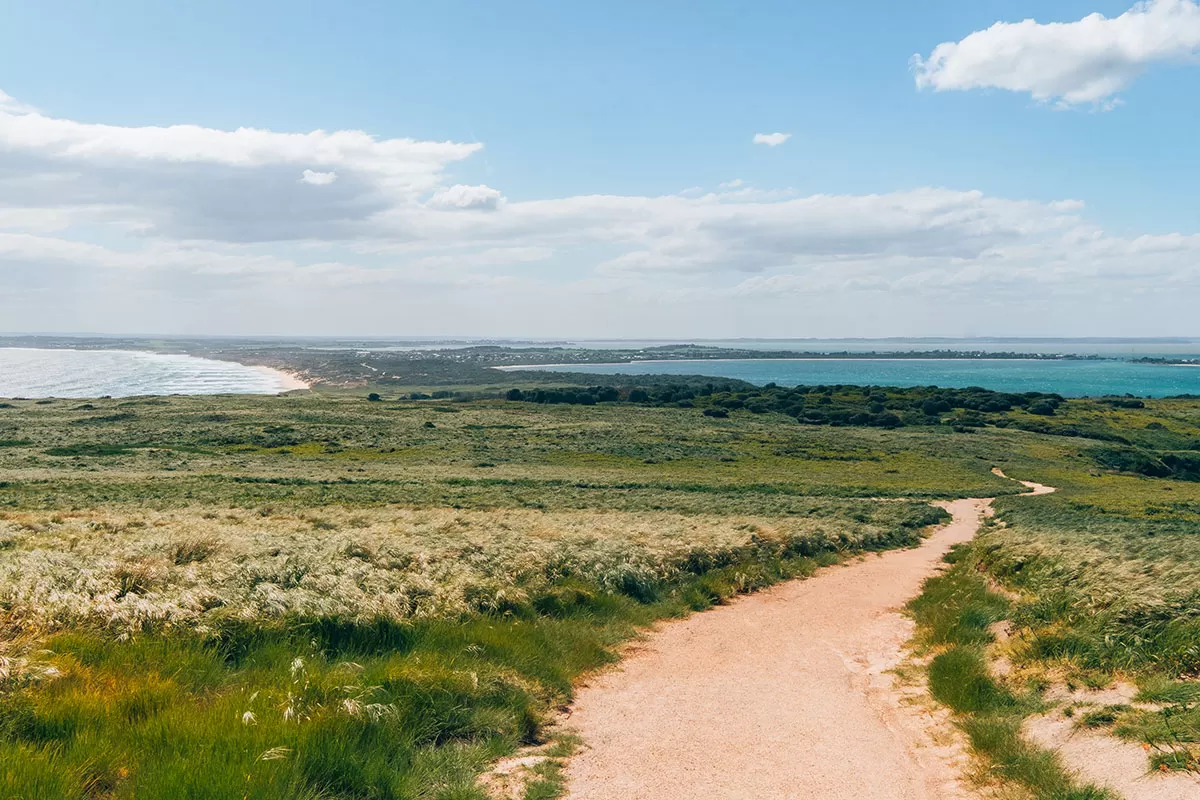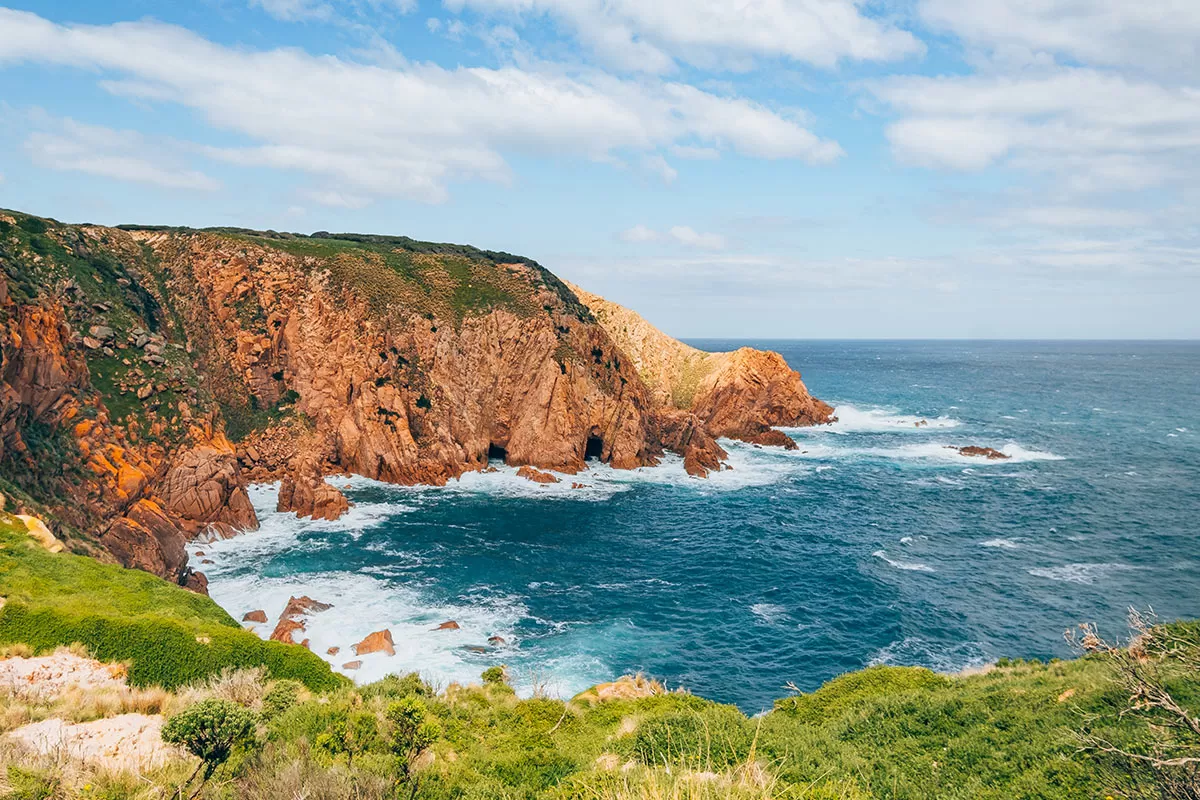 At the tip of Cape Woolamai is The Beacon, the highest point on Phillip Island. From here there is a wonderful vantage point where you can see either side of the cape and get 360 degree views over this important light structure which guides marine vessels safely navigate these waters.
Tips for visiting The Beacon, Cape Woolamai Coastal Walk
How to get to The Beacon: With the Pinnacles behind you, continue along the same trail for about 1.6km. It will take you roughly 20 minutes to reach The Beacon.
Old Granite Quarry Walk and Gull Island Lookout, Cape Woolamai Coastal Walk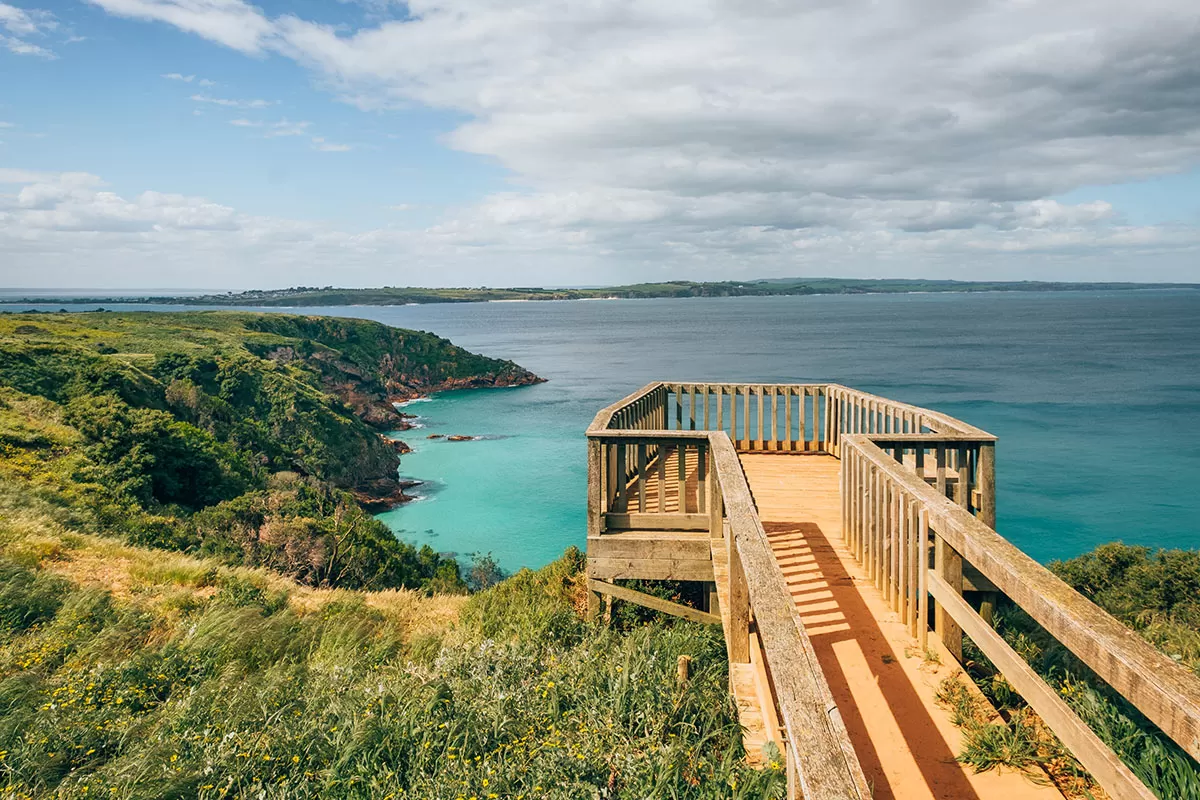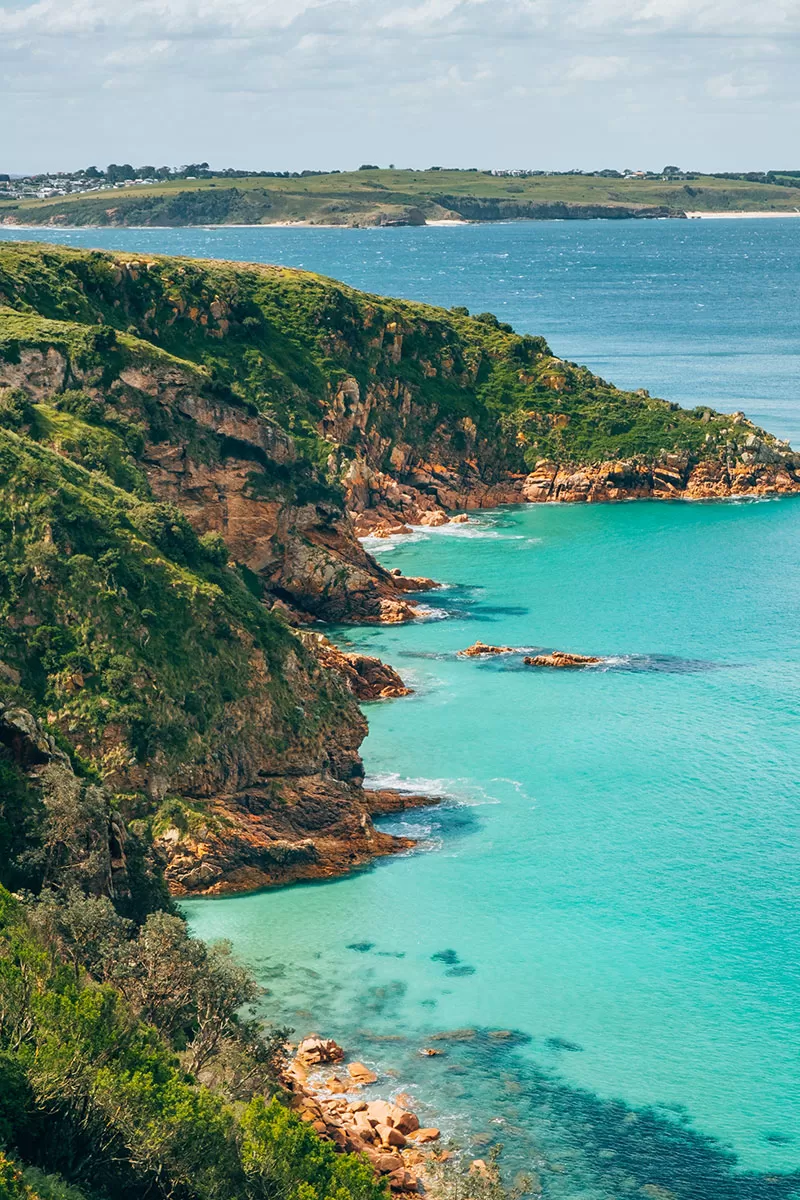 From The Beacon, the path will circle back and you'll pass this lovely lookout. If you're lucky, the sun will be shining, lighting up this vibrant turquoise water. There is the perfect spot to rest and soak in the views.
Approximately 700m further along the path you will pass through some thicker greenery with tall grass. Keep an eye out here for wallabies and kangaroos. It's here you will come to a fork in the trail and the start of the Old Granite Quarry Walk. Decide if you would like to continue to the Old Granite Quarry (turn right) or return to the car park directly (keep left).
The Old Granite Quarry is all that remains of this 19th-century quarry which was in operation for just 2 years. Melbourne builders were supplied with local granite that was split and blasted here supply before it was decommissioned. During low tide, you can see parts of the old jetty that was used to transport the granite and drill holes in the huge granite boulders.
Tips for visiting Old Granite Quarry Walk and Gull Island Lookout, Cape Woolamai Coastal Walk
How to get to Gull Island Lookout: From The Beacon, continue along the path for about 10 minutes. The Gull Island Lookout, is located on your right.
How to get to the Old Granit Quarry: Allow an extra 25 minutes to reach the Old Granite Quarry from where the trail begins. You can decide to loop back to the car park along Cleeland Bight Beach or return along the path you came.
10. Explore the Forrest Caves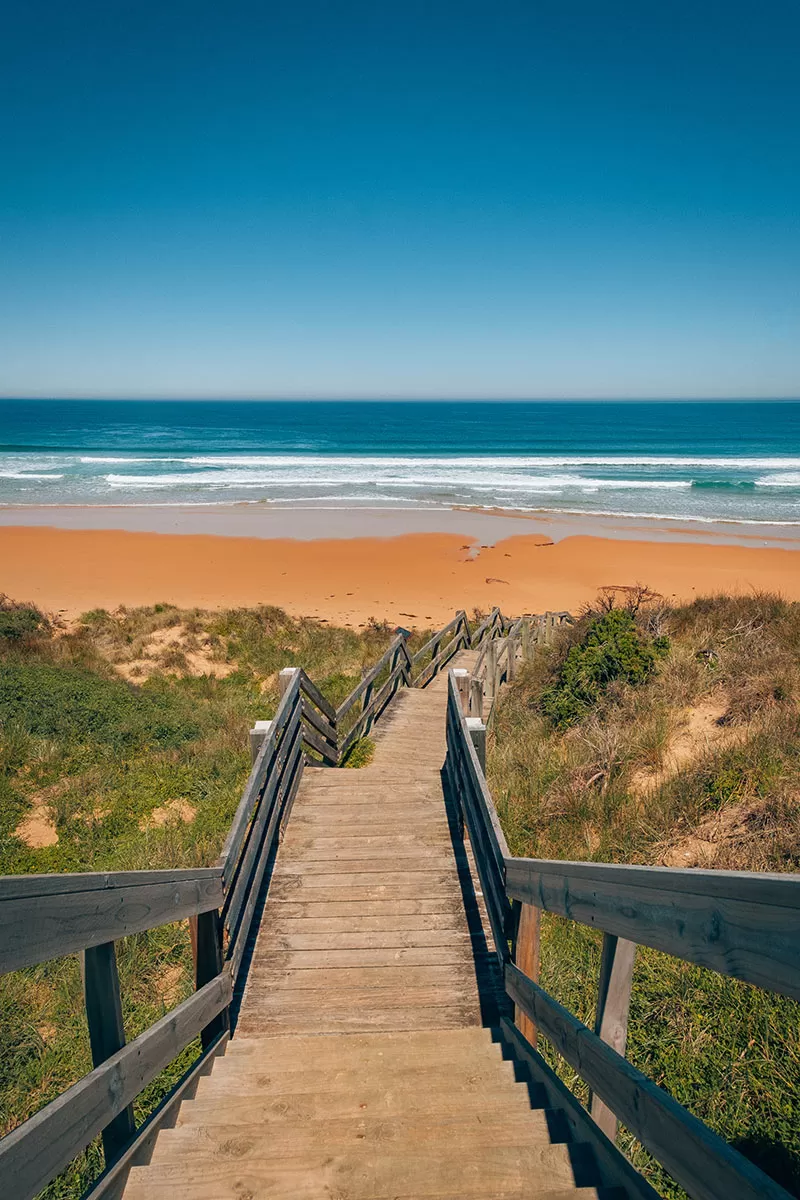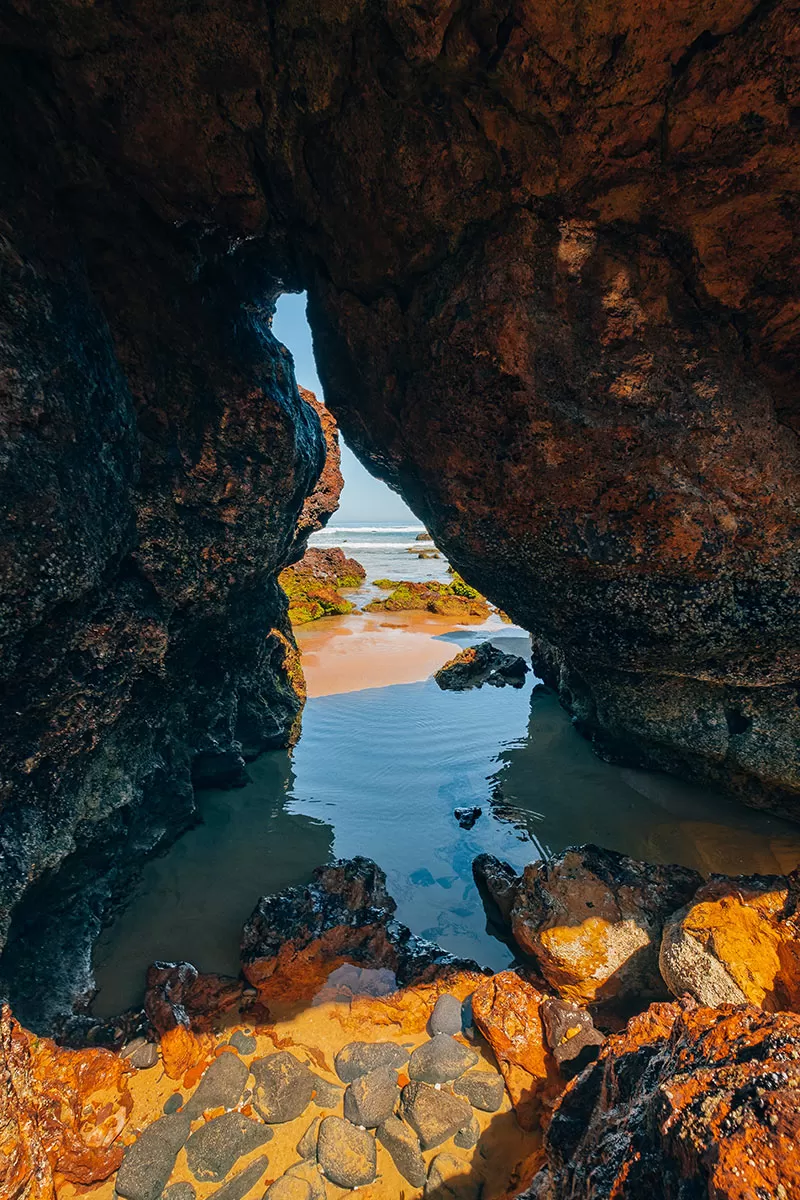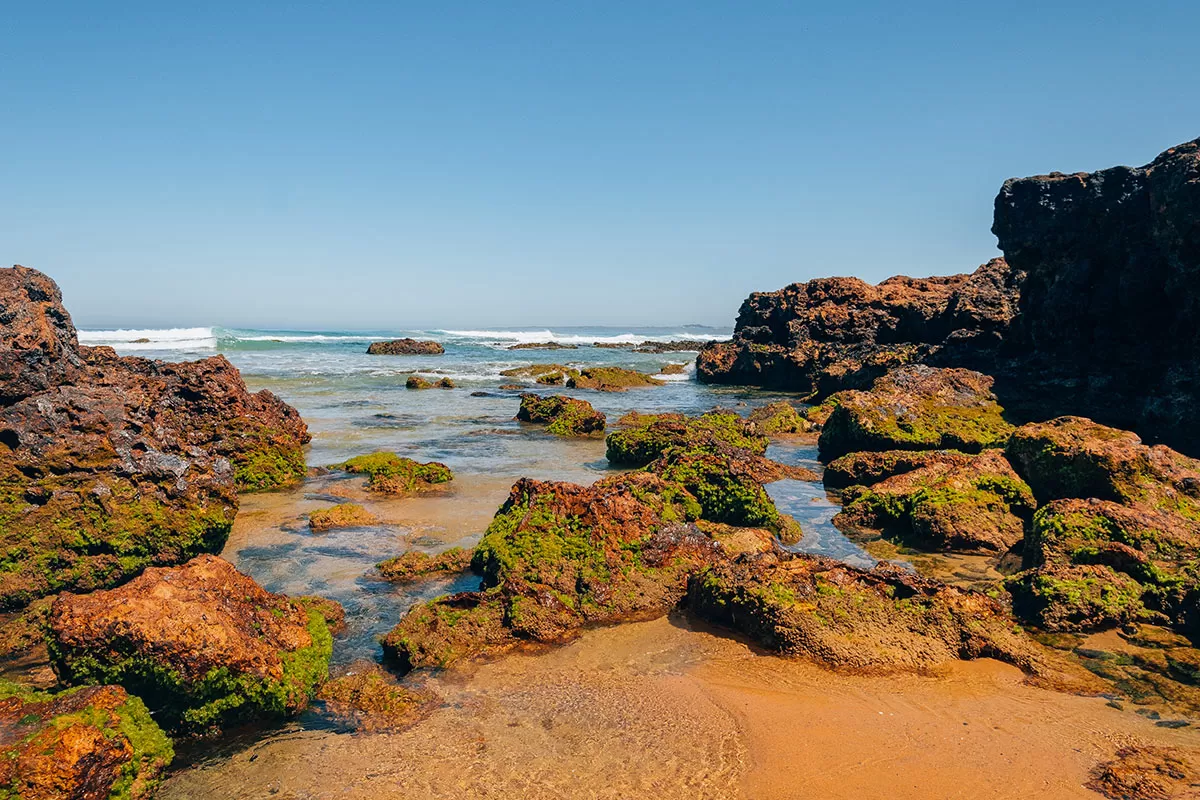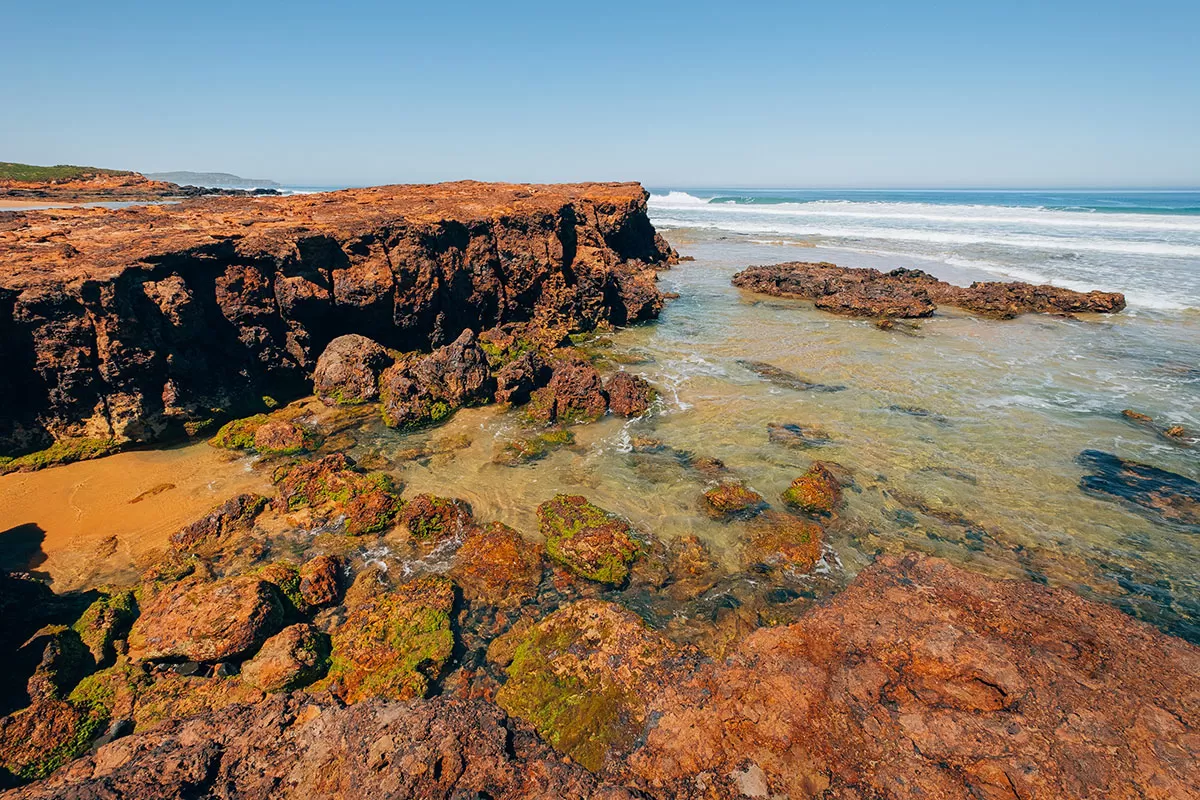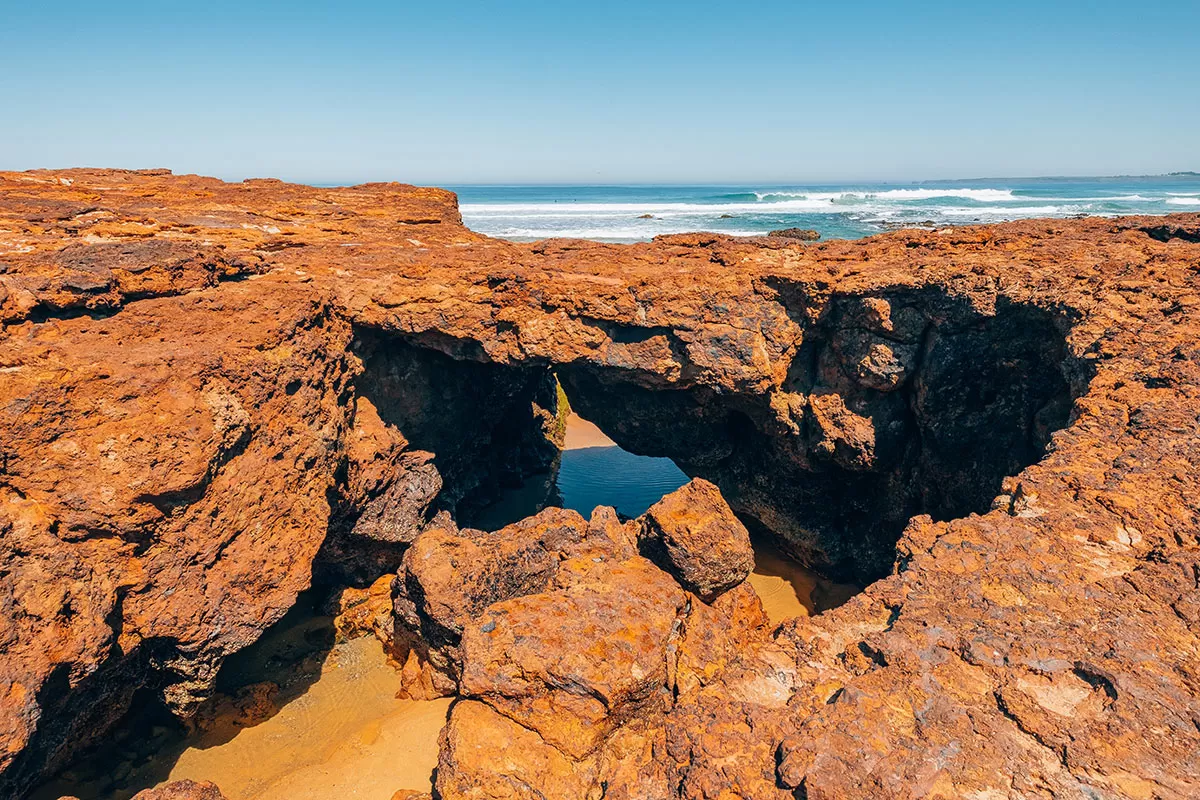 The Forrest Caves is a shallow rock reef located on the surf beach near The Cape Kitchen waterfront restaurant. During low tide you can explore these caves, which sadly, in some parts have collapsed.
Tips for visiting the Forrest Caves
How to get to Forrest Caves: From the car park, take the path to the beach and turn left at the bottom of the stairs and continue up for about 1 kilometre.
Visit Duration: Allow 10-15 minutes to reach the Forrest Caves and an hour or so exploring the area and large sand dunes.
Facilities: There are toilets and showers and a medium-sized gravel car park.
Address: Forrest Caves, Phillip Island Rd, Newhaven VIC 3922, Australia
11. Get some koala-ity time at the Koala Reserve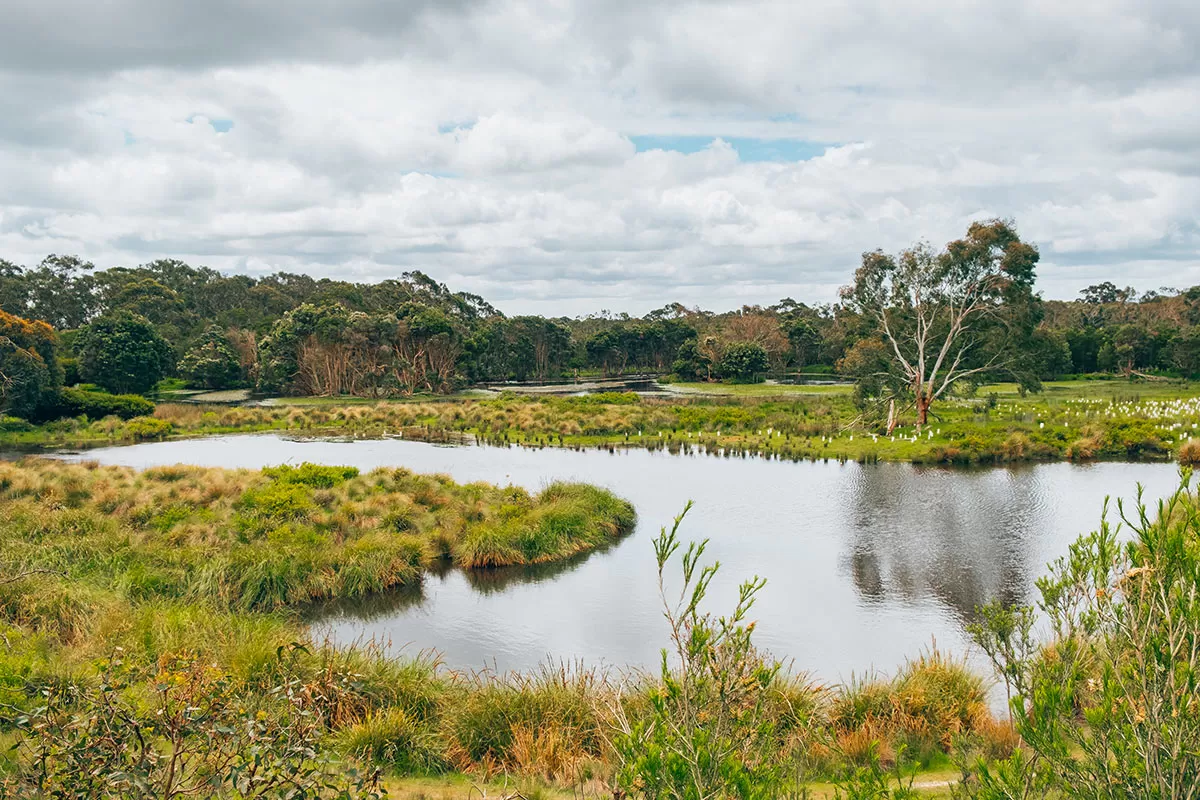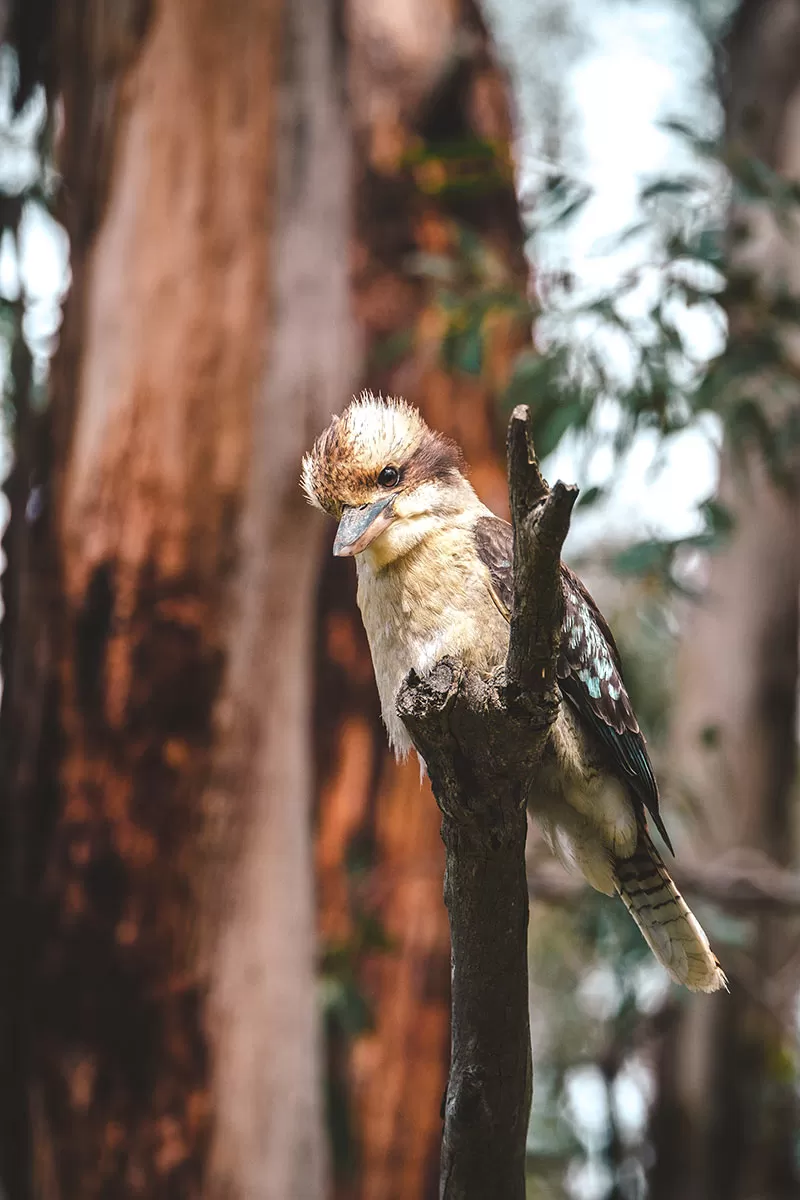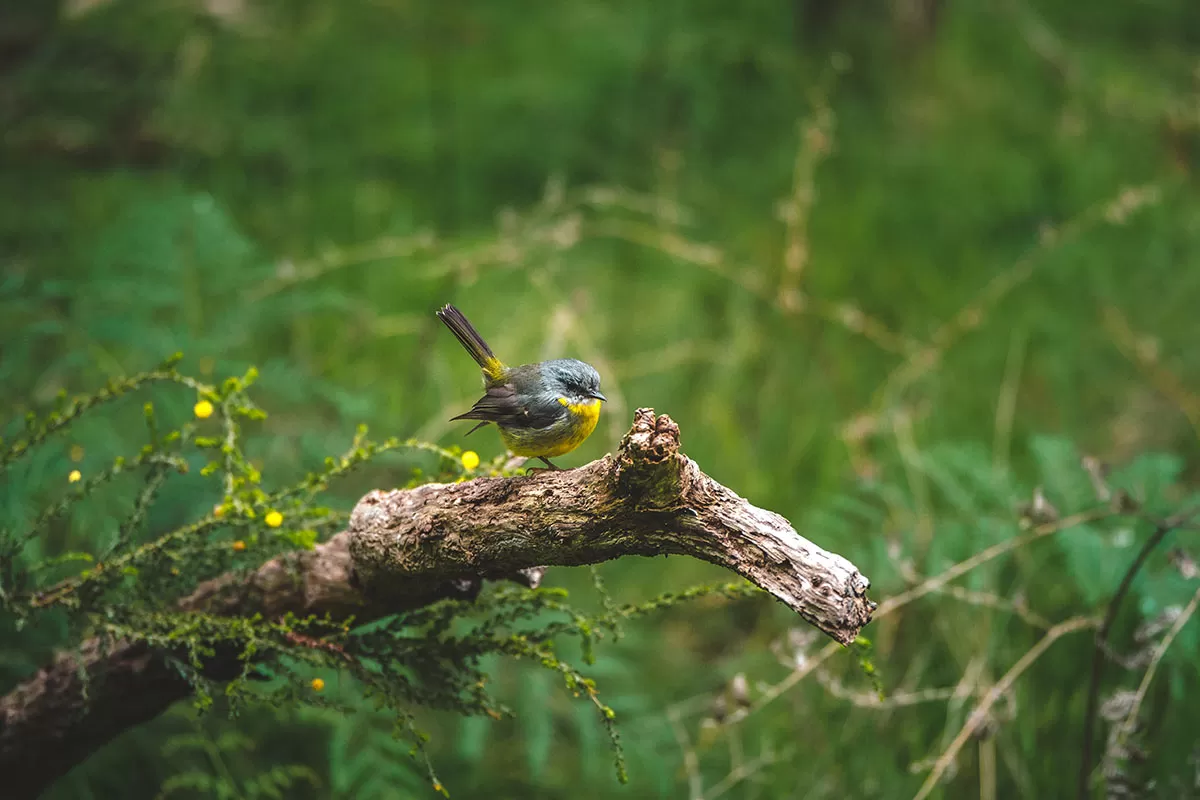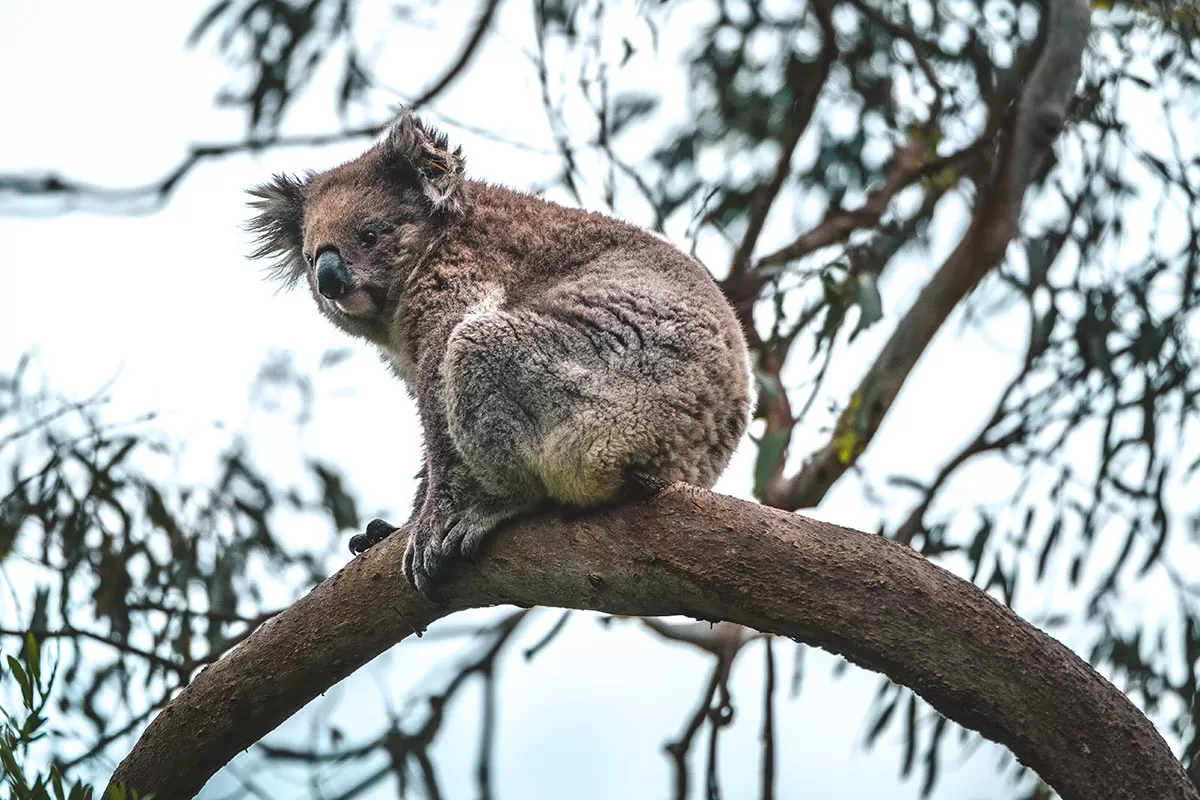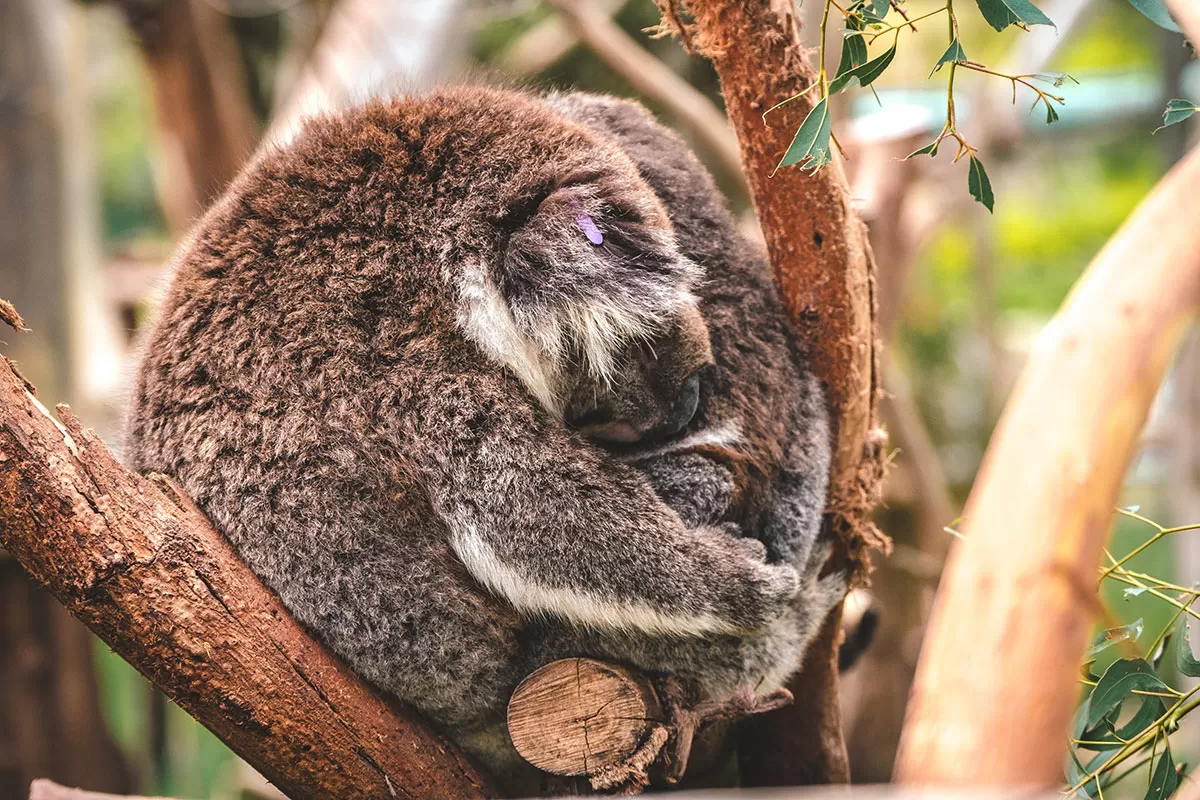 One of the top things to do in Phillip Island and the best ways to see Koalas in their natural habitat is by paying a visit to the Koala Reserve. There are two tree-top boardwalks that lead you through gum trees where you'll see these cuddly marsupials.
Volunteers are on hand to answer your questions as you explore the Koala Reserve. Located in natural Australian bushland, there is plenty of other wildlife to spot during your visit including kookaburras, eastern yellow robins, cockatoos, echidnas, wallabies, and bats. Inside the visitor centre is an informative and interactive display where you can learn all about the lives of koalas.
Tips for visiting the Koala Reserve
Opening times:

Open daily 10:00 – 17:00 (April – October)
Open daily 10:00 – 17:30 (February – April, October to Dec 25)
Open daily 10:00 – 18:0 (Boxing Day to end of January)
From 14:00 – 17:30pm (Christmas Day)
Last admission is 15 minutes before closing time

Admission:
Address: 1810 Phillip Island Rd, Phillip Island VIC 3923, Australia
12. Wander along Rhyll Jetty and Rhyll Inlet Wetland Boardwalk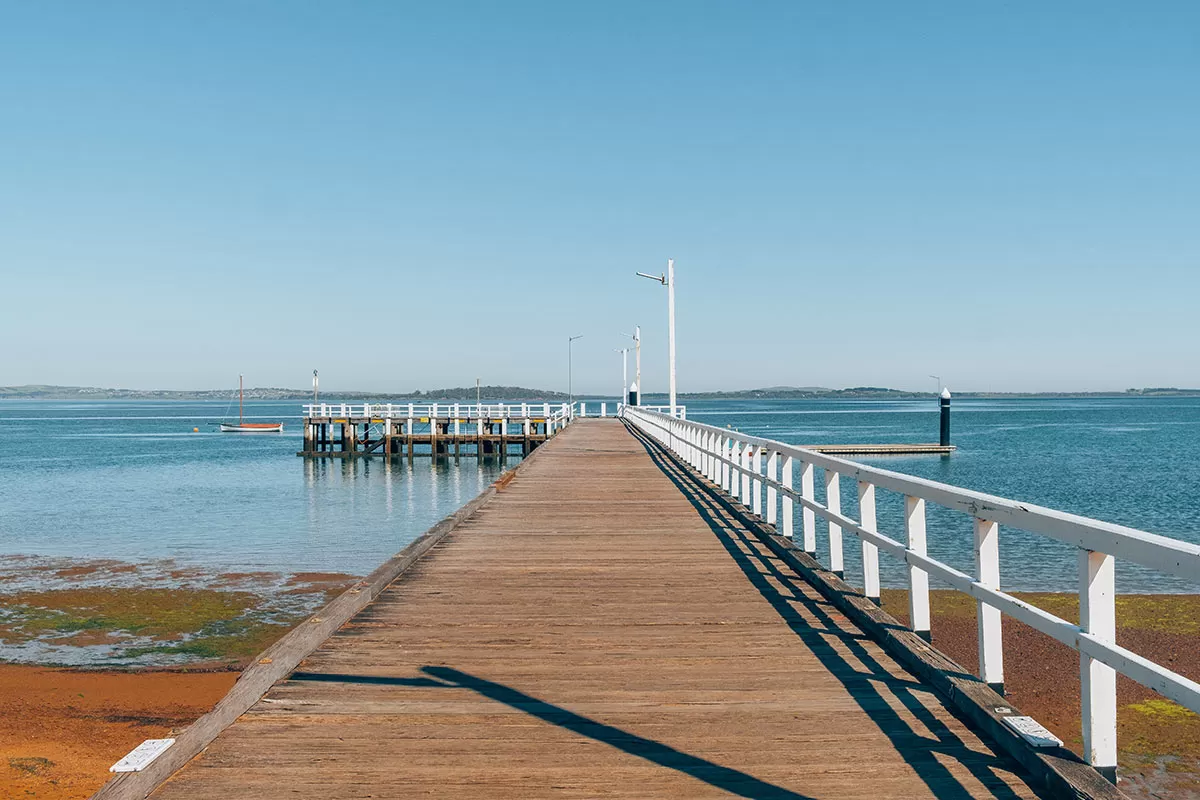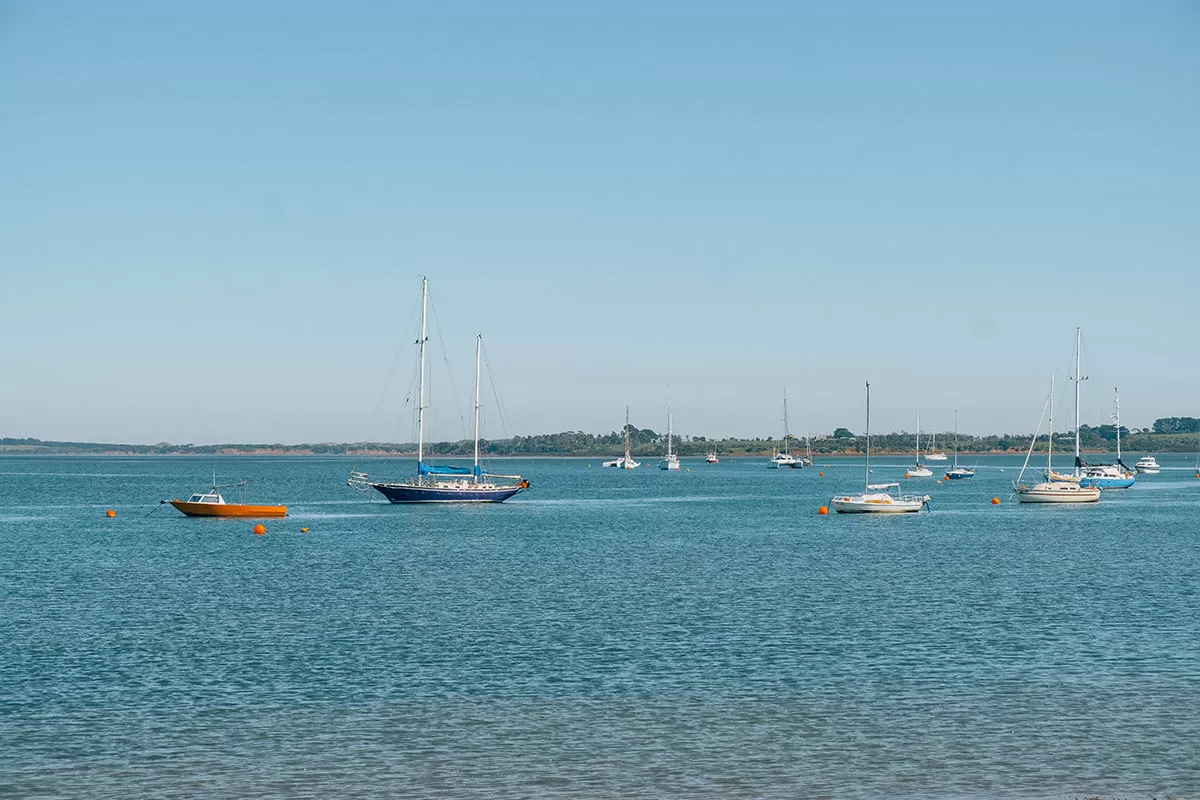 Rhyll is a small fishing village with a lovely view from the jetty towards Churchill Island. Also here is The Ferry Captain, a sculpture carved out of the stump of the cypress tree that stood here but was cut down after it was severely damaged during a storm in 2016. Rhyll beach is a great swimming spot and popular with families thanks to the low waves and nearby playground.
Located nearby is the Rhyll Inlet Wetland Boardwalk where you can literally walk on water. Connecting Rhyll Inlet to Conservation Hill, this easy 1.8 km walk takes just 20 minutes one-way to complete.
Tips for visiting Rhyll Inlet Wetland Boardwalk
Trailhead: Start at either Conservation Hill Reserve, 411 Cowes-Rhyll Rd or from Mcilwraith Rd, Rhyll VIC 3923, Australia
Visit duration: Allow an hour for the return journey which includes stopping at information boards and wildlife spotting.
13. Eat, Sleep, and Stock up in Cowes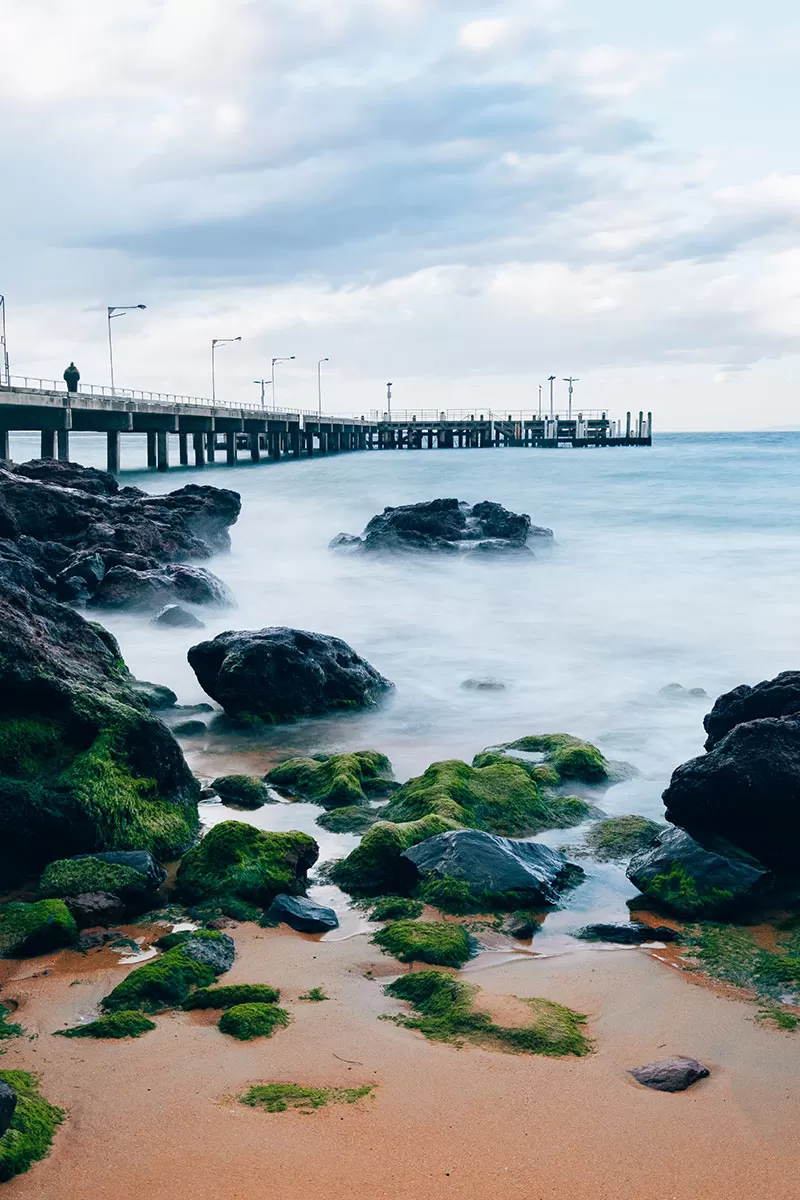 Located right on the beach, Cowes is the largest town on Phillip Island and where most holidaymakers base themselves during their visit, including yours truly who stayed in this gorgeous Airbnb.
Thompson Avenue is the main commercial hub of Cowes runs and is lined with golden cypress trees which shade the numerous shops, hotels, cafes, restaurants, and supermarkets. Cowes is also the only place on the island with service stations (gas station), so make sure you fuel up here.
Address: Thompson Ave, Cowes VIC 3922, Australia
14. Visit Pyramid Rock Lookout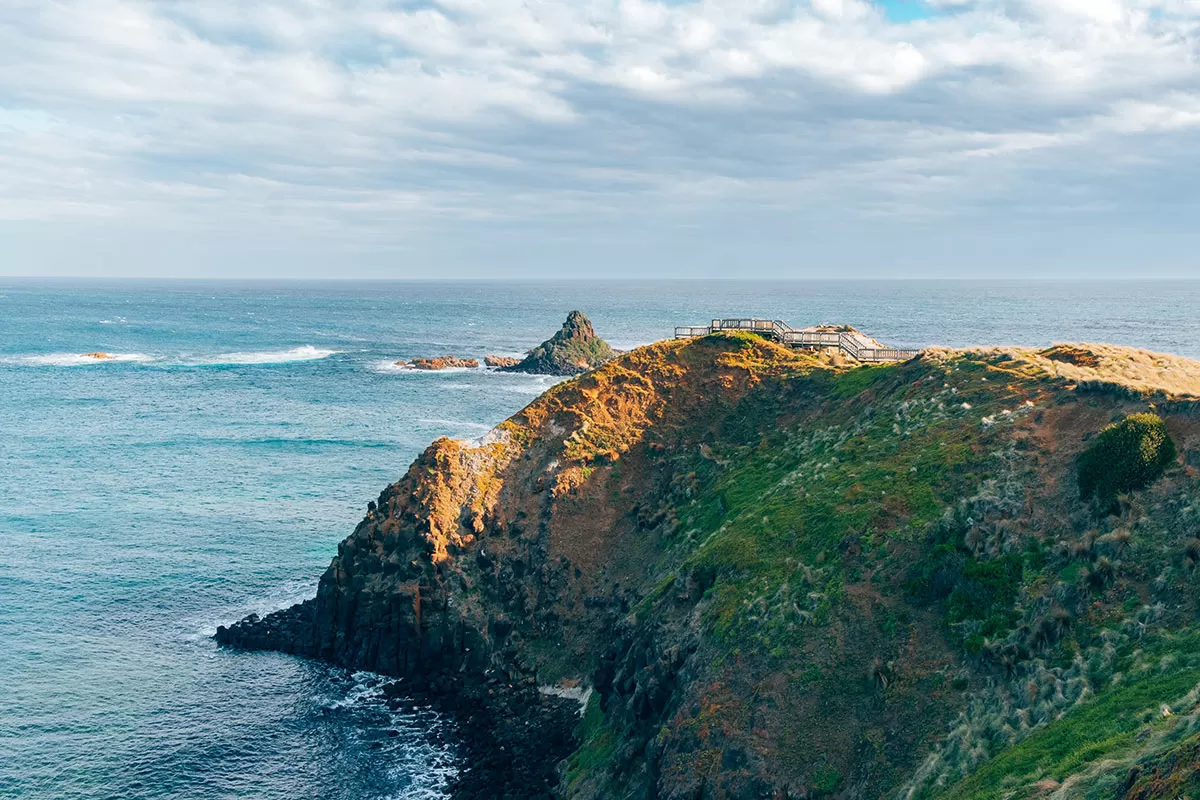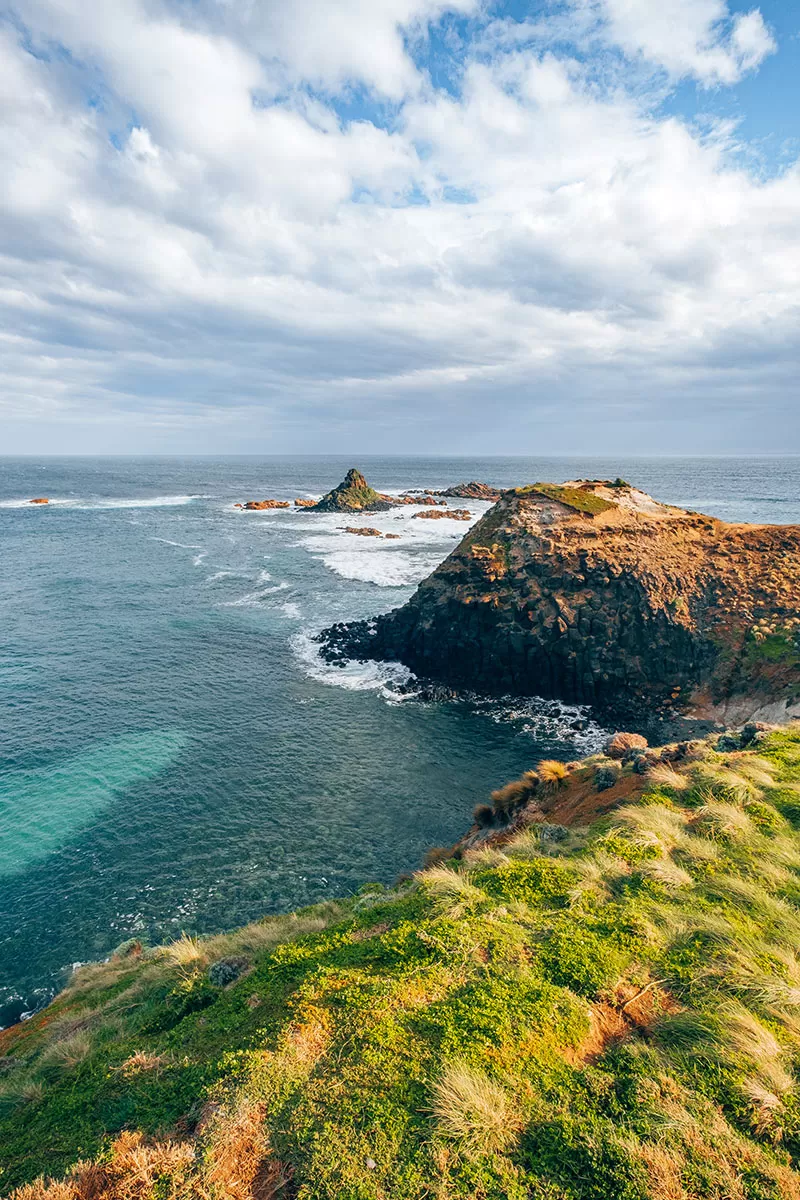 Visible from various beaches on Phillip Island and along Australia's southern coast, Pyramid Rock is a triangular natural attraction located in the azure waters off the coast of Storm Bay.
The best view of Pyramid Rock is from Pyramid Rock Lookout accessed via a coastal cliff-top track with sweeping panoramic views over Phillip Island's breathtaking coastline.
If you feel like stretching your legs, there is a 5-kilometer return trail that leads down to Berry's Beach where you'll find even more excellent views.
Tips for visiting Pyramid Rock Lookout
Facilities: Toilet, small gravel car park, and ample seating for picnics and BBQs.
Address: 535 Pyramid Rock Rd, Ventnor VIC 3922, Australia
15. Explore the Shipwreck SS Speke
In 1960, the three-masted steel ship SS Speke ran aground near the rocky cove of Phillip Island's Kitty Miller Bay. Just one of the many ships that were no match for the rough seas of the Bass Strait. After impact, pieces of the 90-metre ship were scattered along the coast and the Bow of the SS Speke settled near the cliffs located to the east of Kitty Miller Bay.
Tips for visiting Shipwreck SS Speke
When to visit: For the best visibility and access to the wreckage, I recommend visiting at between medium and low tide.
Trail conditions: Moderately difficult. Wear appropriate footwear and check tide times.
How to get to The SS Speke Shipwreck: Park at the Kitty Millers Bay car park and take the stairs down to the beach. Continue east along the beach. After approximately 50 metres, the path will narrow and you'll hug the coastline. Look out for a steep dirt path that leads up the hill and continues for 800 metres around the cover. This will lead you to the shipwreck on the opposite side of the cliffs.
Address: South End of Carpark, Kitty Millers Bay Rd, Ventnor VIC 3922, Australia
16. See the famous Phillip Island Penguin Parade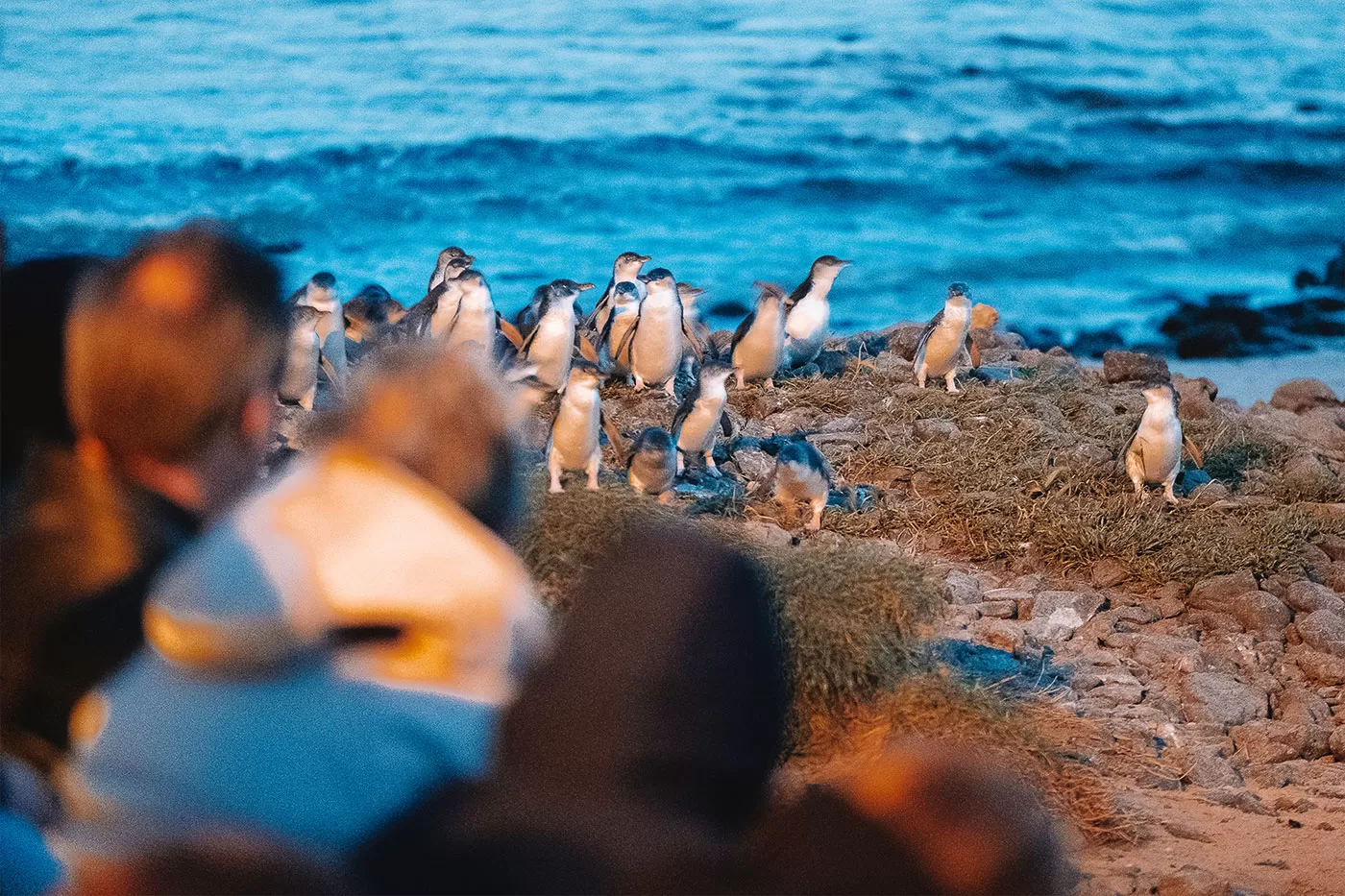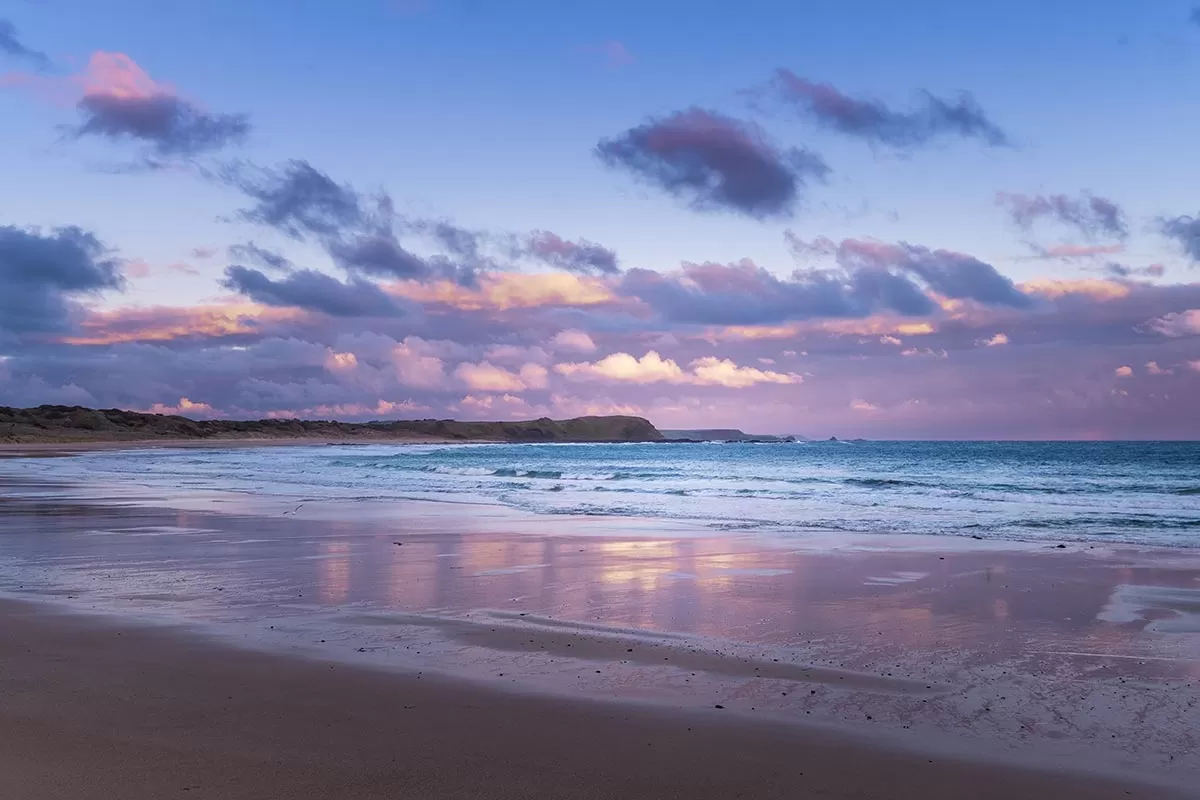 Phillip Island is home to one of mother nature's incredible shows. Every night thousands of the world's smallest penguins, appropriately named, Little Penguins, return to shore just after a long day at sea.
For more information, about this once in a lifetime experience, read my Phillip Island Penguin Parade guide here and book your Phillip Island Penguin Parade tickets here
Address: 1019 Ventnor Rd, Summerlands VIC 3922, Australia
17. Stroll along Shelley Beach at Cats Bay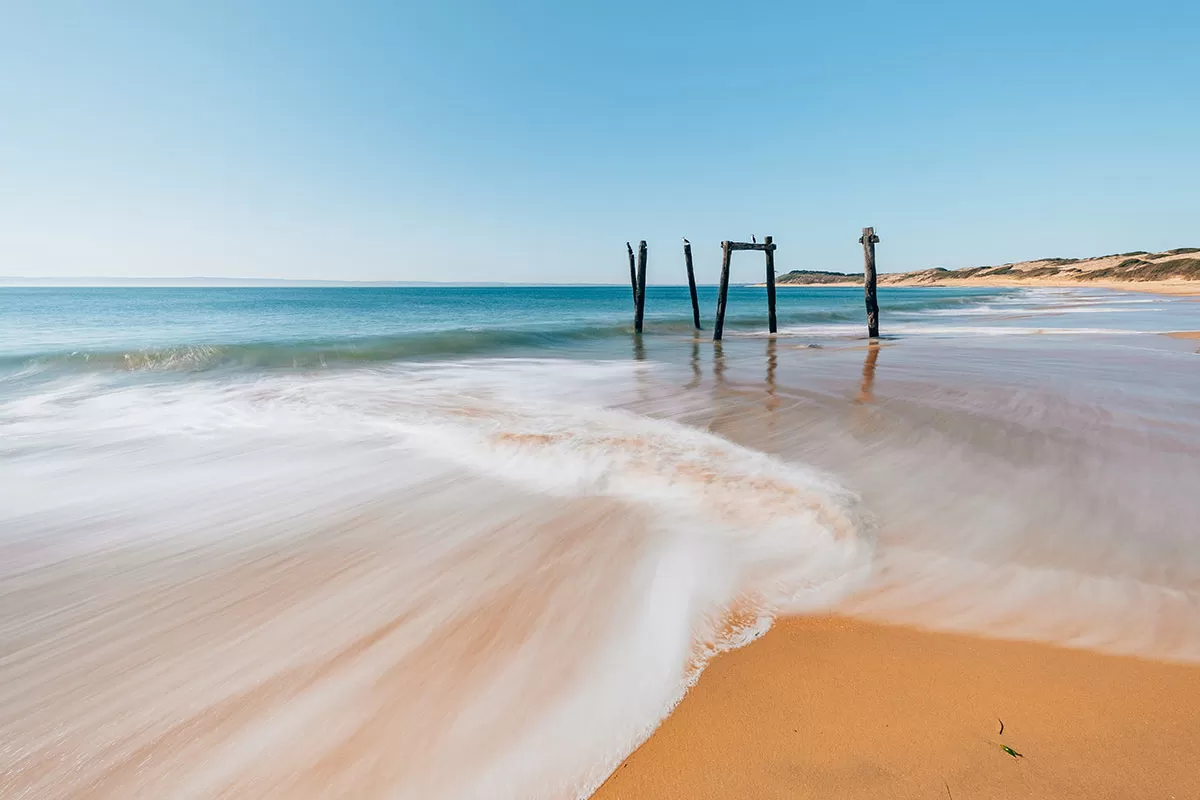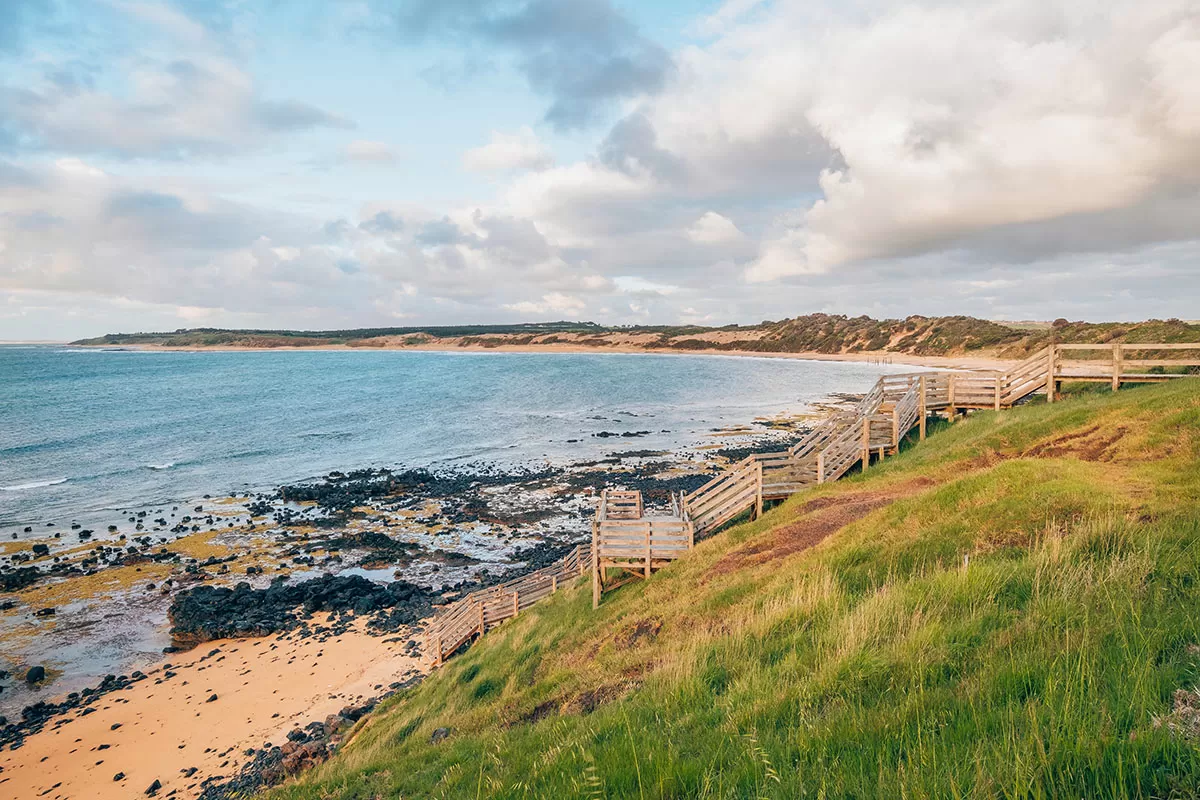 Just up the road from the Phillip Island Penguin Parade is Shelley Beach, a surfer hotspot and where you'll find wooden pylons which make for a great photo stop.
Located at the far westerly tip of Phillip Island, access to Summerlands closes approximately 30 minutes before sunset each day to ensure the returning Little Penguins and other wildlife aren't disturbed. Park rangers patrol the roads and will escort you out if you're still inside this gated area.
Tips for visiting Shelley Beach
Facilities: Two car parks are located along Shelley Beach – one in the middle and another at Right Point.
Address: 1115 Ventnor Rd, Summerlands VIC 3922, Australia
18. Explore The Nobbies View Point and The Nobbies Visitor Centre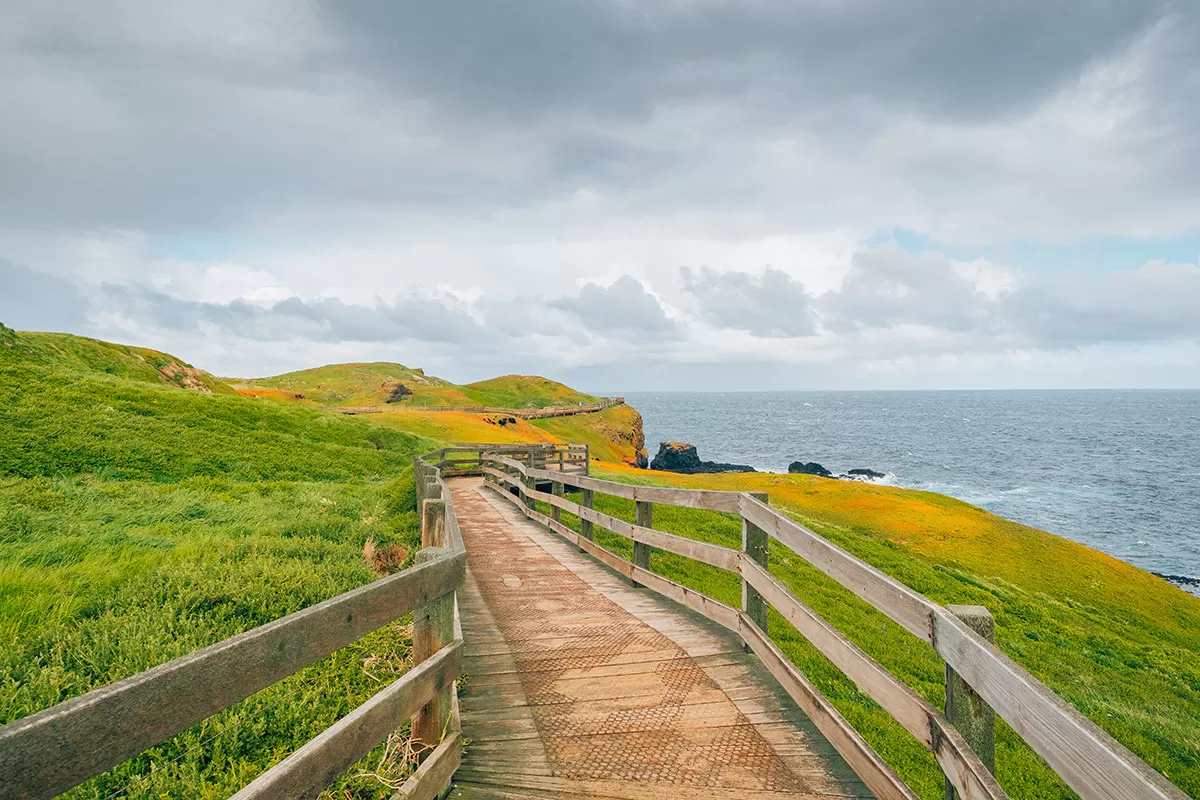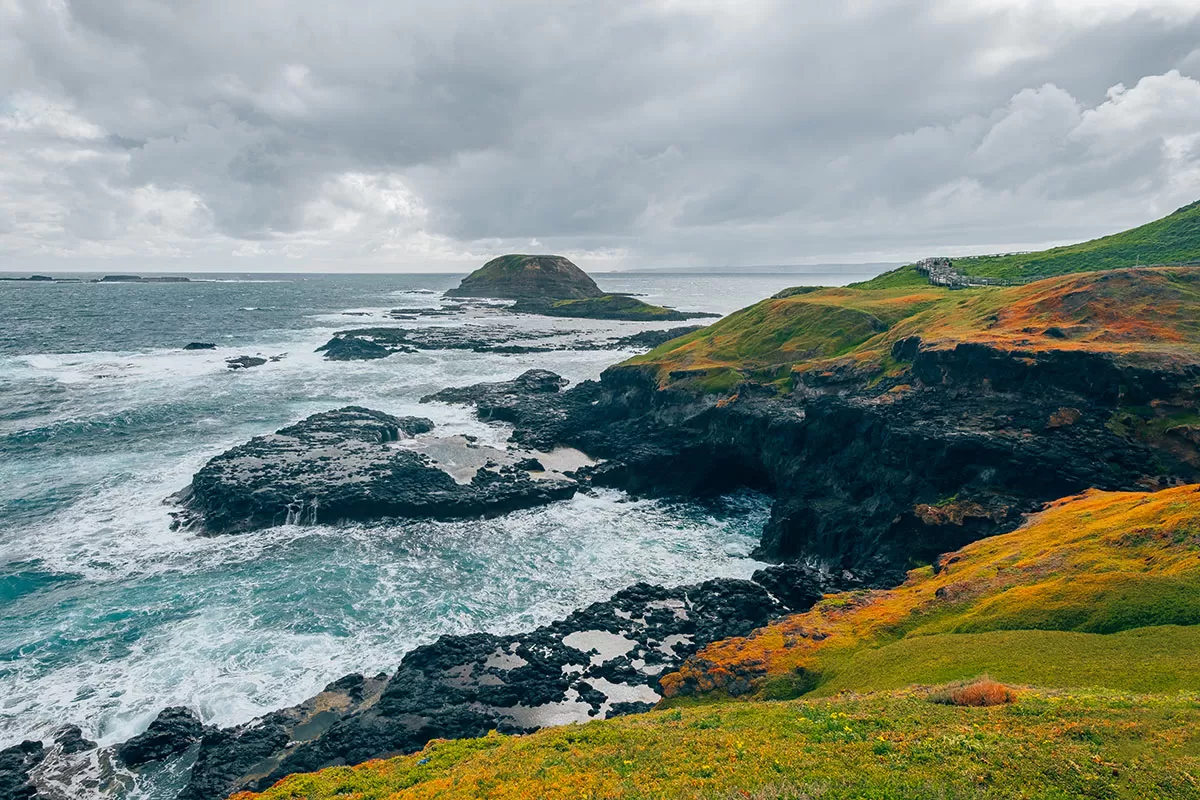 The Nobbies is a stunning outcrop and headland located at Phillip Island's most westerly tip. A spectacular boardwalks winds along the coast where you'll get stunning panoramic views over the Bass Strait and towards Mornington Peninsula.
There are plenty of sea birds here too. During spring and early summer, you'll see Silver Gulls nests and their chicks and Little Penguins going about their business.
Located 1.5 kilometres directly offshore from The Nobbies are Seal Rocks, home to Australia's largest Australian Fur Seal colony. The best way to see them is by joining this seal-watching tour.
Follow the boardwalk around to the left (east) for The Nobbies View Point where you'll see an impressive blowhole created by a sea cave that erupts during big swells.
The Nobbies Visitor Centre is home to the Antarctic Journey, an interactive and virtual journey into the wonderful world of the Southern Ocean and Antarctica with engaging exhibits and immersive experiences.
Tips for visiting The Nobbies
Travel tips: It can get very, and I mean VERY windy here. Dress warm and keep your hair out of face with a hood or tight beanie.
Facilities: Located inside the Nobbies Visitor Centre are accessible toilets, a cafe, and a gift shop.
Opening times:

Nobbies Centre: Open daily from 10:00 until 1 hour before sunset
Antarctic Journey: Open daily from 10:00 until 2 hours before sunset

Admission:
Address: 1320 Ventnor Rd, Summerlands VIC 3922, Australia
19. Take The Blvd to Southpoint Lookout and Summerlands lookout
After visiting The Nobbies, instead of returning via Ventnor Road, I recommend driving along The Blvd. This scenic coastal road has a couple of gorgeous lookouts that are definitely worth seeing. The first lookout is Southpoint Lookout (900m from the Nobbies carpark) where you can see the entire Summerland coastline with huge waves crashing against the rugged cliffs.
Continue for another 3.5 kilometers where you'll reach the Summerlands lookout. From here you can see the beach where the Penguin Parade takes place.
Tips for visiting The Blvd
Drive with caution: This is a one-way road so drive slowly and carefully when passing. Even if you can't see them, there is a lot of wildlife in the area and are easily hidden in the tall grass. There are no speed limit signs, however, I recommend sticking to 20km/h and keeping your eyes on the road at all times as wallabies may jump out. I had an echidna cross in front of me as I approached so I gently put on my hazard lights and stopped. A car behind me decided he couldn't wait and pulled out from behind me and sped off, not considering why I had stopped. Needless to say, I was fuming! I honked profusely as he sped off, narrowly missing the echidna.
How to access The Blvd: From The Nobbies main car park, turn left towards a small car park on Ventnor Rd. Continue straight and look for a blue sign that says "Alternative Route to Penguin Parade.
20. Go Whale Watching
Between May and October humpback whales and southern right whales migrate along the coast of Phillip Island. Whale sightings are often posted on several Facebook pages including Two Bays Whale Project and Wildlife Coast Cruises. For live alerts, you can join the Phillip Island Whale Watchers group.
From land, the best places to spot whales are from Cape Woolamai, Pyramid Rock Surf Beach, The Nobbies and Summerlands area. Be sure to check Facebook and head out to the lookouts with your binoculars.
Alternatively, you can get closer to the whales by joining this 4-hour Whale Watching tour which includes morning tea, lunch, and live commentary by a local guide. Check availability and book your whale watching tour here.
Departure Point/Return: 16 Beach Rd, Rhyll Victoria, 3923, Australia
Departure time: 09:00
Duration: 4 hours (approx.)
21. Join a Seal Watching Cruise around Seal Rocks
As the home of Australia's largest Australian Fur Seal colony, it would be a missed opportunity to pass up seeing these adorable mammals lounge on the rocks and play in the water on this 2-hour seal-watching tour. Who knows, you may even spot dolphins, whales, and penguins
The tour includes afternoon tea, live commentary, and indoor or outdoor seating areas. Check times and book your tour here.
Departure Point/Return: Cowes Jetty, Cowes VIC 3922, Australia
Departure time: 14:00
Duration: 2 hours (approx.)
22. Entertain the whole family at A Maze'N Things
A Maze'N Things is an award-winning theme park with plenty of activities that will keep you entertained for hours. Start by navigating the 1-mile (2-km) maze then head to the illusion rooms where everything is topsy-turvy and watch as your friends and family shrink, grow, and float sideways.
On Puzzle Island there is a confusing mirror maze and a chance for you to test your balance on a flying boogie board as you try to stay upright in a rotating room.
A Maze'N Things newest attraction is Magic Manor which features interactive magic displays, illusions, caves, magic rabbits, a time machine, scare rooms, treasures, and flying chandeliers.
For an additional fee, get a rush of adrenaline on the SkyTrail a high ropes course or test your skill on the Maxi Mini-Golf Course.
Tips for visiting A Maze'N Things
Facilities: A Maze'N Things has a gift shop, cafe, and toilet. There is also a BBQ and Picnic Area and playground that can be used without paying to go through the attraction.
Visit Duration: Allow 2 hours to see
Admission:
Opening times: Open daily from 10:00 – 17:00. Last admission is at 15.30.
Address: 1805 Phillip Island Rd, Cowes VIC 3922, Australia
23. Test your driving skills on Phillip Island Go Kart Track
Phillip Island is home to major racing events held at the island's Grand Prix Circuit including the Australian Motorcycle Grand Prix and Superbike World Championship. This is your chance to experience this iconic venue. Get behind the wheel of a Go-Kart and navigate the 750-metre replica track situated alongside the original 4.445-kilometre circuit. Afterward, pick up your individual lap time printout.
The Phillip Island Circuit also offers a Guided Circuit Tour which gives you exclusive access to Race Control, Media Centre, and the winner's podium.
There is also the History of Motorsport Display which follows the history of racing on the island with a collection of 25 Grand Prix motorcycles from the two famous Italian marques, Aprilia and Cagiva.
If that's not enough, race your friends on Australia's largest four-lane GP slot car track, get behind the wheel of the Race Simulators, or do a HotLap with an experienced driver.
Tips for Go Karting on Phillip Island
Facilities: The Champions Cafe serves a variety of fresh food. The gift shop sells a range of merchandise and souvenirs.
Requirements:

Single Karts: Minimum 12 years of age and at least 140cm tall.
Tandem Karts: Child passenger must be a minimum of 5 years of age and at least 100cm tall.
Driver aged 18+ years and at least 140cm tall.

Opening times: Open daily 09:30-18:00. Go Kart registrations close 30 minutes prior to closing.
Price: 10 minute session – $35.00, 20 minute session – $60.00, 30 minute session – $80.00
Address: 381 Back Beach Rd, Ventnor VIC 3922
For more information, visit the official Phillip Island Circuit website
---
Where to stay in Phillip Island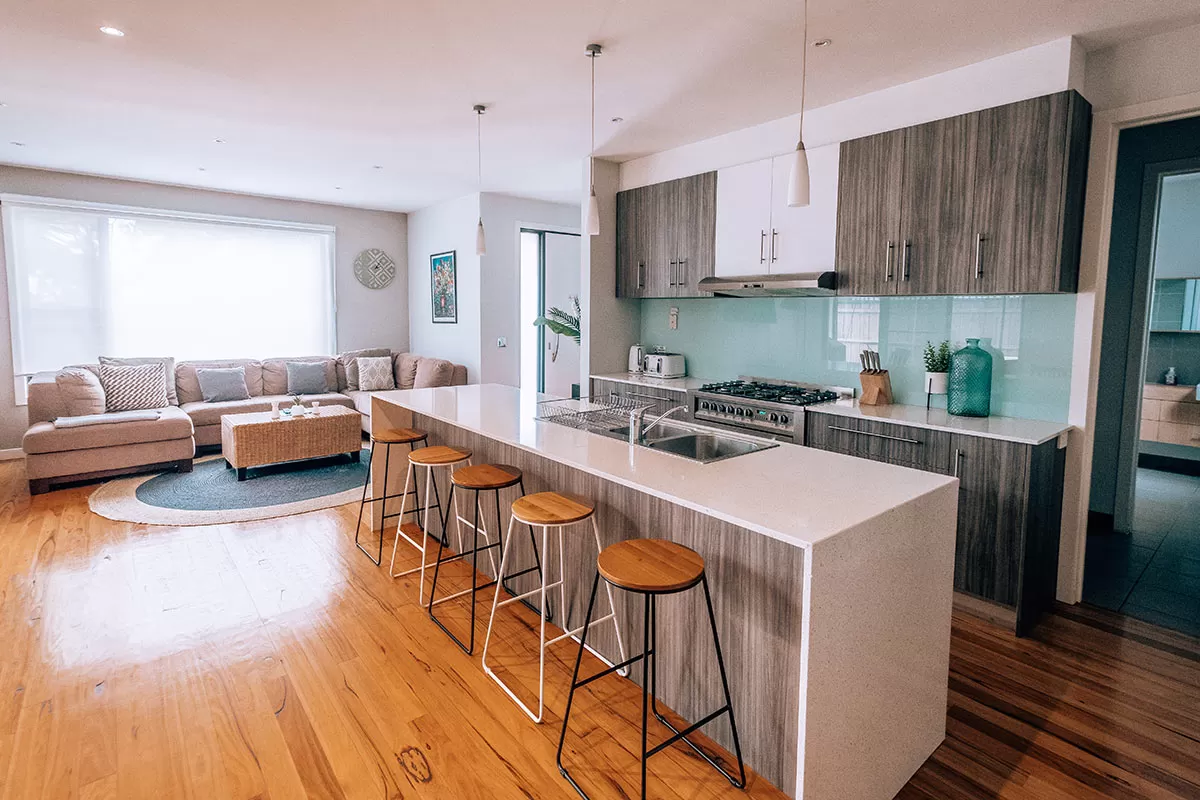 During my most recent trip to Phillip Island, I stayed at this gorgeous home in Cowes. It's located in a quiet residential street but still close to the Island's commercial hub. The house has everything you need in a home away from home. Every room is spacious, there is an outdoor area with a BBQ, a fully equipped modern kitchen, air conditioning and heating, a private remote-control 2-car garage for added security, outdoor shower (perfect for those days at the beach), free Wifi and Netflix, and a children's playground across the road. Check availability and book here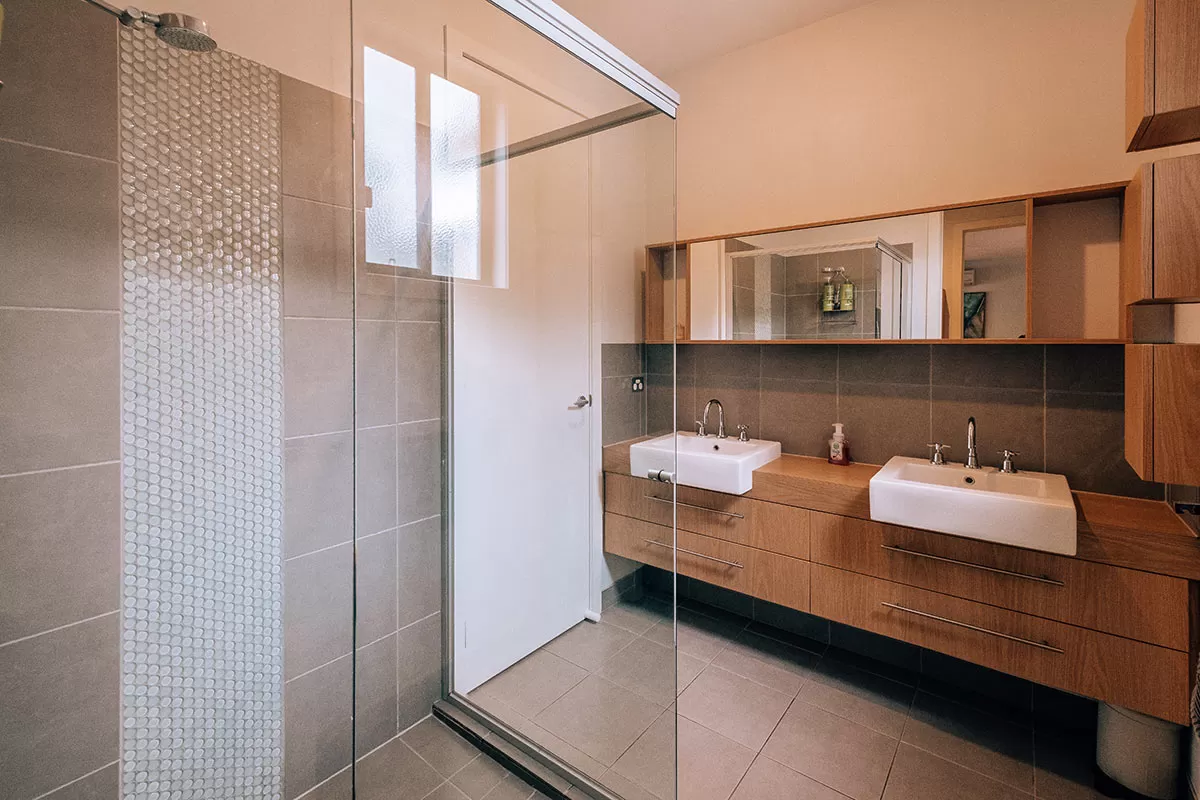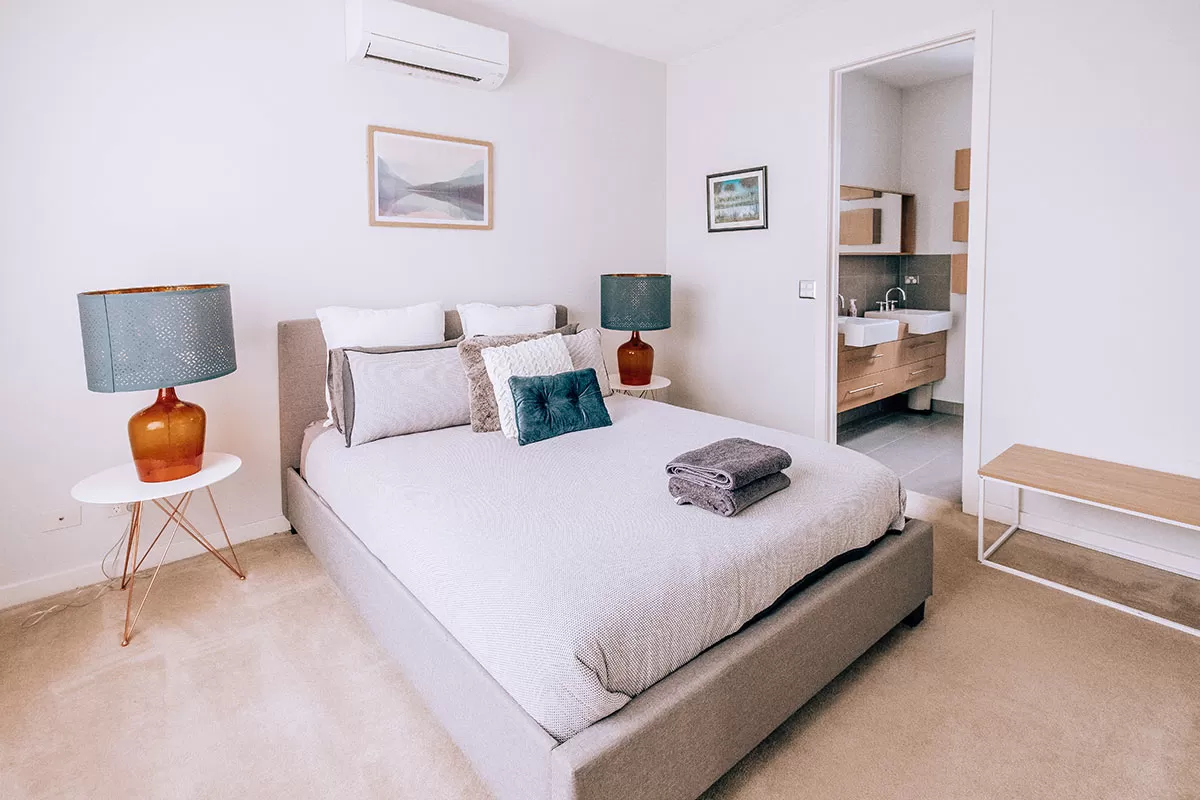 There are plenty of other Airbnb options all over the island at very affordable prices. Airbnb has numerous convenient options to choose from. If it's your first time get US$65 OFF here or get £50 OFF your first stay here, when you sign up using my unique reader referral link. If not, compare prices and book your stay here
---
How to get to Phillip Island
Phillip Island is located 140km south of Melbourne City. Getting to Phillip Island is easy and only takes 90-minutes, making it ideal for a day trip whether you're based in either Melbourne or on the Mornington Peninsula.
By Car
Phillip Island is a great destination for a road trip holiday. Having a car will give you added flexibility as you explore Phillip Island's beautiful beaches, coastline and wildlife. Compare prices and book your car rental here.
From Melbourne
To get to Phillip Island by car from Melbourne, first take the Monash Freeway. As you approach Cranbourne, take the exit to Phillip Island which will take you along the South Gippsland Highway (M420). Follow the signs for Phillip Island onto the Bass Highway (A420). This road will take all the way down to San Remo where it turns into Phillip Island Tourist Road (B420). San Remo is the last town on the mainland before crossing over the bridge to Phillip Island.
From the Mornington Peninsula
To get to Phillip Island by car from the Mornington Peninsula, take Mornington Peninsula Fwy (M11) to Baxter-Tooradin Rd (C781). Turn right onto the South Gippsland Highway (M420). Follow the signs for Phillip Island onto the Bass Highway (A420). This road will take all the way down to San Remo where it turns into Phillip Island Tourist Road (B420).
By Ferry
If you're coming from the Mornington Peninsula, passenger ferries are available from Stony Point. Ferries operate all year around however they are not 'all weather ferries' and are subject to weather and sea conditions. Check weather conditions before travel for any cancellations. Plan your trip here, check service updates, and ferry times here.
By Coach
The V/Line coach services runs from Melbourne and stops at Grantville, Corinella, Bass, San Remo, Newhaven and Cowes daily. Plan your journey and check times on the official Public Transport Victoria website.
By Tour
If you're based in Melbourne and don't have much time or don't want the hassle of renting a car, I recommend taking this Phillip Island Tour from Melbourne. It includes transportation to/from Melbourne, the famous Penguin Parade, the Maru Koala and Animal Park, and the Nobbies rock formations. Book your tour here.
---
Phillip Island Itinerary: How to Spend 3 Days in Phillip Island
If you're only in Phillip Island for a day or a long weekend, here is a suggested 3-day itinerary to ensure you see the very best of Phillip Island:
Day 1: Koalas and Penguin Parade
Start your day learning about Koalas as you explore the tree-top boardwalk and get close to these cuddly creatures at the Koala Reserve. Head to San Remo for the Pelican feeding at noon and enjoy fish and chips for lunch. After lunch, visit Pyramid Rock then make your way down to the western tip of Phillip Island to the Nobbies outcrop and marvel at this spectacular headland. Take The Blvd back to towards the Summerlands lookout in time for the Phillip Island Penguin Parade in the early evening.
Day 2: Cape Woolamai to Churchill Island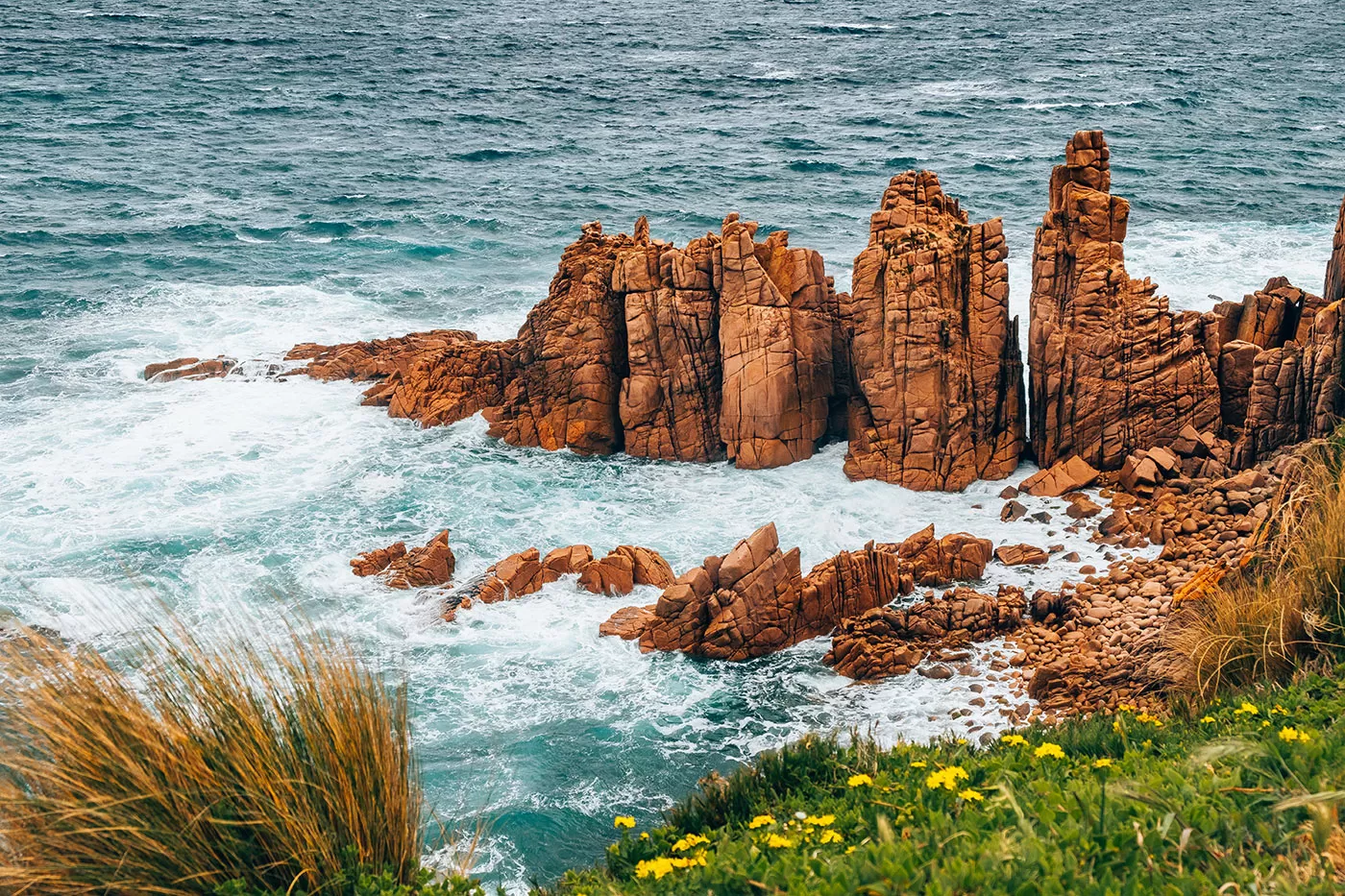 Step back in time at Churchill Island and learn how the early settlers lived on this working heritage farm. Say 'hello' to the farm animals and have lunch in the cafe-restaurant before heading south to Cape Woolamai. Leave the car at Cape Woolamai surf beach and walk along this pristine beach to The Pinnacles. Continue to The Beacon and Gull Island Lookout before looping back to the car. For dinner, head back into Cowes and choose from a variety of restaurants.
Day 3: Seals, Whales, and Wetlands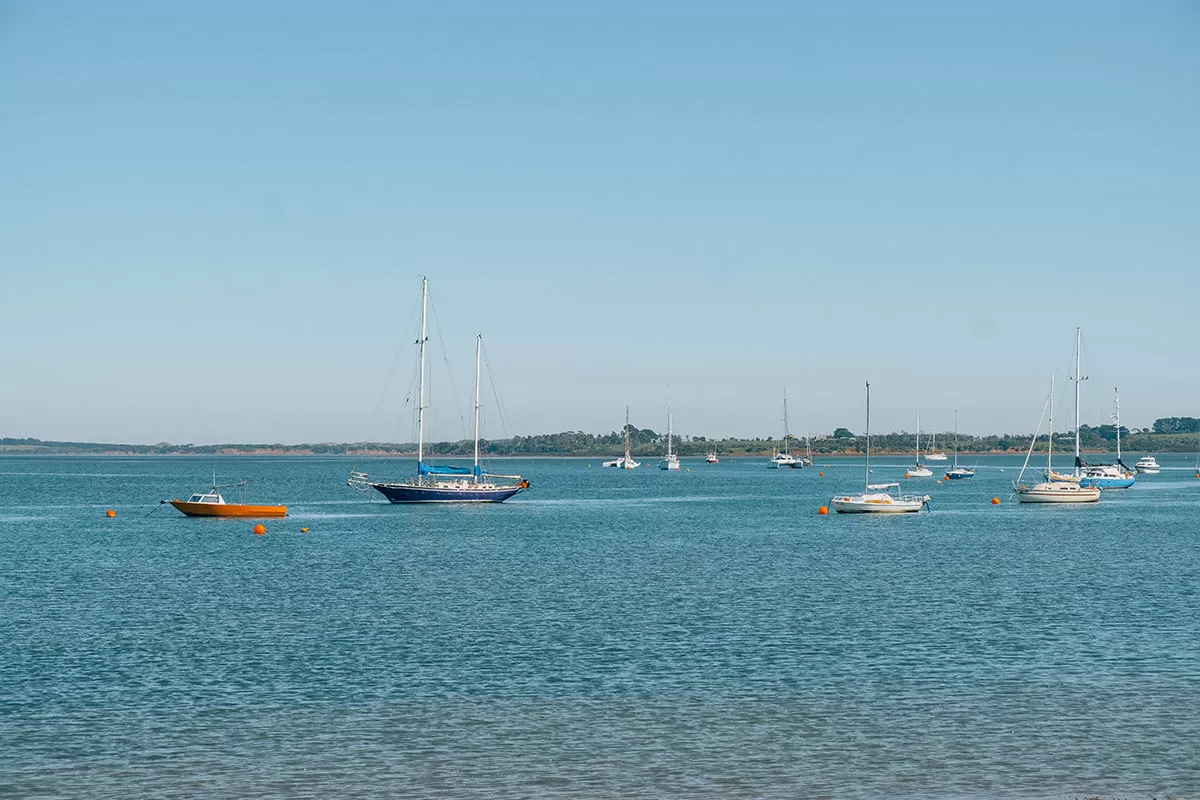 Kick-off your last day with a Whale Watching tour or a seal-watching tour. Drink in the calm northern coastline with a short visit to Rhyll Jetty before taking a leisurely stroll along the Rhyll Inlet Wetland Boardwalk. End your day watching the sunset from Forrest Caves beach.
---
Got more time? Take a day trip!
Based in Melbourne? Take one of these day trips
Visiting Australia? Don't miss these travel guides!
---
Planning a trip and need travel insurance? Get a free quote from World Nomads here.

---
Like it? Pin it for later!
---
Over to you!
Have you visited Phillip Island? What else would you add to this list? Do you have a question about visiting Phillip Island? Ask me below! Let me know using the comments section below or join me on social media to start a conversation.
Thanks for reading and I hope you enjoyed this post.
Like what you see? Subscribe using the form below to have all of my posts delivered directly to your email.