From Game of Thrones locations to fine art, excellent pinxtos (Basque tapas) to whale watching, here are the very best things to do in Bilbao you can't miss.
The Basque Country isn't like the rest of Spain or indeed France which it borders. It's home to the oldest language in Europe, has an extraordinary multi-award-winning culinary scene, and its fairytale-like villages make this autonomous region overlooking the Bay of Biscay an absolute must-see for any traveller.
If the Basque Country is heaven, then its restaurants are its temples. The Basque country is synonymous with the best and finest cuisine found anywhere in the world. So, if you're visiting for its signature dish: gastronomy, you've got excellent taste!
The Basque language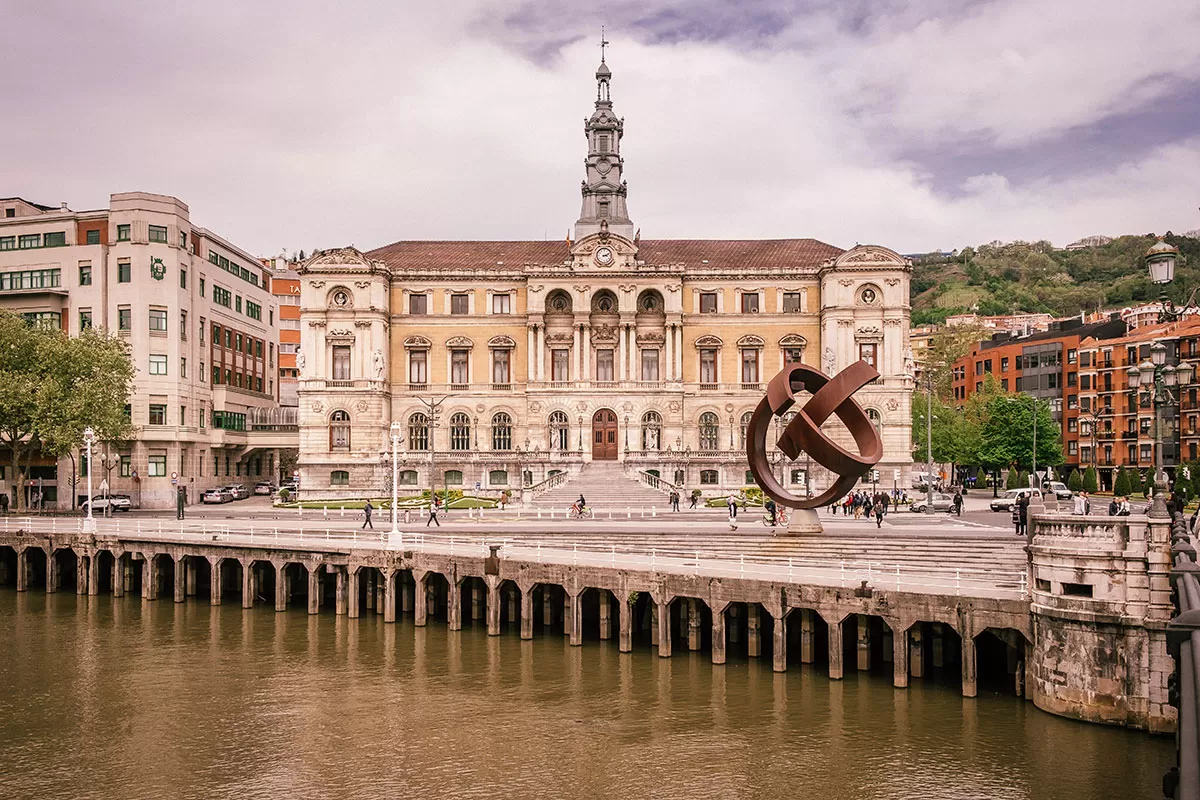 You might be in Spain, but this is Basque Country. Both Spanish and Basque are co-official languages spoken here so it's worth brushing up on both your Spanish and Basque before you travel. Linguistically speaking, the Basque language is totally unrelated to any other languages found in Europe and is a language isolate from any other known living language.
Just to clarify things a little, "Basque" is what it's called in Spanish whilst it's called "Euskara" in the Basque language.
You'll hear Euskara spoken throughout the Basque country and see the language used everywhere from train schedules to newspapers, and restaurant menus. For this reason, I've included both the Spanish and Basque/Euskara translations for each place in this guide. The Basque translation is shown in brackets.
For centuries, the Basque didn't have its own orthography so the Latin alphabet and its spelling conventions were adopted. Certain sounds that didn't exist in the Latin alphabet were supplemented by using additional devices to recreate and emulate them.
---
Going to the Basque Country? Enrich your travels with my free Basque travel phrase guide plus audio. I also have a Spanish phrase guide too!
---
There are many reason why you should visit Bilbao, that's why I want to show you the very best things to do in Bilbao that you can't miss during your time in the Basque Country.
Map of best things to do in Bilbao
Want to know where each place is? Take a look at this detailed map of Bilbao below.
Click on this interactive map and see where this itinerary will take you. I've created this map using Google Maps which you can save and use as you travel around. You're welcome 😉
1. Cross the Puente de Vizcaya (Bizkaiko Zubia)
Also known as the 'Hanging Bridge" the Vizcaya Bridge (Puente de Vizcaya) has been a World Heritage Site since 2006 and was the first industrial heritage site in Spain. Built in 1983, the conveyor bridge transports vehicle and pedestrians from either side of this long narrow inlet. After 125 years, it still carries cars, motorcycles, bikes, and passengers on its hanging gondola supported by 36 wheels.
If you're feeling gutsy, head to the upper platform sitting 45 metres high for impressive, if not dizzying, views. For the privilege, tickets cost 8€ to climb the 50 meters to the very top where you can cross the bridge via the 160 metre long wooden walkway. Alternatively, you can stick to the gondola which will set you back a measly 0.40€ per person each way.
After crossing the bridge, take a stroll along the seafront flanked by neo-Basque and colonial style mansions and villas.
Tips for visiting Vizcaya Bridge
Vizcaya Bridge is located in the coastal town of Getxo, a 20 minute metro ride away. Get off at Areeta station.
Pedestrian walkway opening times: 10:00-14:00 / 16:00-19:00
Pedestrian walkway price is 8€ plus 2€ for the audio guide available in Spanish, Basque, English, and French
Gondola opening times: Open all day every day of the year.
A one-way journey is 90 seconds
2. Marvel at the Guggenheim Museum
The most iconic building in Bilbao is without a doubt the Guggenheim Museum. It was intentionally built to put Bilbao on the world map and to breathe fresh life into this once run-down and highly polluted part of the city. It's fair to say it's definitely accomplished its goal. Its titanium exterior and huge windows are just as much a masterpiece as the artwork housed inside.
Designed by Frank Gehry and completed in 1997, the Guggenheim Museum in Bilbao is home to nineteen galleries with a mix of temporary exhibitions of contemporary art by local Basque artists and additional themed exhibitions by artists from around the globe.
The best way to appreciate the building itself if by strolling along the riverfront promenade then heading up to the bridge via the stairs or lift, from here you'll get spectacular views over the entire building.
Before entering the museum don't forget to take a photo with the 40 ft (12 metres) tall Puppy by Jeff Koons by the entrance. The West Highland white terrier is carpeted with flowers and had its own intricate built-in network of pipes that water and feed the plants every day.
Tips for visiting Guggenheim Museum
Open Tuesday – Sunday 10 am to 8 pm. Closed Monday, except: March 18, April 15 and 22, June 24, all Mondays in July and August, September 2 and 9, and December 23 and 30, 2019
Admission for Adults: 13 €, Senior: 7,50 €,Groups: > 20 pax. 12 €, Students: (< 26 years) 7,50 €, Children and Museum Members free
Admission includes an audio guide
The ticket office closes 30 minutes before closing time.
Book your private tour of the museum here.
3. Wander around Casco Viejo (Zazpikaleak or Alde Zaharra)
My favourite part of visiting any European city is wandering around its historical centre and Bilbao is no different. Casco Viejo is the medieval old quarter of Bilbao located on the right bank of the Nervión river. This area was once defended by city walls until the walls were removed in the late-1800s exposing its original seven streets. In fact, locals still call the area Los Siete Calles ("seven streets" in Spanish). Each of these streets still retain wonderful names like Tendería Kalea (Shoekeeper's Street) and Carnicería Vieja Kalea (Old Butchery Street).
Unlike other historical centres, Bilbao's Old Quarter is free from typical tourist trappings you might find in other cities. Take your time to wander down each of its pedestrianised streets flanked by boutiques, bars, and restaurants. This area comes to life in the evening when locals flock here to enjoy a meal or pintxos. More on that soon!
Tips for visiting Casco Viejo
To get to Casco Viejo, you can either take the Metro (stop Casco Viejo), tram and bus. Bilbao is a very walkable city so a nice way to reach the old town is by following the Nervión River south from the Guggenheim then crossing over any bridge to reach the east bank.
Learn all about Bilbao's history on this Casco Viejo walking tour or this Bilbao Cultural tour
4. Take a Peek inside Teatro Arriaga (Arriaga Antzokia)
Overlooking the Nervión River is the beautiful 19th-century Neo-baroque Arriaga Theatre. Its design was inspired by the Palais Garnier opera house in Paris. The Arriaga Theatre is the oldest theatre in the city and was named after Juan Crisostomo Arriaga, a prodigious composer dubbed the 'Spanish Mozart' who died at from tuberculosis at 20 years of age.
Its fancy interior of plush red chairs and golden balconies can be visited via a guided tour or by attending a performance.
Tips for visiting Teatro Arriaga
Guided tours run on Saturday and Sunday, 11am-1pm with a duration of about 50 minutes. Tours are available in Basque, Spanish, and English and cost 5 € Adults.
Teatro Arriaga is located near the Casco Viejo and can be reached either by the Metro (stop Casco Viejo), tram, or bus.
For more details, visit the official Arriaga Theatre website here
5. Eat your weight in Pintxos
Do as the Basque do and "txikitear". Txikitear means going from bar to bar enjoying a small glass of wine (txikitos) in a bar and savour the delicious pintxos (a Basque tapas). This is how the locals socialise and have a good time. The peak times for pintxos is from noon-15:00 and 18:00-20:00.
Start your pintxos crawl in Plaza Neuva. Head to Restaurante La Olla, for its famous tortilla pintxos with a great variety of fillings, Café Bilbao, for baby squid and calamari or Bascook, a local favourite hidden underground. To be honest, you can throw a stone in the air and hit an excellent eatery. If you're still hungry, then head out to dinner on 'Spanish time', from 20:30.
If you're a vegetarian like me, you'll struggle to find anything other than tortilla de patatas (Spanish omelette) to eat. While it tastes amazing, it's no substitute for a proper meal and can get annoying eating it 2-3 times a day. Instead, head to Foodoo for a variety of vegetarian and vegan-friendly options.
If you want to learn more about Basque tapas, pintxos, as well as wine pairings, Basque craft beers, and the roots of each dish and drink, then why not join this gastronomical walking food tour of Bilbao or this private wineries tour in the La Rioja region.
6. Head inside Catedral de Santiago (Donejakue Katedrala)
Located in Bilbao's Casco Viejo is Santiago Cathedral. Somewhat confusingly, the cathedral has many names. It's sometimes referred to as Bilbao Cathedral, Santiago Cathedral, or St. James Cathedral in honour of the apostle Saint James the Great (Santiago in Spanish) after which the temple was consecrated. The cathedral serves as a stop for pilgrims trekking the northern Camino de Santiago (Way of St. James).
The Cathedral was built in the 14th and 15th centuries, making it Bilbao's oldest monument and the most important gothic building in the Biscay Province. Located above the entrance is a 16th century carved relief with a design that integrates the Basque Lauburu, a traditional swastika taken from the ancient Sanskrit language symbolising luck or well being.
Tips for visiting Catedral de Santiago
Catedral de Santiago is everyday 10:00 – 20:00
Admission is 5 €
For more details, visit the official cathedral website here
7. Plaza Nueva (Plaza Berria)
At the heart of Bilbao's Caso Viejo is the monumental square Plaza Nueva (literally, New Square). The Neoclassical square was completed in 1851 and features a stunning arcade running all the way around full of taverns, restaurants, and pintxos bars. Located on the north side is Euskaltzaindia, the Basque language Royal Academy which governs the language.
On Sunday mornings, you'll find a collectors' market in Plaza Nueva where you can buy, sell, or exchange second-hand books, records, coins and stamps.
8. Take the funicular up Mount Artxanda (Artxanda mendia)
For a breathtaking panoramic view overlooking Bilbao, take the funicular up Mount Artxanda. From up here, you can see why the locals affectionately refer to Bilbao as "the botxo", which literally means "the hole", since it's surrounded by mountains.
The Funicular de Artxanda opened in 1915 and once you reach the top, you'll see a part of the original funiculars machinery immortalised as a sculpture. Also located up here is a recreational area with gardens and various restaurants, which means lots of opportunities to sample some more pintxos. Watching the sunset from Mount Artxanda with your significant other is one of the best things to do in Bilbao.
Tips for visiting Mount Artxanda
The funicular is located north of the Zubizuri Bridge in Plaza del Funicular, a short walk from the Guggenheim Museum. From here you'll be whisked 224 metres up to this scenic viewpoint.
Tickets are free with the Bilbao Bizkaiacard or €0.92
9. Cross Puente Zubizuri (Zubizuri)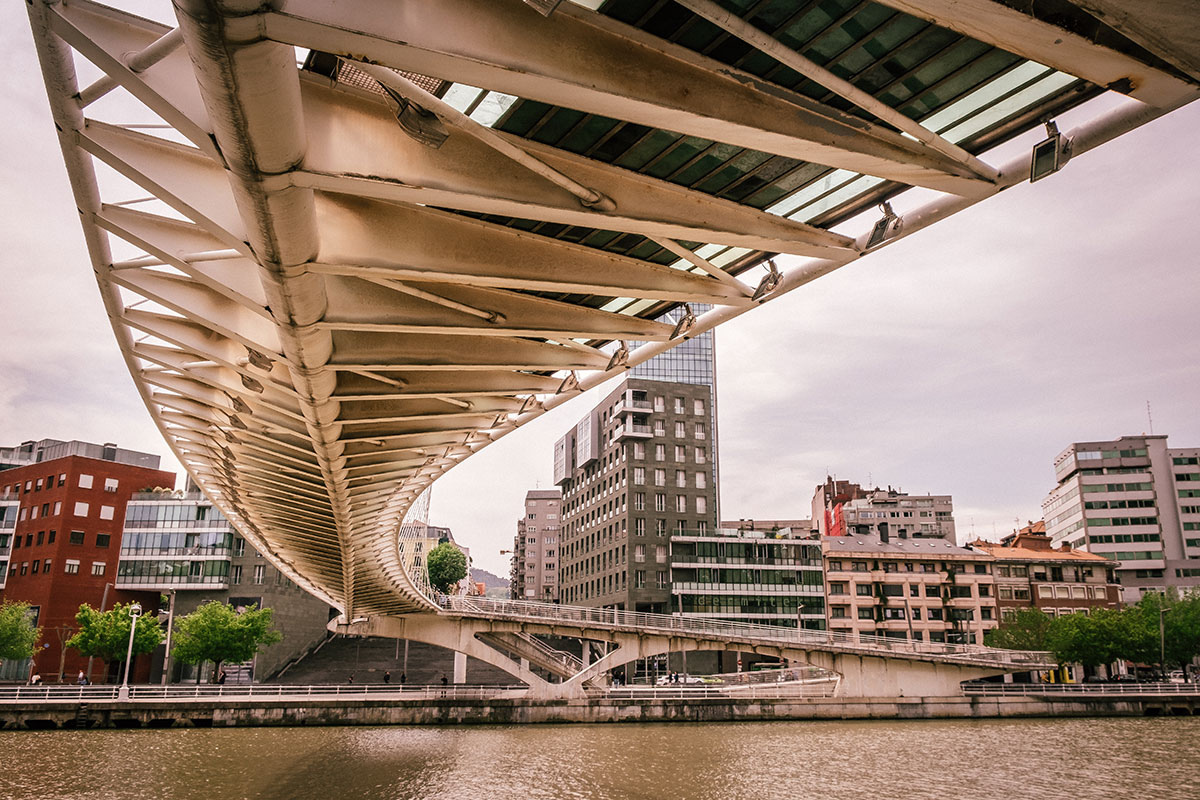 The Zubizuri (Basque for "white bridge"), is an arch footbridge leaping across the Nervion River. Located just a 10-minute walk from the Guggenheim Museum, Bilbao's White Bridge continues with the theme of pushing the artistic envelope. Its futuristic structure was erected to accompany the Guggenheim and to assist in Bilbao's transformation.
The bridge is also called Campo Volantin Bridge or Calatrava Bridge after its designer Santiago Calatrava, who also designed Bilbao airport.
10. Go shopping along Gran Vía and relax in Plaza Moyúa
Gran Vía is the shopping hub of Bilbao and where you'll find all your favourite high-street brands including Mango, Sephora, Zara, and Stradivarius as well as Bilbao's flagship branch of El Corte Inglés. The full name of Gran Vía is Gran Via Don Diego Lopez de Haro but locals simple refer to it as, Gran Vía.
Gran Vía is lined with lush green lime trees which provide a welcome shade during the summer months. Also here is Plaza Moyúa which is essentially a garden in the middle of a massive roundabout with a fountain as its centrepiece. Designed back in 1873 this is a lovely garden that bisects the bustling shopping street providing shoppers with a rest spot during a day of shopping.
11. Visit Mercado de la Ribera, Europe's largest indoor market
Covering 10,000 square metres (110,000 sq. ft) Mercado de la Ribera is the biggest covered market in Europe. A market has been in this spot since the 14th century, the build you see today was only built in 1929. Inside you'll find all sorts of local products and fresh produce on sale including fish, red meat, vegetables, and local farmers' products.
This is a great lunch spot too. Head to the food court and grab a bunch of pintxos to enjoy by the river.
12. Cross Puente de San Antón (San Antongo zubia)
Next to Mercado de la Ribera is San Antón Bridge, the oldest bridge in the city. San Antón Bridge is an important landmark in Bilbao and is even featured in the city's coat of arms.
The bridge is historically important as it was the only bridge that crossed the river and where merchants were forced to cross the bridge carrying their products from Biscay to Castile.
The original bridge opened before 1318, while the bridge you see today dates back to 1937 after it was reconstructed based on the previous bridge that stood here in 1880 but was demolished during the Spanish Civil War.
Adjoined is the Church of San Antón, dedicated to Anthony the Great, known as San Antón in Spanish. The church is open Monday – Saturday from 11:00 – 17:00.
13. Relax in Doña Casilda Iturrizar Park
Leave the city behind you and chillout out in Bilbao's largest green space and favourite outdoor destination. Doña Casilda Iturrizar park is a public park with an English-style garden created over 100 years ago. Take a stroll along its perfect tree-lined paths, dancing water fountains, and duck pond where various waterfowl species can be found.
The park is named after its former resident Casilda Iturrizar who dedicated her life to charity after her wealthy husband passed away. Upon her own passing, she decided to leave the land to the public at which point it was converted into a park in 1907.
Doña Casilda Iturrizar park is so much more than just a park, there are sculptures, basketball courts, a and traditional merry-go-round.
Tips for visiting Doña Casilda Iturrizar Park
Doña Casilda Iturrizar Park is just a five-minute walk from the Guggenheim Museum.
During the summer, the water fountain comes to life with light and sound show.
14. See where the Virgin appeared at Basilica de Begoña
Located high up on a hill providing a protective gaze over Bilbao is Basilica de Begoña. The basilica was built by Sancho Martínez de Arego and stands in the same place where the Virgin appeared at the beginning of the 16th century.
This 16th-century basilica is mainly built in the Gothic style with touches of Renaissance throughout. Inside is a statue of the Virgin Begoña, the patron saint of Biscay.
Since the 16th century, the seafaring people of Bilbao have been greatly devoted to the Virgin Begoña, registering their boat's name as "Virgin of Begoña" or simply "Begoña". In addition, it is the custom of sailors to salute the Sanctuary and sing the 'Salve Regina' when they first see the church as they sail up the river.
Tips for visiting Basilica de Begoña
Basilica de Begoña can be reached by either taking the elevator from the Casco Viejo metro station or climbing the stairs from Plaza Unamuno.
Opening times are Monday to Sunday 9:30 – 13:30 and 16:30 to 20:30.
15. Visit Azkuna Zentroa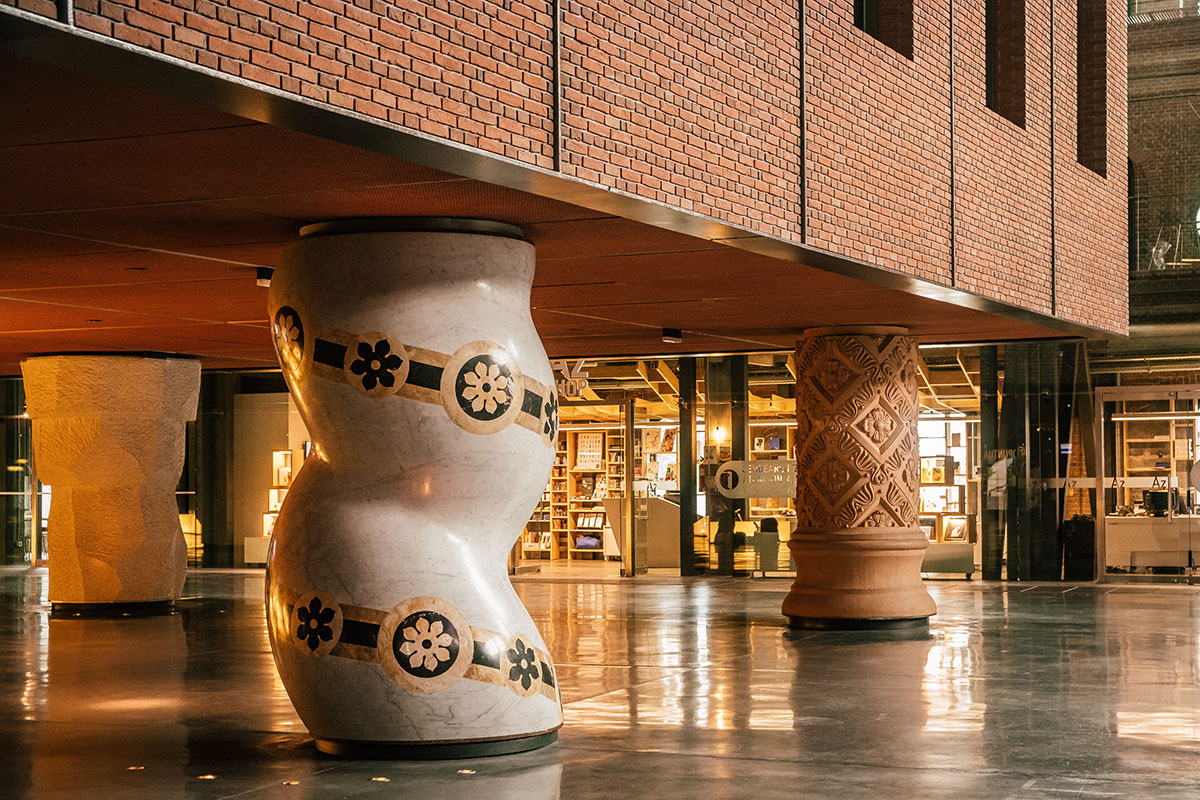 Azkuna Zentroa is another major iconic building in Bilbao and winner of the "Global Awards for Excellence", which rewards the best practices in all types of property development.
In a past life the building was an old wine warehouse, today its 43,000 square metres has been transformed thanks to the direction of French designer Philippe Starck into a huge space for exhibitions, concerts, conferences, and so much more.
Azkuna Zentroa has been labelled as a "Culture and Leisure Centre", complete with a cinema multiplex, fitness centre, library, showrooms, auditorium, shops, and a restaurant. Previously known as Alhóndiga Bilbao, in March 2015 its name was officially changed to Azkuna Zentroa in tribute to the late mayor of Bilbao Iñaki Azkuna.
Other highlights include the sun terrace and a state of the art swimming pool with a glass floor!
Tips for visiting Azkuna Zentroa
16. See the greats at Museo de Bellas Artes (Bilboko Arte Ederren Museoa)
Considered to be one of the finest museums in Spain, you must continue your artistic exploration of Bilbao by paying a visit to the Bilbao Fine Arts Museum, or the Museo de Bellas Artes.
The museum is home to over 10,000 works with a comprehensive collection of Basque, Spanish and European art from the Middle Ages all the way through to contemporary. All the old masters are here like El Greco, Murillo, Goya, and Van Dyck, together with 19th century and modern artists like Joaquín Soroll, Paul Gauguin, Henri Le Sidaner, and James Ensor just to name a few. Spending an afternoon here is one of the best things to do in Bilbao.
Tips for visiting Museo de Bellas Artes
Museo de Bellas Artes is open Wednesday to Monday 10:00 to 20:00
Free entry every day from 18:00 to 20:00
17. Go Whale Watching
The beautiful Bay of Biscay is known for its abundance in marine life, so what better way to experience it than getting out on the water and seeing razorback whales, long-finned pilot whales and dolphins on a whale-watching cruise.
With hotel pick and drop off included as well as a glass of delicious txakoli to end your trip, this may just end up being the most memorable and the best thing to do in Bilbao. Book your whale watching cruise here.
18. Climb the stairway to heaven at San Juan de Gaztelugatxe
San Juan de Gaztelugatxe is pure magic and a haven in the rough sea. Its raw beauty is no doubt the reason why it was chosen as a filming location for the HBO series, Game of Thrones. Whether you're a fan or not, taking a trip out to San Juan de Gaztelugatxe is one of the best things to do in Bilbao.
San Juan de Gaztelugatxe is located 35 km (22 miles) east from Bilbao. The island can be reached via a man-made stone bridge that connects 241 steps to the top of the hill. Situated on top is a church with an exposed bell. It is said that after climbing to the top, you should ring the bell three times and make a wish.
Tips for visiting San Juan de Gaztelugatxe
Since appearing in Game of Thrones, San Juan de Gaztelugatxe is dramatically increased in popularity. Due to the long queues forming in peak times, it is now necessary to book tickets to access San Juan de Gaztelugatxe.
Tickets are free, but mandatory if visiting between 10 am and 7 pm during

Easter, Christmas, and official Spanish holidays
Daily from June 15 until the end of September
Weekends from the last week of March until the end of the year
How to get to San Juan de Gaztelugatxe
By Car
To get to San Juan de Gaztelugatxe from Bilbao by car, all you need to do is jump on the BI-631 road. Free parking is available next to the Visitors' Center at San Juan de Gaztelugatxe but fills up quickly in peak times. Another option is to park in either Bakio or Bermeo and take the bus (or a taxi) from there.
From San Sebastian, the drive takes about 1 hour 45 minutes (120 km) to get to San Juan de Gaztelugatxe. Compare prices and hire your car here.
By Bus
From Bilbao you can reach San Juan de Gaztelugatxe by bus either by taking:
Bizkaibus line A3518 Bilbao-Mungia-Bakio, or
Bizkaibus line A3527 Bilbao-Mungia-Bermeo
Once you reach either Bakio or Bermeo, you can take a taxi or continue by bus. The Bizkaibus line A3524 that goes from Bermeo to Bakio stops right in front of San Juan de Gaztelugatxe. The name of the stop is "Gaztelu Begi." Note that this bus only runs on weekdays and is operated once every 2 hours.
Join a tour
If all this sounds like too much hassle, then consider joining this Games of Thrones tour to San Juan de Gaztelugatxe. The tour includes an air-conditioned vehicle, a local guide, and admission.
19. Go kayaking on the Nervión river
Enjoy Bilbao from a different perspective with this guided kayak tour. Choose either from tandem or single kayak and paddle past the Guggenheim Museum, university, and pass under multiple bridges and at least one palace.
---
Got more time? Join a tour or take a day trip!
---
Getting Around
Getting around Bilbao is easy. It's well-connected and also very walkable. I only caught the bus twice (to/from the airport) and the tram once to get to the bus station to go to San Sebastián.
How to Get to Bilbao from the Airport
To get to the centre from Bilbao airport, catch the local bus No. A3247 is located outside to your right and down the end. You can buy your ticket at the kiosk or if it's closed, tickets can be purchased on board. The price is the same and costs 3 € one way. If you're unsure where to get off, there is a tourist information desk where you can ask for help.
How to Get to San Sebastián from Bilbao
If you've got more time and want to visit San Sebastián, catch the tram to San Mamès for the bus station. Tickets should be booked in advance via alsa.com.
The same airport bus mentioned earlier (A3247) terminates here so you can easily head to the airport from here if you spend a few days in San Sebastián like I did but need to fly back out from Bilbao airport.
If you're hungry, there are a few cafes and bars located opposite where you can grab a bite to eat.
Accommodation: Where to stay in Bilbao
Bilbao is a very affordable city so you won't bust the bank by staying central. I wanted to stay central and close to the Old Quarter so I chose to stay at Petit Palace Arana Bilbao located opposite Arriaga Theatre and in front of a tram stop.
The staff were welcoming and friendly, (especially when I needed some vegetarian restaurant recommendations), and the room was spacious with air conditioning, minibar, and a flat-screen TV. I opted for a room with a balcony and city view, because why not!? It goes without saying that the WiFi was free. Check the latest prices and availability at Petit Palace Arana Bilbao here.
Airbnb
For an alternative accommodation option, I would recommend renting out an apartment or room through Airbnb. Cute Airbnb options are popping up all over the city so you'll find some really beautiful places at very affordable prices. Airbnb has numerous convenient options to choose from. If it's your first time get US$65 OFF here or get £50 OFF your first stay here when you sign up using my unique reader referral link.
---
Planning a trip and need travel insurance? Get a free quote from World Nomads here.

---
Visiting Spain? Check out my other Spain guides
---
Learn Spanish with me, with Intrepid Spanish!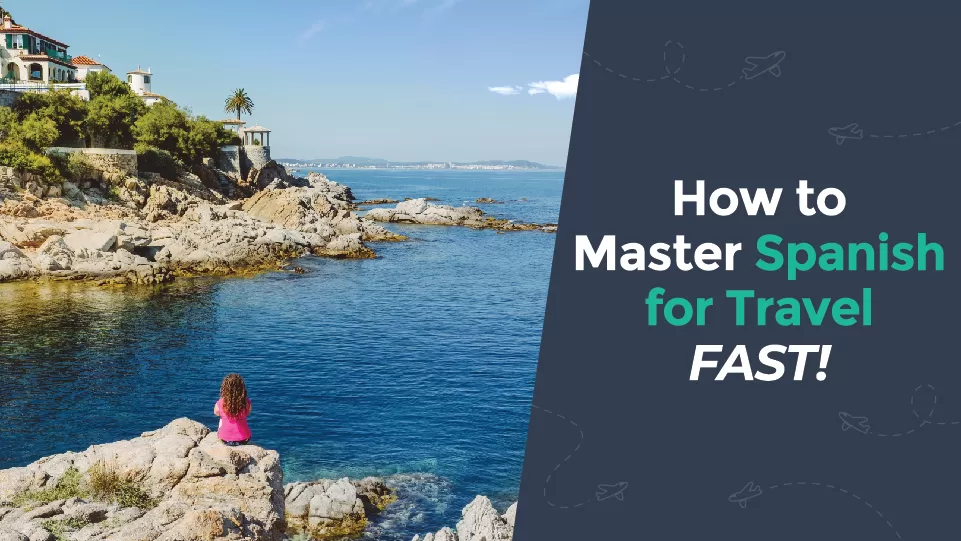 Travelling to Spain? Don't be treated like a tourist! Live your best travel experiences and learn Spanish for less than the cost of eating at a tourist trap restaurant or a taxi driver who has "taken you for a ride". In addition to my free Spanish travel phrase guide, I've made it even easier for you to master the Spanish language so you can create lifelong memories as you mingle with locals, get local tips, avoid tourist traps, and make new friends. Join my popular Spanish course here.
Here's what my students are saying: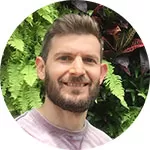 Loved it, loved it, loved it. I've been trying to learn languages using various language learning apps for years now and although I know random words I feel no more confident in actually speaking the language than I was when I started." – Basil Pereira

Click here for more details and get instant access!
---
Like it? Pin it for later!
---
Over to you!
Do you have a question about visiting Bilbao? Ask me below! Let me know using the comments section below or join me on social media to start a conversation.
Thanks for reading and I hope you enjoyed this post.
Like what you see? Subscribe using the form below to have all of my posts delivered directly to your email.