I love travelling and I love languages, so imagine my excitement when I came across a treasure trove of travel words that describe how we feel before, during, and after we travel.
Just like a photo can't fully capture what it feels like to stand on the edge of a fjord, neither can 'wanderlust' fully express how we feel when we crave our next adventure. These travel words are literary gems which have been gathered from languages around the world. From Japanese to Swedish, Latin to Greek, travel brochures of the future will be peppered with travel words like of resfeber, livsnjutare, and coddiwomple.
Without further ado, here are 28 travel words you should slip into your vocabulary.
1. Resfeber  (n.)
Origin: Swedish
This travel word refers to the restless race of the traveller's heart before the journey begins, when anxiety and anticipation are tangled together.
We've all felt this, that jump in your heart the moment you officially purchase your plane tickets. When the excitement and fear floods to your mind all at once, creating an overwhelming mixture of emotions that can leave you feeling anxious or physically ill.

2. Sonder (v.)
Origin: Unknown
The realisation that each passer-by is living a life as complex as your own.
The full definition, taken from The Dictionary of Obscure Sorrows reads:
[Sonder is] the realization that each random passerby is living a life as vivid and complex as your own—populated with their own ambitions, friends, routines, worries, and inherited craziness—an epic story that continues invisibly around you like an anthill sprawling deep underground, with elaborate passageways to thousands of other lives that you'll never know existed, in which you might appear only once, as an extra sipping coffee in the background, as a blur of traffic passing on the highway, as a lighted window at dusk.

I often feel this way when I pass groups of strangers, speaking a language that is completely foreign to me, and realise just how incredibly big the world is. We all have a life that is full of different connections, memories and possibilities. That's sonder.
The internet suggest this may not be a real word, either way, the concept is beautiful.

3. Solivagant (adj.)
Origin: Latin
Wandering alone.
Not all those who wander are lost, but all those who wander alone are definitely solivagants. From the Latin word solivagus, meaning lonely or solitary, solivagant describes anyone who enjoys meandering around new countries, alone, in order to take it all in.

4. Fernweh (n.)
Origin: German
This German word, means an ache to get away and travel to a distant place, a feeling even stronger than wanderlust.
If wanderlust was not poetic enough for you, allow me to present fernweh, a German word that literally translates to "distance-sickness."
While someone with wanderlust might sit at home and happily fantasise about all the places they might visit, someone with fernweh would feel a deeper sense of longing, a sort of homesickness but for foreign lands.
For me, it's wanting to be back in Rome.

5. Sehnsucht (n.)
Origin: German
A wistful longing and yearning in the heart for travels past and future.
One author translated it as the "inconsolable longing in the human heart for we know not what." Another compared it to "a longing for a far-off country, but not one which we could identify."
When you're not travelling this can be an overwhelming feeling, or when you think about the travel you've done and you wish you could relive it all over again.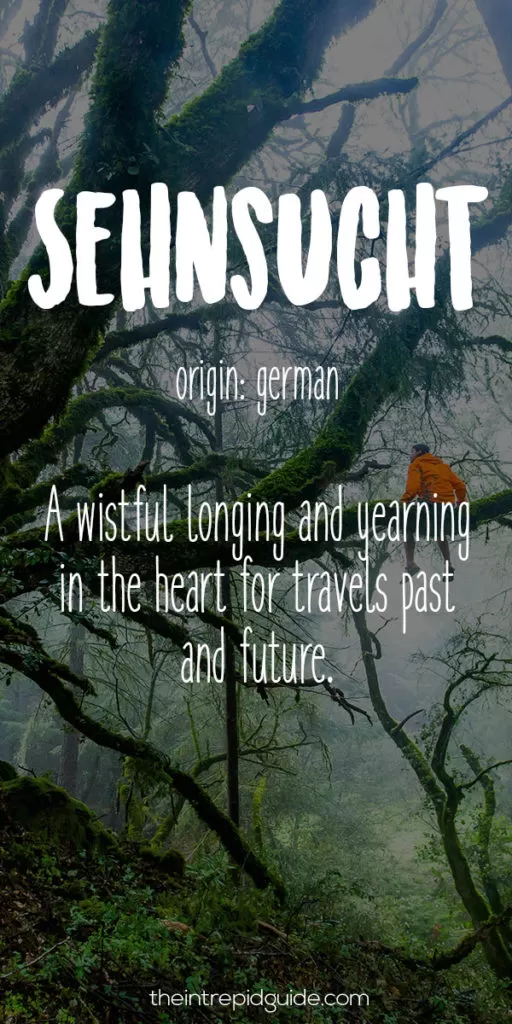 6. Eleutheromania (n.)
Origin: Greek
The intense desire for freedom.
People may say that travelling makes them feel free; eleutheromania is the desire for this feeling.
We seem to find freedom in other cultures, or just in being outside the norm, and when you stop travelling, you crave it again.

7. Cockaigne (n.)
Origin: French, Middle French
An imaginary land of luxury and idleness.
Every destination seem like a wonderland or cockaigne before you set foot there and see it for yourself.
The term cockaigne" comes from the Middle French phrase pais de cocaigne, which literally means "the land of plenty." The word was first popularised in a 13th-century French poem that is known in English as "The Land of Cockaigne."

8. Quaquaversal (adj.)
Origin: Latin
Moving or happening in every direction instantaneously.
This perfectly describes my state when I'm in a new place and want to see and do everything at once.

9. Dérive (n)
Origin: French
A spontaneous and unplanned journey where the traveller leaves their life behind allows themselves to be guided by the landscape and architecture.
Literally translated as "drift", dérive is the idea that even if you drift you will end up on the right path. This could describe life in general, but it also describes small journeys. When you're wandering through a new city and you just happen to wander on a path that takes you to great discoveries.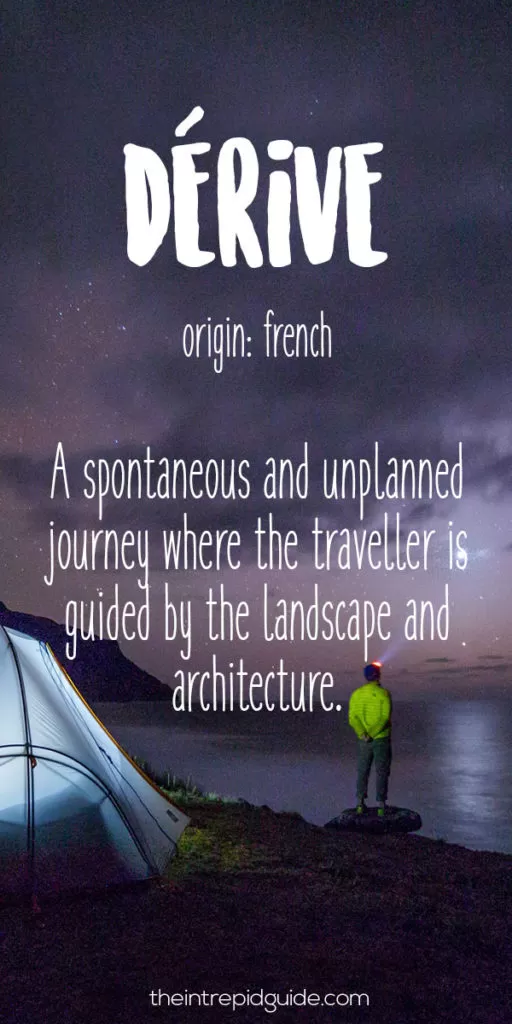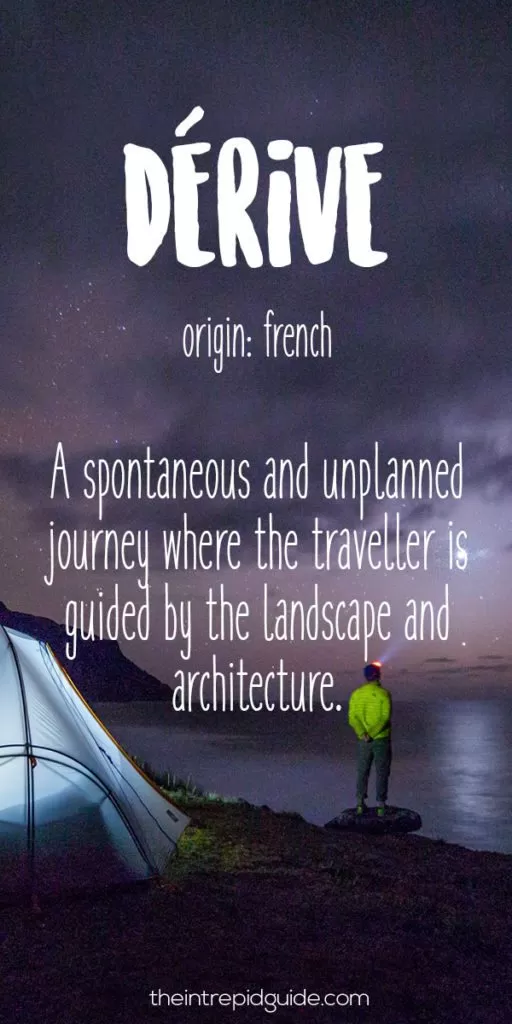 10. Ecophobia (n.)
Origin: English
This English word means, a fear or dislike of one's home.
I don't dislike my home, but recently I can't stop thinking about going back to Norway.

11. Numinous (adj.)
Origin: Latin
A powerful feeling of both fear and fascination, of being in awe and overwhelmed by what is before you.
Mainly referring to divinity; I think this is a wonderful way to describe how you feel when you see things that are so beautiful that you're not sure whether to be amazed or realise your own insignificance in the world.  Hiking Trolltunga was a numinous moment for me.

12. Schwellenangst (n.)
Origin: German
Fear of crossing a threshold to embark on something new.
From schwelle ("threshold") and angst ("anxiety"), this word explains that feeling you get before deciding to set out on a new journey. Argh! Did I make the right decision?

13. Strikhedonia (n.)
Origin: Greek
The joy of being able to say "to hell with it".
Possibly my favourite word in this list. Not only is it the joy I feel, but the freedom to be able to say "to hell with it" and book that next trip and embark on your next adventure.

14. Vagary (v.)
Origin: Latin
A whimsical or roaming journey.
From Latin, vagārī meaning "to roam", is an unpredictable idea, desire or action to travelling without knowing the destination, and not caring.

15. Livsnjutare (n)
Origin: Swedish
Someone who loves life deeply and lives it to the extreme.
Something I truly believe in. Choose your adventure and go!

16. Commuovere (v.)
Origin: Italian
To stir, to touch, to move to tears.
Just like the euphoric emotions I felt whilst whale watching.


17. Sturmfrei (adj.)
Origin: German
The freedom of being alone and being able to do what you want.
Another great German word. Travelling solo can be especially rewarding because you have complete control. No compromises, no one else to please. Just you and the big wide world.

18. Saudade (n.)
Origin: Portuguese
This Portuguese words means a desire to be near someone or something distant.
That feeling you get after a trip ends and you want nothing else but to be back where you were, or with the people you met on the way. Saudade is the feeling that's left after it all ends.

19. Yūgen (n.)
Origin: Japanese
An awareness of the universe that triggers emotional responses too deep and mysterious for words.
Another favourite. When you contemplate the world and your existence and it all wells up inside.

20. Acatalepsy (n.)
Origin: Greek
The idea that it is impossible to truly comprehend anything.
Henry Miller said "One's destination is never a place, but a new way of seeing things." Do we ever really understand the world and what we see on our  travels,  and how they mould us? Sometimes, if at all, it takes time to discover how these things change our lives.

21. Trouvaille (n.)
Origin: French
A chance encounter with something wonderful.
Whether it's stumbling across a hidden back street, a quaint cafe, or connecting with a local, trouvaille describes those magical moments we experience in our journeys.

22. Hygge (n.)
Origin: Danish
The warm feeling you get while enjoying the company of great friends and all life has to offer.
When you're out for a meal with people you met during your travels, and you feel happy, content, and even lucky that you're right where you're meant to be.

23. Onism (n.)
Origin: Danish
Awareness of how little of the world you'll experience. The frustration of being stuck in just one body, that inhabits only one place at a time. I felt this way before going to Copenhagen!
Similar to the Swedish word 'resfeber', onism describes the feeling of knowing that you'll never be able to see it all. They say that the more you travel, the harder it gets to stay in one place.

24. Novaturient (adj.)
Origin: Latin
A desire to change and alter your life.
The way I felt when I quit my job and moved to Rome. It was the strong urge that pushed me to pursue my desire to speak Italian and travel, knowing that I wouldn't be living my life if I didn't go.

25. Yoko meshi (n.)
Origin: Japanese
The stress of speaking a foreign language.
Literally, "a meal eaten sideways", and how I felt when I first moved to Italy. But with the kind support and encouragement from friends and locals became easier.

26. Selcouth (adj.)
Origin: Old English
Strange and uncommon.
It's that feeling you get when you travel to a foreign land. Be it that strange food, culture, customs, or language, everything seems different and unknown.

27. Eudaimonia (n.)
Origin: Greek
A contented happy state.
That bursting feeling in your chest when you travel. When everything feels great. Seeing the Northern Lights was one of the best experiences of my life, a feeling I won't forget.

28. Coddiwomple (v.)
Origin: English slang
To travel purposefully towards a vague destination.
When you have an idea of where you're going, but it doesn't matter how long it takes to get there. The road doesn't have to be a straight one. In fact, sometimes it's better when it's not, like when you go hiking.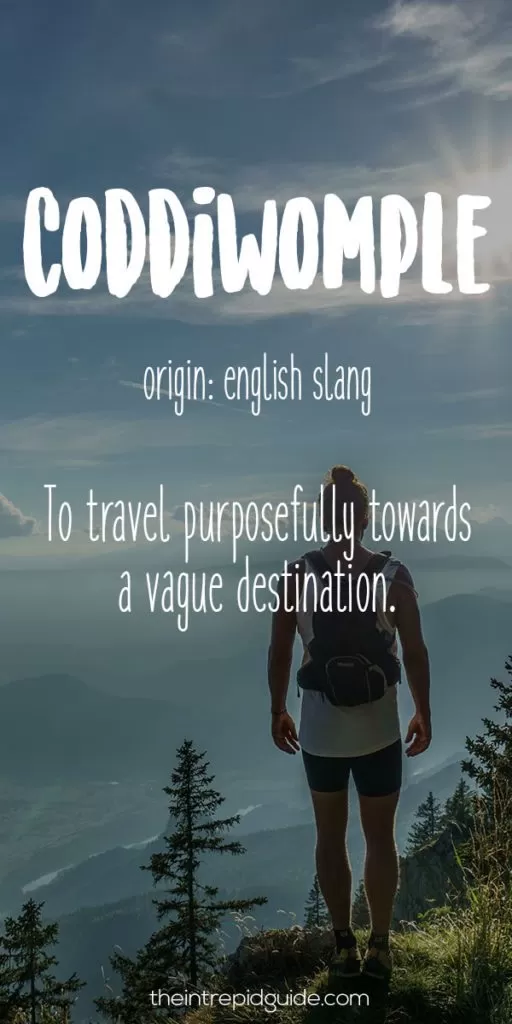 If you enjoyed these words, then let wordsmiths Stephen King, Mark Twain and the Dalai Lama transport you around the world with these 123 Inspirational Travel Quotes.
---
Over to you!
Which one of these travel words do you identify with the most? What others would you add?
Let me know using the comments section below or join me on social media to start a conversation.
Thanks for reading and I hope you enjoyed this post.
Like what you see? Subscribe using the form below to have all of my posts delivered directly to your email.